Chocolate Chip Cheesecake Brownies Recipe
Treat your nearest and dearest to these irresistible sweets. Combining the flavors of chocolatey brownies, rich cheesecake and two kinds of chocolate chips, this decadent dessert is sure to become a favorite.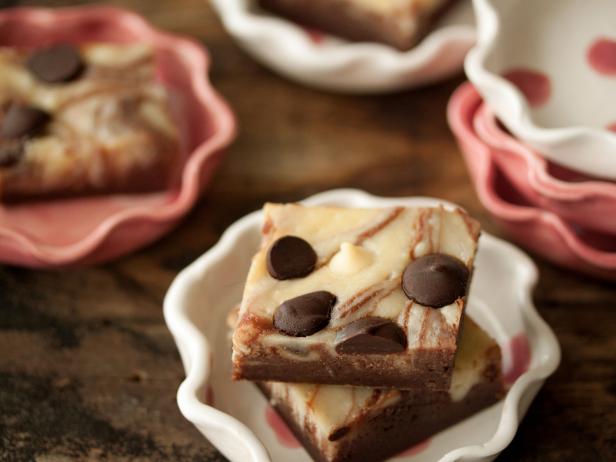 Chocolate Chip Cheesecake Brownies
These two-layer cookies have a brownie base with a swirled cheesecake topper. Finished with a layer of chocolate chips, these super-rich bars will floor your chocolate-loving friends and family. Get the recipe.
Brownies, cheesecake and different kinds of chocolate chips together in one dessert? How can you resist that! This is one of those desserts that you'll have to literally walk away from, because once you start, you just want to keep grabbing slice after slice.
For the Brownies:
4 ounces unsalted butter
3 ounces bittersweet chocolate, finely chopped
1 cup white sugar
2 large eggs
1 teaspoon pure vanilla extract
2/3 cup all-purpose flour
For the Cheesecake:
8 ounces cream cheese, at room temperature
1/3 cup sugar
1 large egg yolk
1/2 teaspoon pure vanilla extract
1/4 cup semisweet chocolate chips
1/4 cup white chocolate chips
For the Brownies:
1. Preheat oven to 350° F.
2. Line a 9x9 baking pan with parchment paper then spray with baking spray. Set aside.
3. For the brownies: Melt the butter and chocolate in a small saucepan over medium low heat, constantly stirring until completely melted. Remove from the heat and whisk in the sugar, eggs and vanilla. Add the flour and carefully combine. Transfer to the parchment-lined baking pan and set aside.
For the Cheesecake:
1. In a small bowl, combine the cream cheese, sugar, egg yolk and vanilla and whisk together until it is completely smooth.
2. Using a spoon, drop pieces of the cheesecake batter on top of the brownie batter.
3. Using a knife, swirl the two batters together until you have a marbled effect.
4. Sprinkle the top with both kinds of chocolate chips.
5. Transfer baking dish to the oven and bake for 30-33 minutes. You should be able to stick a knife into the center of the brownies and pull it out without any unbaked dough sticking to the knife.
6. Remove from oven and let cool before slicing.