Salted Caramel-Topped Chocolate Brownies Recipe
Top dense, moist chocolate brownies with a gooey salted caramel layer for a decadent dessert worthy of a special occasion.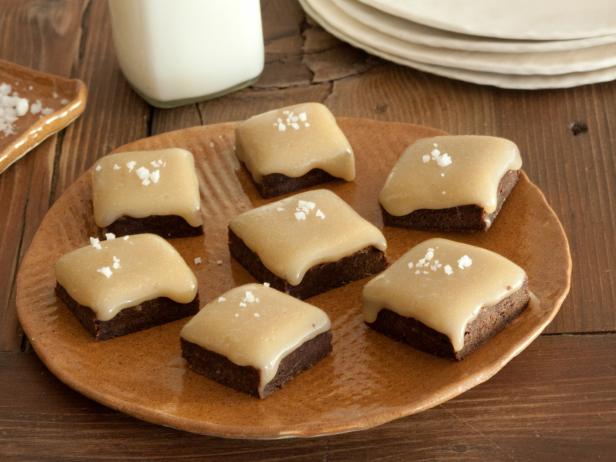 Salted Caramel and Chocolate Brownies
Top dense chocolate brownies with a gooey salted caramel layer for a decadent dessert worthy of a special occasion. Get the recipe.
Everyone loves brownies, but how about jazzing them up even more by adding a rich, salted caramel topping? The brownie recipe itself is decadent and you can use it for your go-to brownies on a regular basis. But when you add the gooey salted caramel topping, it makes these brownies a real stand-out.
For the Brownies
10 tablespoons unsalted butter, room temp
1-1/4 cups white sugar
3/4 cup unsweetened cocoa powder
1/2 teaspoon kosher salt
2 teaspoons vanilla extract
2 large eggs, at room temperature
1/2 cup all-purpose flour
For the Caramel Sauce:
1 cup sugar
1/4 cup water
3/4 cup heavy whipping cream
3-1/2 tablespoons unsalted butter
1 teaspoon kosher salt
For the Brownies:
1. Preheat oven to 350° F.
2. Prepare a 9x9 baking pan with parchment paper and butter.
3. In a large pot over low heat, combine the butter, sugar, cocoa powder and salt and mix together until the butter has completely melted.
4. Remove the pot from the heat.
5. Add in the vanilla and eggs and stir constantly until the eggs are incorporated.
6. Add in the flour and combine just until the flour is no longer visible.
7. Place the brownie batter into the prepared baking pan and bake for 20-22 minutes. You should be able to stick a knife into the center of the brownies and pull it out without any unbaked dough sticking to the knife.
8. Let the brownies cool completely.
For the Caramel Sauce:
1. In a medium-sized saucepan, combine the sugar and water over medium-low heat until the sugar has completely dissolved, stirring occasionally to help the process along.
2. Increase the heat and bring the mixture to a boil. Do not stir during this process. You can use a wet pastry brush to brush down the sides of the pan if needed.
3. Once the mixture reaches a dark amber color, about 5 minutes' worth of boiling, remove the pan from the heat and carefully whisk in the heavy cream.
4. As the mixture starts to bubble, add the butter and salt and stir to combine.
5. Pour the salted caramel sauce over the top of the brownies and chill for 2-3 hours until the caramel is set. Lightly sprinkle with the kosher salt and serve.