Chocolate Brownie Pudding Recipe
This chocolate brownie pudding is the ultimate sinful treat. Somewhere between a brownie and a molten lava cake, this one is sure to satisfy any sweet tooth.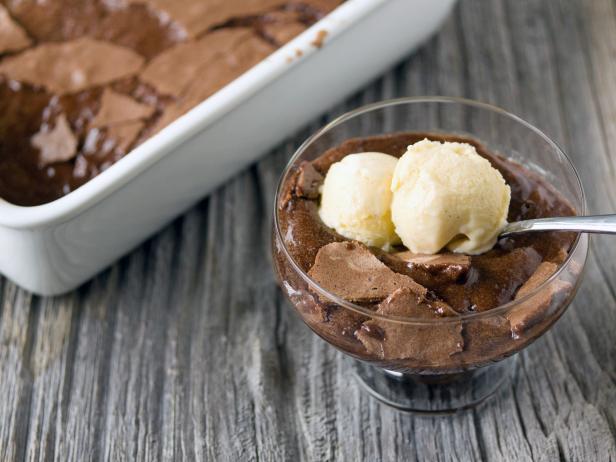 Chocolate Brownie Pudding
If it's hard to satisfy your sweet tooth, this chocolate brownie is sure to do the trick. A molten lava cake and brownie hybrid, this chocolatey treat is even more tasty topped with vanilla ice cream. Get the recipe.
2 sticks unsalted butter
4 large eggs, at room temperature
2 cups white sugar
3/4 cup Dutch-processed cocoa powder
1/2 cup all-purpose flour
2 teaspoons pure vanilla extract
1 tablespoon Kahlua
vanilla ice cream, for serving
1. Preheat oven to 325° F, and lightly butter a 9x9 baking dish.
2. Melt butter in a small saucepan and set aside to cool.
3. Sift cocoa powder and flour together in a medium bowl and set aside.
4. In a large stand mixer, beat eggs and sugar on medium high for 5-10 minutes, until very thick and light yellow.
5. After 10 minutes, reduce speed to low and add vanilla, Kahlua and cocoa powder/flour mixture. Mix very slowly until everything is just combined. Slowly pour in cooled butter and mix again until just combined.
6. Pour mixture into baking dish and place on a large baking sheet. Add warm water to baking sheet so water comes up the side of the baking dish.
7. Carefully place into oven, making sure not to slosh water around and bake for 1 hour.
8. When it's time to remove — don't worry — it's going to look like it's under-baked (that's normal). Remove from the water and place in the refrigerator to cool. Serve with ice cream, if desired.