9 Great Ideas for Storing Bulk Buys
If you have a habit of going overboard at the warehouse club, here's how to keep bulk items from taking up more than their fair share of space.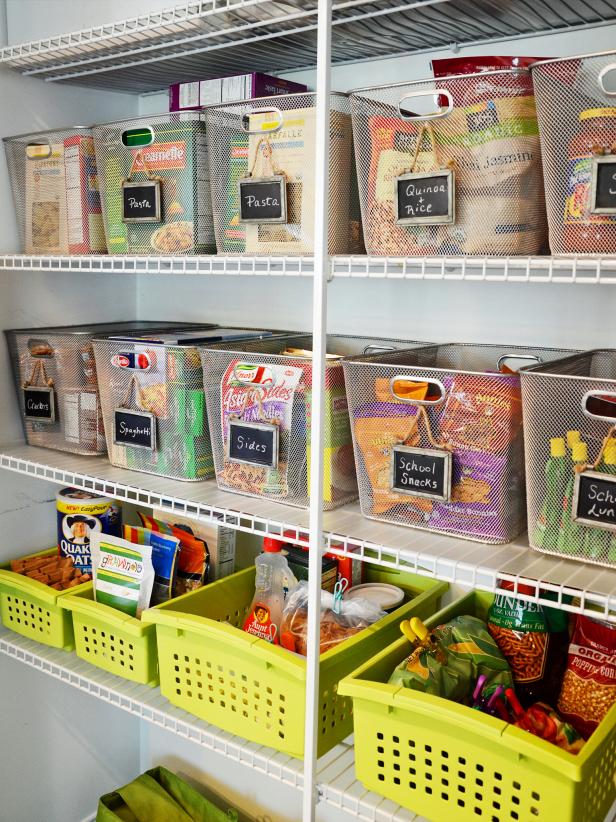 Organized Pantry
1. Start With a Clean Slate. Empty your entire pantry, and thoroughly clean it before you begin the organization process. Starting fresh will help keep things organized longer. 2. Take Inventory. Make a list of your pantry staples and update it regularly. When it's time to go grocery shopping, take your list with you. You can download pantry inventory lists online for free.
Buying in bulk can be a boon for the busy and budget-minded, but there's a catch. "If you don't have the space for it, it's not worth the supposed money you'll save," says professional organizer Beth Levin of Miami's The Closet Queen.
Even those with plenty of storage aren't safe from overdoing it, whether it's a dozen massive jars of spaghetti sauce or a lifetime's supply of trash bags. And everybody's heard this wholesale-store refrain: "I came here to buy dishwasher soap and spent $500!"
That doesn't mean you should toss out your warehouse club membership card. "Just don't buy a million rolls of toilet paper if you live in a tiny apartment," says Levin.
We've got tips for shopping smart and wrangling bulk buys, no matter what your space situation.
Make a list and stick to it. Temptation lurks in every aisle at warehouse clubs such as Costco, Sam's Club and BJ's, and we're not even talking about the free food samples. Avoid impulse and duplicate purchases by knowing what you need before you step foot in the store.
Do the math, starting with the expiration date. Will your family really eat 24 cartons of yogurt by the end of the month? Also, be sure to check the per-unit pricing — just because something comes in a huge container doesn't mean it's cheaper.
Divide and conquer. Next time you shop, bring a friend and split up the spoils — especially the ones that really will spoil, like dairy and produce. That way, you both can take advantage of discount prices without worrying about finishing or finding room for everything.
Designate storage spots. "Garage shelving is a great place for paper goods," says Levin. "If you have space for extra TP and paper towels, you'll get the most bang for your buck." No garage? No worries — break down bulk buys into individual units and tuck beneath sinks or in an empty corner of a cabinet. You could even install a shelf above a door for extra storage in a petite powder room. Tip: Not surprisingly, you'll find real deals on shelving and other storage at warehouse stores.
Take advantage of unused pantry space. "Big things can be kept on the floor if they're covered in plastic," says Levin. "You wouldn't want to put food in a room that's not climate-controlled, but the pantry floor works just fine."
Contain it. Transfer bulk dry goods to clear plastic containers that fit the dimensions of your storage space. For liquids like dish soap or shampoo, transfer what you need to a smaller bottle and store the rest for future use.
Chill out in the basement (or garage). An extra fridge or freezer makes sense if you can spare the space. It's an ideal way to stock up for future meals, especially since many foods — even some meats — can be kept in the freezer for up to a year. (Label expiration dates with a permanent marker.) But be realistic. Just because you have somewhere to put a gallon jug of half and half doesn't mean you'll use it.
Invest in a vacuum sealer. Exposure to air makes food go bad quickly, but sealing up a big block of cheese will guarantee a longer shelf life in the fridge. If you go overboard on fresh fruits or veggies, seal and stash them in the freezer. Just flash-freeze individual pieces on a cookie tray first so they don't stick together. Tip: Buy vacuum bags in bulk for the best value.
Use it or lose it. Instead of cursing at that case of canned tomatoes that just won't fit anywhere, grab a pot and cook up a big batch of sauce. You'll have dinner ready, plus a few containers of sauce to freeze and use another time with all that dried pasta you bought.