How to Clean Your Cellphone
Remove bacteria from your phone with these simple steps.
Keep in mind: Price and stock could change after publish date, and we may make money from these affiliate links.
Due to our increasing dependence on smartphones, it probably comes as no surprise that our devices are covered in bacteria. Once you hear the amount and types of bacteria, you might think twice about placing your next call without disinfecting first.
Now that you've put your phone down and walked across the room, here are a few tips you can try to minimize the number of germs lurking on your phone.
Say 'No' to Bathroom Texting
Try the Ultimate Germ-Killing Device
Germophobes rejoice! There's a way to kill 99.9 percent of germs and even charge your phone at the same time. The PhoneSoap 3 utilizes UV-C light to kill bacteria in only 10 minutes. Not only will PhoneSoap clean your phone but it also cleans pretty much anything that fits (credit cards, keys, watch, etc.). It's one of the more expensive ways to keep your phone relatively germ-free, but some may find it a small price to pay to have peace of mind.
UV Lights That Disinfect Your Electronics
From the basic PhoneSoap model to the pro version that's larger and sure to fit all phone sizes to HomeSoap that fits larger devices like tablets and laptops, these UV sanitizers will rid your everyday essentials of germs without the need for wet wipes or microfiber cloths.
EDITOR-APPROVED
You may be wondering how to clean your cellphone without using liquid sanitizers. The answer: UV-C light technology.
If you don't want to invest in a UV light, your phone likely came with a microfiber cloth. If not, you can use the one that came with your glasses or order a pack online. The cloth will remove fingerprints, oils and any other smudges from your screen without scratching the delicate surface like a paper towel. Wipe your phone down vigorously until the screen is clear of any residue.
The Best Microfiber Cloths for Electronics
How to Clean Tech Devices
02:17
Follow these simple tips for cleaning your favorite and most used gadgets.
Disinfect With Alcohol and Water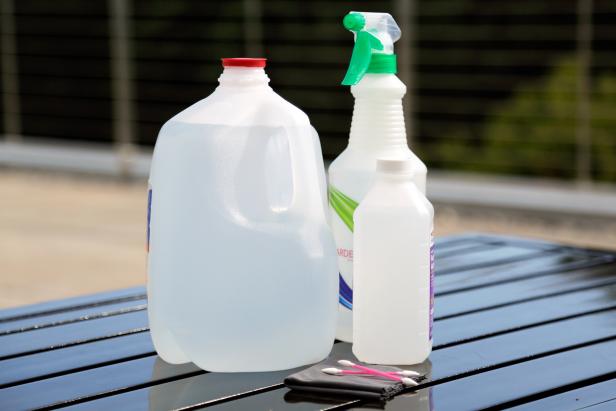 How to Clean a Cell Phone
Distilled water and isopropyl alcohol will help disinfect your cell phone.
The microfiber cloth will make your phone shine, but it won't disinfect your phone should someone sneeze all over it. To do that, you'll need some additional supplies.
Warning: Apple and other manufacturers warn against using any kind of cleaner that is not a microfiber cloth. Consider the risks before putting any liquids on your device.
You can purchase wipes that will disinfect your phone or you can make your own. In an interview with the New York Times, a technician from Best Buy's Geek Squad explained his mixture, which includes isopropyl alcohol and distilled water. Simply fill a spray bottle with the mixture, then wet a microfiber cloth. Clean your device and use a foam swab instead of a Q-tip for the tight areas.
Using a case for your phone is a great way to protect your investment but it may be carrying germs as well. To add an extra layer of bacteria protection, use an antimicrobial cover, which can help eliminate bacteria from hanging around. They come in a variety of colors and fit most phones, so search around and find one that you like.
CLEAN YOUR ACCESSORIES
Use these quick tips to prolong the lifespan and audio quality of your little earbuds.
7 Weird Cleaning Products That Really Work
01:58
Don't know how to clean some common household items? These products will definitely do the trick. See how these ingenious devices can help keep germs away. Clean cell phones, toothbrushes, blinds and keyboards and other hard to reach areas with these nifty products.