How to Clean Tile Countertops
When it comes to cleaning tile countertops, grout is the trickiest part. Learn how to clean both the tile and the grout with our easy-to-follow steps.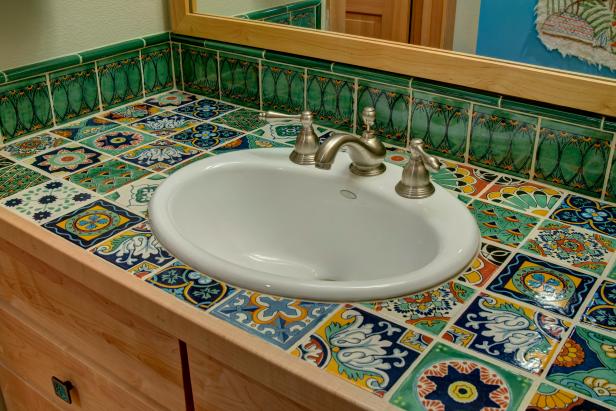 Decorative Southwester Tile Countertop Surrounding White Sink With Stainless Steel Faucet and Water Knobs
A collection of decorative patterned tiles covers this countertop creating a colorful and exciting look. A single row of green tiles extend up the wall to transition the countertop to the wood framed mirror above and create a bold border. A traditional white sink allows the countertop design to be the star of the space.
The hardest part about cleaning tile countertops is getting those pesky grout lines clean. Most tile countertops are going to be a glazed ceramic, so it usually stays shiny and is easy to clean. Grout, on the other hand, is very porous. Not all tile countertops have grout, but if it does, it's protected with a sealant. If the sealant has worn away and the grout is collecting dirt and mildew, it's important to deep clean the grout and tile before starting the resealing process.
bleach
spray bottle
scrub pad
dish soap
sponge
towel
cleaning gloves
Step 1: Apply the Bleach Solution
Wear protective cleaning gloves to avoid getting bleach on your skin. Mix 1/4 cup bleach in 2 cups water, and add to a spray bottle. Spray the tile countertop with the bleach solution, making sure to liberally cover the grout lines if applicable. Allow the bleach solution to sit for 5-10 minutes.
Once the bleach solution has soaked into the grout, scrub the grout lines to release any built-up grime using a scrub pad. Rinse the scrub pad from time to time if it accumulates buildup.
Step 3: Wipe Away the Bleach
Using a moist sponge, wipe away the bleach cleaning solution and grout grime.
Once you've wiped the counters, add a few drops of dish soap on a clean wet sponge. Use the sponge to scrub the entire counter, working from back to front. Thoroughly rinse the sponge, and wipe away any soapy water from the counter.
Dry the countertop using a clean dish towel. Now that the grout is clean, you can reseal it. We recommend using a sealant with a roller for easy application. Reseal the grout every few years to prevent mildew and bacteria from growing.