How to Clean Butcher-Block Countertops
Maintain the rich warmth of your butcher-block countertop with our simple tips and tricks.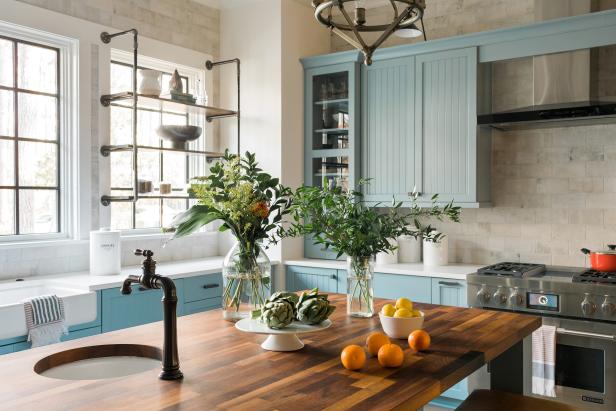 Butcher Block Countertops
A rich European Walnut butcher block top adds character to the multi-functional island that offers prep space and a spot for family and friends to gather while meals are prepared.
Robert Peterson; Rustic White Photography
For a highly functional, all-natural rustic look, many people choose butcher block countertops. They are inexpensive, easy to maintain and look great. Butcher block works double duty as a cutting surface — you can cut vegetables and other food items directly on the countertop. The scratches on the surface harbor bacteria, so avoid cutting raw meat. To prolong the life of your butcher block countertops, reseal it with a butcher block wax and oil combo once a month and clean it properly. Below, we share steps on how to keep your countertops clean using simple household ingredients.
dish soap
sponge
lemon juice
salt
white vinegar
dish towel
small bowl
Step 1: Scrub the Countertop
Remove everything from the countertops. Scrape off any caked-on dirt and wipe away crumbs. Next, add a few drops of dish soap to a wet sponge, and give the butcher block a good scrub. Scrubbing along the grain of the wood will make the countertops cleaner. Rinse the sponge, and wipe the counter down with the rinsed sponge.
Step 2: Apply the White Vinegar
Pour white vinegar onto a clean dish towel, and wipe the entire counter down to disinfect it. Let the vinegar sit for 15 minutes.
Step 3: Apply Salt + Lemon Juice
After the vinegar wash has dried, mix 1 cup lemon juice with a 1/2 cup salt (Image 1 below). Using a sponge, rub the salt and juice paste onto the counter (Image 2 below). This will help remove any spots in the butcher block and will further disinfect the surface.
Step 4: Wipe Off the Salt
Wipe away the rest of the salt once the area has dried using a clean dish towel.
Swap dated laminate for a classic butcher-block countertop.
Wood counters give a kitchen warmth and natural beauty.