Find 3 ways to sanitize baby's most used and cherished accessory.
You wouldn't think that the bink is baby's most favorite thing since they fling it, drop it, step on it, and do literally everything in their power to lose it in public places. As a parent, protecting the pacifier and keeping it clean and at the ready is a challenge to which many of us can relate.
Until you can break them of this precious habit, sanitizing new pacifiers and cleansing the old ones is a chore you'll be doing often. Warm soapy water rinses are a must, and probably the most convenient way to thoroughly clean your baby's binky while you're out and about with only public restroom access. But once you're home, follow one of these easy methods of cleaning it (and the strap it drags around town) to sanitize it properly inside and out.
Vinegar and Water Cleaning
Soak pacifiers in a cup of 50/50 white vinegar and water to keep them clean between uses. Vinegar is a safer alternative to cleaning products or bleach. Be sure to squeeze out the pacifier, and rinse with water before delivering it back to your baby, lest they develop a lifelong aversion (or obsession?) to salt and vinegar chips.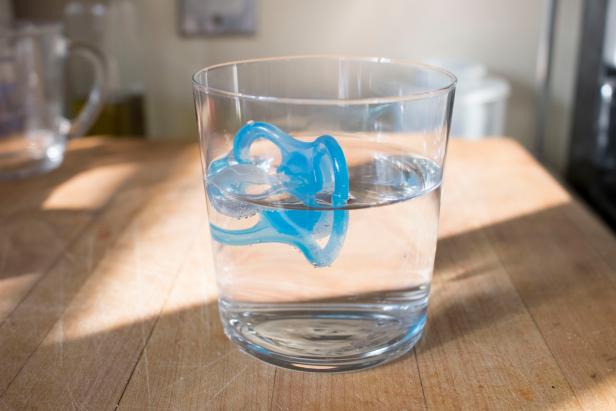 How to clean a pacifier in a vinegar bath.
How to clean a pacifier in a vinegar bath.
Boiling water in a glass container in the microwave is an easy way to sterilize baby's favorite accessory – whether it's a new one, or a tried-and-true favorite. Fill the container halfway and partially submerge the pacifier, run the microwave for two minutes and then flip the binky over and run the microwave for another two minutes. When you remove the pacifier use caution, as water trapped in the plastic is still going to be very hot. Allow it to cool and test it before you deliver it to your kid by squeezing liquid onto your wrist to check the temperature (just like you might do with a heated bottle of milk).
You can also sterilize pacifiers old and new in boiling water on the stovetop. With a rolling boil, drop the pacifier into the water for two minutes. Use a pair of tongs to squeeze the nipple to get the boiling water inside the plastic. This is my most preferred method of sanitizing pacifiers because I feel like I have the most control over how long it sits and rotates in the water.
Once the pacifier has been cleaned and removed from the pot, I also use this as an opportunity to clean all of the straps that connect the pacifier to the jacket/stroller/carrier. The small clips – no matter how strong it bites – has never been enough to prevent our kids from disconnecting and tossing the entire strap on the ground, so it collects its share of germs, too. Soak and stir it in the boiling water for three minutes to loosen particles, and then rinse with cool water under the sink and allow it to dry.