8 Cleaning Mistakes That Are Damaging Delicate Surfaces in Your Home
Tread with caution when you're cleaning surfaces of your home, and avoid these easy mistakes.
Keep in mind: Price and stock could change after publish date, and we may make money from these affiliate links.
It's easy to misuse all-purpose cleaners and DIY substitutes in routine home upkeep, so think twice and make sure the tools you gravitate to aren't doing more harm than good.
Don't Use Abrasive Scrubbers to Clean Laminate Countertops
Steel wool and other scouring pads can be too abrasive for laminate, and if you're not careful, they'll leave permanent and irreversible scratches, and dull a glossy finish.
Instead: Opt for a paste of water and baking soda to lift stains that set into your laminate surfaces, and use a soft sponge to tackle messes on these surfaces.
Don't Use Vinegar to Clean Granite Countertops
Avoid all acidic cleaners like vinegar, ammonia, bleach, and lemon, as they can damage granite countertop's sealant and lead to discoloration and erosion in the surface of the stone.
Instead: Opt for a store-bought granite cleaner, or use a soft sponge with dish soap to keep it clean on a daily basis. It may seem expensive to reseal the granite annually, but the routine maintenance will help to keep the countertop durable and free of stains.
Shop Our Favorite Granite Cleaners
Don't Use Water to Clean Microfiber Upholstery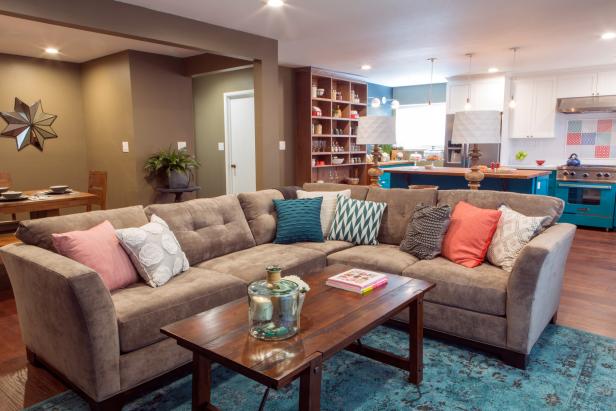 After the renovation by cousins and licensed contractors Anthony Carrino and John Colaneri, the Tezanos-Pinto's home features open walls leading from the living room, furnished with Macy's Elliot Fabric Microfiber 2-pieces sectional sofa and Ruston coffee table, into the entirely remodeled kitchen, which now features an island with a large butcher block prep area, new teal & white cabinets, new appliances and Carrera marble countertops, a large teal "designer" range, a wall oven, and a bakery corner complete with open pantry storage and a blackboard for Britney, an avid home baker, as seen on America's Most Desperate Kitchens.
Gilles Mingasson / Getty Images
Though marketed as a tough, easy-to-clean blend of (typically) polyester/nylon, many microfiber products are damaged when homeowners clean stains with ordinary water, as it can leave watermarks and spots.
Instead: Rubbing alcohol is better for spot treatment on microfiber. Apply it with a spray bottle, and use a dry, clean cloth to lift the stain as it loosens.
Don't Use Disinfecting Wipes to Clean Leather
Harsh wipes saturated with cleaner and disinfectants will damage leather upholstery in your home or car. Cleaners with bleach and bleach substitutes can dehydrate the natural material, and you'll even risk lightening the color of the leather.
Instead: Use Castile soap or liquid washing soap diluted in water, and apply it to the leather gently without letting it saturate the material. Wipe it clean with a second wet, damp cloth, and then dry the surface with a clean, dry towel. If necessary, add a natural leather conditioner to polish and protect the refreshed surface. For more ideas, see this tutorial on cleaning leather in your car.
Don't Use Bleach, Glass Cleaners, or Steel Wool to Clean Stainless Steel
Chlorine-based bleach and ammonia-based glass cleaners can both cause permanent damage to stainless steel appliances or sink basins, and abrasive scrubbers like steel wool can also quickly scratch and dull appliances surfaces if you scrub against the grain. Both harsh chemicals can lead to a ruined or discolored finish, and over time, they can also deteriorate the finish.
Instead: Apply gentle cleaners using a microfiber cloth, and if polishing, always work with the grain for an even application.
Shop Our Favorite Stainless Steel Cleaners
Don't Use Harsh Cleaners on Wood Flooring or Furniture Surfaces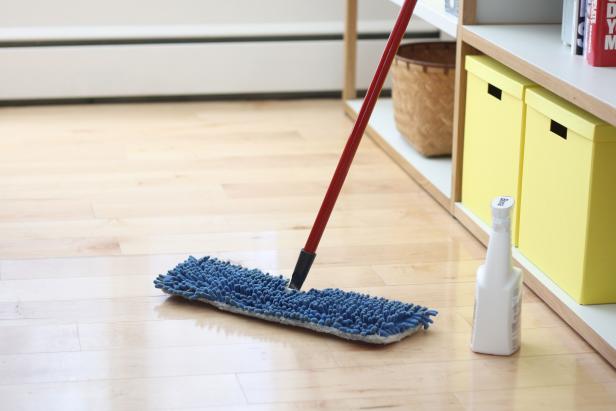 A Dry Mop for Cleaning Hardwood Floors
Choosing a dry mop for cleaning hardwood floors.
Tough cleansers can weaken and remove the polished finish that protects floors and furnishings, leaving the wood itself susceptible to damage.
Instead: Keeping wooden surfaces dust- and dirt-free is the best routine for wooden finishes, as it helps to keep the polished finish intact. Don't forget to refresh the polish occasionally to keep the finish looking like new.
Don't Use a Steam Mop to Clean Laminate Floors
The intensity of a steam mop can cause irreparable moisture damage when used to clean laminate flooring.
Instead: Sweep often, and use soapy water and a well-squeezed mop to tackle dirty spots. Always make an effort to dry the floor by hand to avoid excess water soaking in between the floorboards or tiles.
Don't Use Soap to Clean Cast Iron
Soap and heavy scrubbers will remove the seasoning on the surface of cast iron cookware, and as it can take a while to achieve that perfect cooking finish, you'll want to leave it in perfect condition if possible.
Instead: To clean cast iron, you can rinse it in hot water with a soft, non-abrasive sponge, but if the mess is mild you can also simply wipe the pan clean with a dry dishrag. In all instances, be sure you avoid soaking the cast iron, and allow it to dry completely to prevent it from rusting.