The Best Vacuums for Pet Hair in 2023, Tested by HGTV Editors
We love our pets. But cleaning up pet hair? Not so much. Browse our top list of vacuum cleaners, from handhelds to uprights, that will de-shed your home with ease.
Keep in mind: Price and stock could change after publish date, and we may make money from these affiliate links.
Updated on February 03, 2023
Our Top Pet Hair Vacuum Picks
Living with pets comes with a lot of positive benefits, like increased happiness and lower stress levels. But those sweet, four-legged roommates can also create a big mess. Every piece of upholstered furniture is suddenly a pet-hair magnet, and tumbleweeds can magically appear overnight. This is where a good pet vacuum cleaner comes into play. Not every vacuum is created equal, though — but you probably know that by now if you have pets. There are several important factors to consider when choosing the right one to efficiently de-shed your home. Carpet and area rugs will benefit from great suction and a rotating brush to pull hair out of the carpet fibers. Hardwood and tile require a vacuum specifically for floors and one that won't just blow the hair around, creating a bigger mess. And if you have stairs, you should consider the weight of the machine.
How to Choose the Best Pet Hair Vacuum
Decide the type of vacuum you want, based on your home's needs. From upright vacuums to robot vacuums to stick vacuums, there's something for everyone — and every home. We found upright vacuums to be the best overall option for pet hair on a variety of surfaces, with handheld models as a solid supplemental cleaning device. Nowadays, vacuum cleaners can boast a variety of features that may or may not be useful for you and your home. There are a few features, though, that should be considered specifically for your pet hair problem.
Suction Power: The most important feature to look for is suction power. A vacuum with 12 amps is your best bet, but as long as special pet hair attachments are included, you'll be able to tackle those hairy situations with ease
Dustbin or Bag: While bagless models are more convenient than their bagged counterparts, emptying a dust cup may irritate those who suffer from pet allergies. This is just personal preference, as either option will get the job done.
HEPA Filters: HEPA air filters are designed to remove at least 99.97 percent of dust, pollen, mold, bacteria and other particulates 0.3 microns or larger. Pet hair or fur can collect pollen, mold spores and other outdoor allergens, so it's important to remember what your pet's hair is bringing into the house. This is an especially important feature if anyone in your household suffers from allergies.
Rotating Brush: As we mentioned above, a brush agitator is essential for homes with carpet or heavy-shedding pets. This can come on the vacuum itself or as an accompanying attachment.
Accessories and Attachments: Most, if not all, vacuum cleaners will come with some standard attachments like a crevice tool and an upholstery tool. Vacuums specifically for pet hair may even include specialized pet tools so you can conquer the sofa, ceilings, corners and more to pick up hair you can't even see.
When researching and testing, we've considered all of these factors, as well as customer reviews, and we've found options for every budget and need.
Offering powerful pet hair pickup with an affordable price tag, the Bissell Cleanview Pet Upright Vacuum conquers pet messes on hardwood, carpet, vinyl and tile with ease. The triple-action brush roll lifts, loosens and removes embedded pet hair, and its soft bristles work gently on hard surfaces to remove fine dust and debris while also keeping it contained with scatter-free technology. Swivel steering gets around and under furniture and other obstacles without a problem, while edge-to-edge cleaning capabilities pick up pet hair from one edge of the brush roll to the other. (This means you'll spend less time cleaning.) Clean hard-to-reach areas with a 6-foot stretch hose and specialty tools including a corner tool and a TurboEraser tool. The multi-cyclonic suction system offers top-notch suction needed to grab pet hair, while a multi-level filtration system (with a washable filter!) helps trap dust and debris. Done cleaning? A bottom, easy-empty dustbin is quick and delightfully mess-free. And at just 13.5 pounds, it's easy to carry up and down stairs or from room to room without breaking a sweat.

Our Editor Says: "This vacuum has great suction. It ranks right up there with more expensive vacuums I've tried."
$154.49 | Amazon
$154.99 | Target
$154.49 | Bissell
A great cordless pet hair vacuum should have superior suction, the ability to thoroughly clean all floor surfaces, feature whole-machine filtration and offer tools to clean up high and under furniture. The Dyson V8 Animal checks every box. Specially engineered to deep clean homes with pets, the V8 Animal features a powerful direct-drive cleaner head that removes ground-in dirt, hair and allergens from carpets and effectively moves onto tile and laminate surfaces with ease. The machine is even certified Asthma and Allergy Friendly by the Asthma and Allergy Foundation due to its whole-machine filtration that ensures allergens are trapped inside the vacuum and not expelled back into the air. For even more cleaning power, the Animal includes a mini motorized brush bar that tackles hair and ground-in dirt, a mini soft dusting brush, a crevice tool and a combination tool that makes switching between surfaces a breeze. The dustbin empties with one click — no dirty hands! — and the washable filter is good for life; just wash and reuse. Our tester got about 40 minutes of vacuum time before needing a recharge (unless you switch to MAX mode, which only gives you seven minutes of cleaning time). A wall-mounted docking station stores and recharges the vacuum, while also holding all of its attachment parts. We also love that the V8 Animal transforms into a handheld vacuum with one click, making it even easier to clean up quick messes — or even the car! And at less than six pounds, it's super lightweight — a feature our tester found to make a huge difference after owning a heavy upright.

Our Editor Says: "I would totally buy this product again! It works great and has been a game-changer with pets and keeping the house clean. If this vacuum ever broke, I'd have to buy another one! We use it so often that I don't really know what we'd do without it. We use a robot vacuum for daily cleaning and the V8 Animal for getting hard-to-reach spots or quick messes. Together, they really keep our house spotless and it's so much less annoying than lugging around a huge vacuum cleaner."
Buy It
If you already have a larger upright vacuum that takes care of your more extensive vacuuming jobs, but you want something for quick pickups, cars, furniture and raised surfaces, this cordless handheld might be exactly what you need. The Bissell Pet Hair Eraser Lithium-Ion Vacuum has an easy-to-empty .14-gallon dustbin, a triple-level filtration system and a 17-minute battery life. Three specialized pet tools offer optimal cleaning for various surfaces: the motorized brush tool removes embedded dirt and pet hair, the upholstery tool cleans soft surfaces and furniture, and the crevice tool cleans hard-to-reach places. It also weighs just 3.5 pounds and is convenient to keep near a pet station where small, everyday messes are likely. (One editor keeps it feet from her cats' litter boxes to pick up that infuriating litter scatter.) While this handheld is definitely smaller than most vacuums and still fairly easy to store, one con is the charging base is not wall mountable.

Our Editor Says: "It's so nice to quickly unplug and grab this handheld vac to clean something up in seconds without the process of unraveling a cord, plugging it up, lugging it around. It's the best for quick messes."
$79.39 | Amazon
$79.99 | Bissell
The Roborock S4's powerful suction on rugs and carpet, multi-level floor plan cleaning capability and unparalleled performance of pet hair removal make this vacuum our best robotic vacuum pick for pet hair. It offers a zone-cleaning feature that allows you to send the vacuum to one specific room or area that needs attention and then return it to the base when finished — no need for a full vacuuming session. A user-friendly app allows for floor plan customizations like setting up no-go zones, invisible walls and cleaning schedules. The vacuum even auto-adjusts its suction power to accommodate the surface it's cleaning. Our tester noted that she distinctly heard a difference in the robot's sound as it transitioned from hardwood to rugs. As for pet hair, the Roborock snagged pet hair buried in carpets, tumbleweeds floating on hardwoods and stray bits of food next to the dog bowl. Overall, our cat- and dog-owning tester gave this two thumbs up and swears by it for a low-maintenance approach to keeping a clean home with pets.

Our Editor Says: "Since we've started running it regularly, I can really see a difference in how clean my house is, specifically from a pet hair standpoint. I honestly wish we had this sooner."
Buy It
This budget-friendly Shark Navigator Freestyle weighs just 7.5 pounds, has an extra-large, .64-gallon dustbin, works well on both carpet and bare floors and is fully equipped to handle pet hair. Swivel steering helps it maneuver around furniture, and it features a powerful rotating brush that lifts embedded pet hair from rugs and carpet. A full charge can last up to 24 minutes on the bare floor setting, and the carpet setting can vary, depending on the carpet type, but the manufacturer's site says 17 minutes is the average. Its narrow footprint makes it easy to store and charge in a closet or laundry room. The main downside to this model is that it doesn't come with attachments or convert into a handheld, so corners and spots, like under the sofa, can be hard to reach, meaning you'd need to use this in conjunction with a broom or duster to do a thorough cleaning.

Our Editor Says: "The toggle switch between bare floors/carpet makes it transition smoothly from the hardwood and linoleum floors in most of my house to the rugs that appear here and there. It works equally well on every surface!"
Buy It
Whether it's tracked-in mud or accidents, the Bissell ProHeat 2X Revolution Pet Pro handles tough pet messes thanks to its Pet Pro Cleanup System. The system includes an onboard pretreater to remove spots and stains, a 2-in-1 pet upholstery tool to remove pet hair, stains and odors from furniture and a removable brush roll cover for quick access to clean and maintain the cleaner. Need a professional-grade cleaning? Max Clean Mode uses 12 rows of rotating dual, dirt-lifter power brushes to remove deep, embedded stains, dirt and odors. If you're looking for a quick yet powerful clean, Express Clean Mode delivers dry carpets in 30 minutes or less. The lightweight design (less than 18 pounds) and low-profile foot makes it easy to maneuver around and under furniture.

Our Editor Says: "I used it to remove muddy pawprints and senior dog slip-ups in a rug that I'd previously treated multiple times with spray cleaners and paper towels. This deep-cleaning machine handily removed the telltale shadows of my failed previous cleaning attempts and left my rug looking like new."
$272.99 | Amazon
$264 | Walmart
$278.99 | Target
At just 1.4 pounds, the Shark WANDVAC combines lightweight portability with the suction power of a high-speed brushless motor. It features a tapered nozzle for easy debris and dust pickup and comes with two accessories — a duster crevice tool and a multi-surface pet tool — for tackling pet hair, upholstery and tight spaces. Without its attachments, we found it works best on hard surfaces (like hardwood floors) and low-pile rugs or upholstery. You'll want to use the attachments for higher-pile rugs and softer fabrics to really pull up the pet hair and dirt locked in the fibers. Our favorite feature is the one-touch debris-emptying system that makes cleanup a breeze. It runs for almost 10 minutes on a full charge and takes less than three hours to juice back up, which is a much faster charging time than most cordless models. Although it's small and takes up little space, it doesn't conveniently mount to the wall. Luckily, the device itself is sleek and attractive enough to leave out in the open if you need to. Plus, we love that the charging dock offers onboard accessory storage — no stray or misplaced attachments!

Our Editor Says: "The one-touch debris emptying system is really nice. It kind of balls up all the hair and dirt inside the canister and just pops it out. It's also very easy to empty and clean the tiny, little filter."
$119.99 | Amazon
$94 | Walmart
$129.99 | Target
More Products We Love That Will Help Minimize Pet Hair in Your Home
We're sorry, there seems to be an issue playing this video. Please refresh the page or try again in a moment. If you continue to have issues, please contact us here.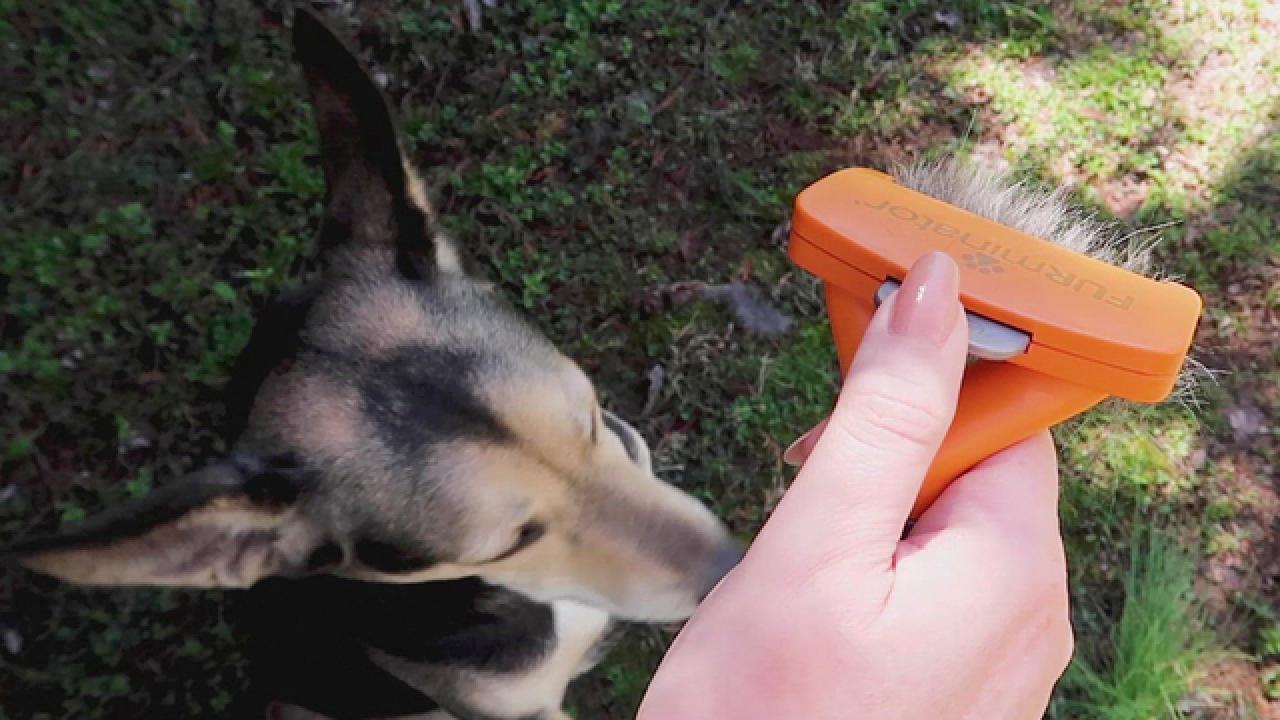 More Editor-Tested Vacuum Cleaners
Shop Cleaning Products We Love