How to Clean a Glass-Top Stove
Glass-top stoves lend a sleek, modern look to a kitchen, but they can be tricky to keep clean. Learn how to make your glass cooktop sparkle.
Like any glass surface, the most minimal spill, splatter or smear will stand out on a glass-top stove, making it look dingy. Worse yet, any dried bit of food that isn't immediately wiped up can burn onto the surface the next time you cook. Burned spills make for a stubborn bit of caramelized mess that can seem next to impossible to remove. Here is the dilemma each glass-top stove owner must face: How aggressively can one clean without scratching the surface of the stove? Which cleaning products are safe? Is there a trick to cleaning these things?
More Advice
Learn the secret to getting your smooth cooktop back to its showroom shine using all-natural ingredients.
First and foremost, the easiest way to keep your glass-top stove clean is by wiping down the surface after each use. Ideally, you'll want to use a microfiber cloth or sponge moistened with vinegar or water, and never a scouring pad or scrub brush. Unfortunately, this can only be done once the surface is no longer hot, and by that time, many cooks have moved on to serving or eating.
We're sorry, there seems to be an issue playing this video. Please refresh the page or try again in a moment. If you continue to have issues, please contact us here.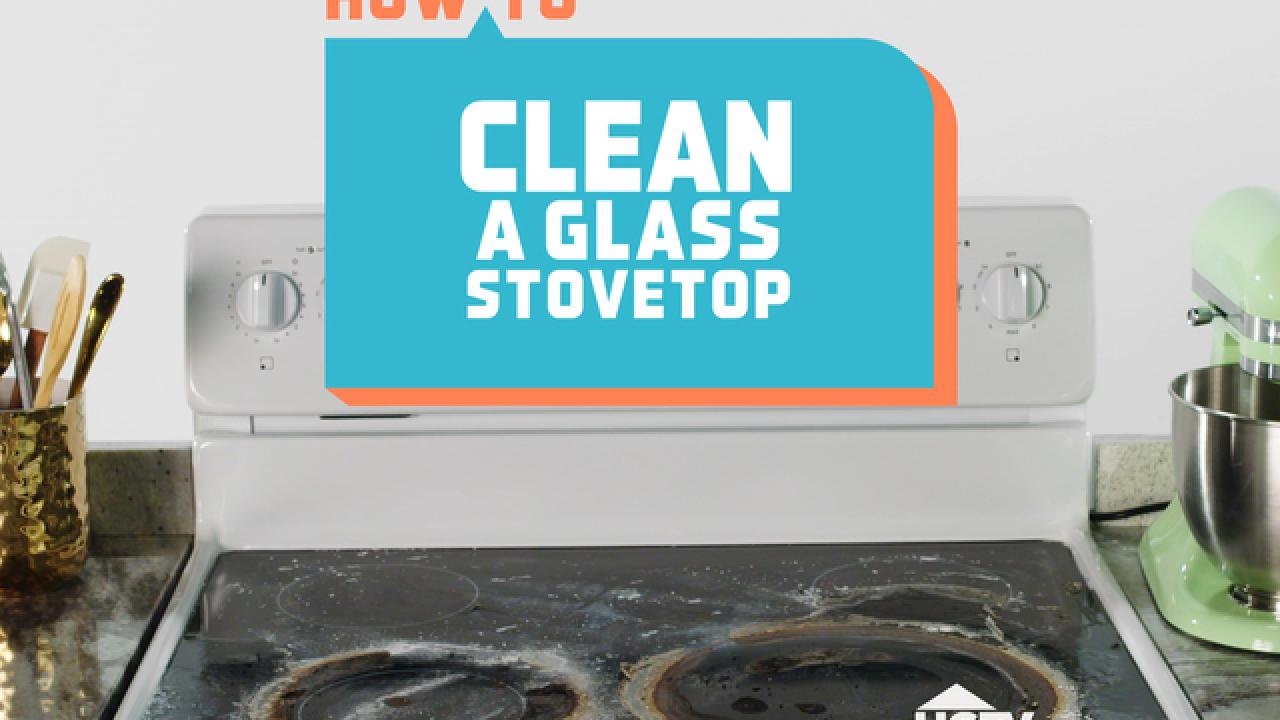 If you've forgotten to wipe down your stove and are dealing with stuck-on stains, you'll need a more thorough cleaning technique. Once the stovetop is cool, use white vinegar to spray the surface. Next, generously sprinkle baking soda over the vinegar. Place a clean towel, soaked in hot water and wrung out, over the vinegar/baking soda mix. Let this mixture work its magic for 10 to 15 minutes. Remove the towel and wipe away the residue with a microfiber cloth. Spray more vinegar and use a fresh microfiber cloth to polish away any streaks.
When the impossibly baked-on gunk can't be removed by the weekly washing process, it's time to call in the big guns: a handheld razor blade. However, before trying this method, check the manufacturer's care instructions. If they caution against using razor blades, do not proceed. Otherwise, begin by spritzing vinegar onto the cool stove surface to loosen burnt-on food. Next, holding the blade as flat as possible against the stove, lightly scrape at stubborn residue using uniform pressure on the blade. Do not use the corners, which may etch or scratch the glass-top surface. Use a microfiber cloth to wipe away any removed material. Repeat until the surface is free of stuck-on gunk.
If you're unwilling or unable to clean your stove with a razor blade, there are other heavy-duty methods available. Bar Keepers Friend Cooktop Cleaner is a mildly abrasive cleaner that won't scratch glass-top stoves. Sprinkle the powder over the offending area and scrub the spot gently using a wet washcloth. Wipe the area clean with a moist microfiber cloth and repeat until the stain is gone.
Kitchen Cleaning Tips and Tricks