Sabrina Soto's Cleaning Caddy Essentials
The High/Low Project host Sabrina Soto shares her must-have household cleaning supplies.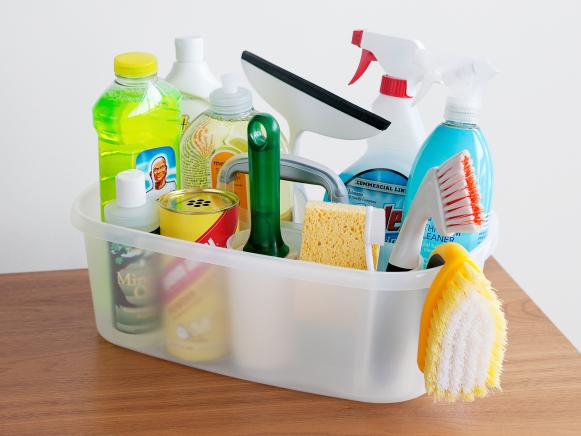 Cleaning Caddy Essentials
Gather must-have cleaning supplies to get your house spic and span from top to bottom.
Sabrina Soto admits she's a neat freak. "I can't do anything until my space is neat. I've been that way since I was a kid," she says. "I got my clean gene from my grandmother, who lived next door to us. She'd wake up at five and clean her house twice a day!" Now whenever Sabrina's feeling stressed, she reaches for her cleaning caddy. "Straightening up empties my mind. And I think a neat space inspires people: Friends tell me that after they come over, they go home and clean."
What's in Sabrina's cleaning caddy?
Mr. Clean Multi-Surfaces Antibacterial liquid cleaner (for kitchen and bathroom countertops and floors)
Soft Scrub With Bleach cleanser (for toilets and bathroom sinks)
Method Squirt + Mop hard floor cleaner
Casabella squeegee (for streak-free windows)
Windex Original glass cleaner (for windows, mirrors and lamp bases)
Method Bathroom cleaner (for bathroom walls and showers)
OXO Good Grips grout brush
Workforce Small Soft-Grip scrub brush (for tubs and floors)
A clean toothbrush (for faucets and fixtures)
Casabella Eclipse lint roller (for stereo speakers)
Bon Ami powder cleanser (for tubs)
Tree Spirit Mineral Oil (for stainless steel appliances or surfaces)