How to Clean Soap Scum From Shower Doors
Get tips on how to get your glass shower door looking as good as new.
Glass shower doors have plenty of pros and cons, and managing soap scum can deter homeowners from wanting them. My glass shower is the original in my 1951 home, so it is coffin-like compared to modern all-glass shower doors (swoon), and I'm not too crazy about the etched swan. All that aside, I've managed to keep soap scum at bay.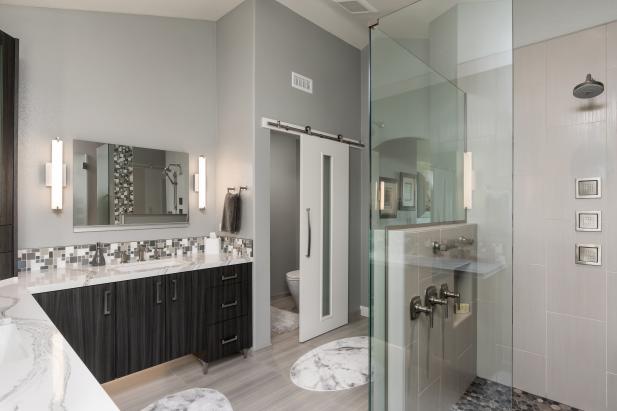 Contemporary Gray Master Bathroom With Glass Shower
This contemporary gray master bathroom features a glass shower with multiple jets, dark gray striated cabinetry with white marble countertop, and a toilet room with sliding barn door.
You noticed how I said "keep soap scum at bay" and not "keep soap scum away," right? Soap residue is a natural part of life. Learning how to maintain it is as important as learning how to clean it.
The scum we've all grown to know and hate is caused by the paraffin wax in soap reacting to hard water. Our experiences with soap scum may vary depending on water quality and bathing preferences, but to some degree, it's something you battle on glass shower doors, tile, vinyl shower curtains and in the bathtub. It's most visible on glass.
How to Clean Soap Scum With Vinegar
In a spray bottle, mix 1 part white vinegar with 1 part grease-fighting dish soap. Spray glass door, and close to allow the solution to set and drip back into the shower. Use a cloth to scrub the surface by hand after about 20-30 minutes, and completely dry it.
More Top Tips
From your coffee maker to your carpet to your kid's toys, learn how to clean items all around the home with white vinegar.
How to Clean Soap Scum With Ammonia
Wear rubber gloves and ventilate the bathroom. In a spray bottle, mix 1 part ammonia with 3 parts water, and mist the soap scum surface. While still wet, use a coarse scrub brush to agitate and loosen the soap scum. Rinse the surface clean, allowing all of the ammonia solution to go down the drain. Dry it completely.
NOTE: Avoid cleaning the bathroom with vinegar or ammonia at the same time as a chlorine-based bleach. The fumes from ammonia or vinegar and bleach create a toxic environment.
How to Clean Soap Scum With Borax or Baking Soda
You can mix both borax and baking soda with water to form a paste. Both are naturally abrasive, making them great cleaners. Use a damp sponge to apply the paste over the surface of the glass to loosen the soap scum, then rinse. Dry the surface completely.
How to Keep Your Shower Free of Soap Scum
Keep the spray bottle in the stall of the shower and give the glass a quick scrub after every use. Use the already-running water to rinse the glass, and completely dry it.
Opt for a liquid soap or body wash rather than a bar of soap. Liquid soap is more diluted, making it easier to rinse, and its reaction with hard water is different than solid soap.
Avoid oily products such as special conditioners. If you must use them, be more diligent about cleaning the shower.
Make it a habit to dry the shower after each use. A squeegee makes drying much easier. It's also helpful to keep an old towel handy to wipe over the shower walls to prevent buildup.
Leave the door open to encourage airflow.
Look into ways you can soften your hard water.