What Is an Impact Driver?
Often mistaken for a drill, an impact driver can seriously level up your DIY game. Here's how to learn your way around one.
Keep in mind: Price and stock could change after publish date, and we may make money from these affiliate links.
As a DIYer, you probably know what a drill is — odds are it was your first power tool. But what is an impact driver? It looks like a drill and functions similarly, but there are several key differences distinguishing impact drivers from drills that you should know. Read ahead to learn everything there is to know about impact drivers.
What Do You Use an Impact Driver for?
As the name suggests, impact drivers are made for driving fasteners, especially long or thick fasteners that require a lot of torque, such as lag bolts and structural wood screws. In many cases, the immense torque of an impact driver doesn't even warrant drilling pilot holes before driving large fasteners, but be warned, as this method can lead to wood splitting. Impact drivers are useful for framing decks, hanging drywall, installing subfloors and many more tasks.
Do You Really Need an Impact Driver?
Sure, you can drive most fasteners with a drill, so why buy an impact driver? The answer depends on what you plan to do with the tools. Just because a drill can do many of the things an impact driver can doesn't mean it will perform as well. If you need a lot of driving power, a drill is no match for an impact driver. If you have to drive a lot of fasteners, overhead fasteners or otherwise hard-to-reach fasteners, an impact driver will make the operation quicker and easier. Regardless of the task at hand, many professionals and DIYers prefer to use an impact driver over a drill whenever possible, as it's much lighter and more compact.
What's the Difference Between an Impact Driver and a Regular Drill?
To the untrained eye, an impact driver looks like a compact drill. However, if you're shopping for drills and impact drivers, you'll find them sold as a set more often than not, which suggests there's enough difference between the two that most buyers prefer to own one of each. Here are the main differences between impact drivers and drills:

The biggest difference between the two tools lies in the manner in which the powertrain operates. A drill operates solely with rotational force while the impact driver combines rotational force with impact, which translates to much more driving power. This is why drills are best for drilling, while impact drivers are geared toward driving fasteners.
This difference in the powertrain is best seen when driving fasteners that require a lot of torque to overcome their resistance. With a standard drill, this resistance will either stall the drill or, if the drill is powerful enough, require the operator to grab hold of the drill with both hands to prevent the drill from spinning out of control. Oftentimes, a side-assist handle is necessary to brace the drill. This isn't an issue for the impact driver, as the hammer-and-anvil style impact against the driving mechanism concentrates the torque deliverance to the bit, allowing the operator to hold the tool with one hand without fear of kickback. This paired with its compact size and light weight makes an impact driver exceptionally better for single-handed operations such as overhead fastening.
The noticeably smaller size of impact drivers is mostly due to the absence of a chuck. Instead, an impact driver features a compact, locking collar designed to hold a 1/4-inch hex bit. This does limit an impact driver to only compatible bits, whereas a locking chuck on a drill can hold any type of bit, so long as the diameter isn't too large. Many bit manufacturers have produced several bit styles with a compatible hex shank to accommodate impact drivers.
When it comes to features, impact drivers are lackluster. While nearly every drill features two or three speed settings, an adjustable clutch to prevent overdriving fasteners and an adjustable light, impact drivers are generally limited to a trigger and a light. However, some higher-option models are available with multiple speed settings.
What's the Difference Between an Impact Driver and a Hammer Drill?
If an impact driver combines rotational force with impact, doesn't that make it a hammer drill? No. An impact driver delivers its force against the rotating head based on the torque requirements at any given moment. A hammer drill continuously hammers the bit into the material as the drill rotates, making drilling into hard surfaces like concrete, cinderblocks, brick and even stone a breeze. To visualize this, picture the back of the drill being hit with a hammer as you're drilling. For an impact driver, visualize the hammer hitting both the back and side of the head, encouraging it to rotate with more force and simultaneously pushing it into the head of the fastener.
Additionally, most cordless hammer drills are simply standard drills with the added hammer function. This means the hammering function can be turned off, whereas an impact driver has a sole function.
What Should You Look for When Buying an Impact Driver?
Have you decided to add an impact driver to your toolbox? Here are a few qualities to keep in mind when deciding which impact driver you should buy: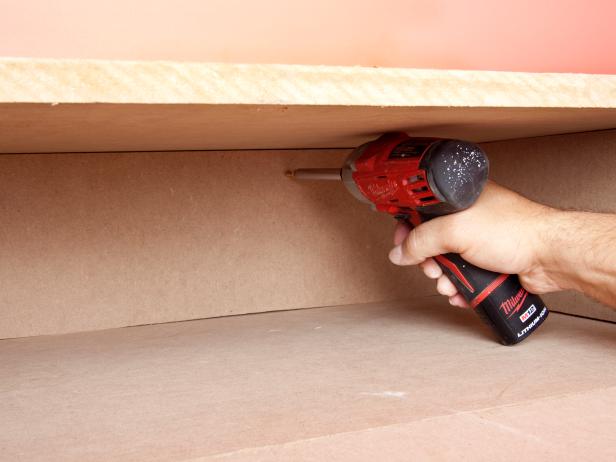 Screw Workstation to Cleat
The lightweight, small design makes an impact driver is great for getting into tight spaces.
The lightweight, small design makes an impact driver is great for getting into tight spaces.
Brand. We suggest sticking to the major tool brands with good warranties. If you already have a drill or other cordless power tools, shop within the same brand and voltage for battery compatibility. If you're just beginning your power tool collection, simply look at the specs of the driver.
Size. Higher voltage equates to more power. Generally, higher voltage impact drivers will have larger frames, meaning a heavier tool. If you're going to be running thick lag bolts or long deck fasteners, make sure you buy a model with enough torque to deliver. These will usually have 18 or 20 volts. However, if you're mostly working with smaller fasteners, you can't beat the size and maneuverability of smaller 12-volt options.
Features. While features like speed settings are nice and can be helpful for precision applications, we don't think they should be the main driving factor for your decision unless you're after an impact driver for a specific task that these settings may benefit from. Instead, look for a model with a variable-speed trigger, a trigger-activated light, and a soft, ergonomic grip that feels good in your hand.
What Can't You Use an Impact Driver for?
The impact powertrain and locking hex collar make impact drivers less than ideal for most drilling applications. While you can technically outfit an impact driver with a hex shank drill bit, the tool can easily break the bit unless it's engineered to handle the torque delivery of an impact driver. For this reason, we recommend only drilling with drill bits that are labeled "impact ready."