Spackle vs. Joint Compound: What's the Difference?
Wait a second — spackle and joint compound aren't the same thing? Though they seem similar, spackle and joint compound serve completely different purposes. Find out which one is right for your project.
Keep in mind: Price and stock could change after publish date, and we may make money from these affiliate links.
Achieving professional results as a DIYer often comes down to choosing the right product for your project. Choosing spackle vs joint compound may seem inconsequential, as these two terms are often used interchangeably, but each choice will yield different results related to consistency, dry time, project size, application and more. While both spackle and joint compound are used to repair and patch walls and ceilings, they aren't exactly the same thing.
Below, we've outlined the main difference between spackle and joint compound to help you choose the right one for your home improvement project.
Spackle, sometimes called "spackling," is a product made of gypsum powder combined with binding agents that typically comes ready to use in small tubs or squeeze tubes. It's intended for filling small imperfections or repairing damage in both plaster and drywall, but certain types of spackle can be used to fill holes and gaps in materials like wood, brick and stone.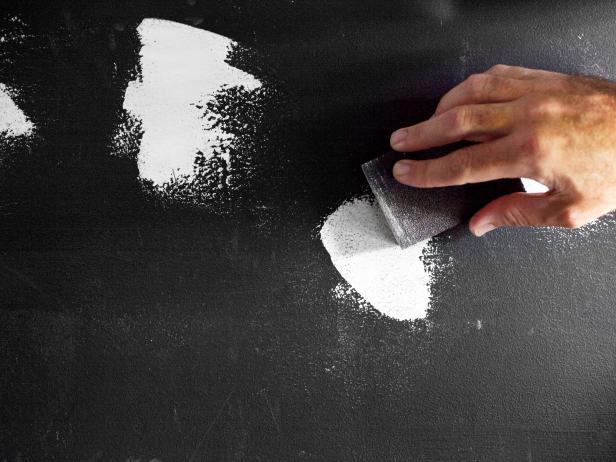 Vinyl Photo Backsplash: Prepping the Area With Spackle
Step 2 in creating a vinyl photo backsplash is the prep. Protect countertops and the kitchen floor with a drop cloth. Use putty knife to fill holes or dents in the wall with spackle. Allow for drying time and then sand the wall smooth with a sanding block. Wipe any dust from the wall with a damp sponge that's been dipped in hot, soapy water. Finally, pour a wall-covering primer into a paint pan liner, attach the roller to its handle and cover the backsplash area with a coat of wall-covering primer.
Reach for spackle whenever you need to fill small imperfections in drywall or plaster walls or cover up damage or holes left by nails and screws. Spackle's fast dry time allows you to sand and paint within 30 minutes, though the time will increase with the size of the imperfection filled.
Spackle's formulation, including its binding agents, makes it more elastic than joint compound, which keeps it from shrinking and cracking as it dries. This means you can often fill minor imperfections and holes with one coat of spackle, whereas joint compound may require multiple coats. This makes using spackle a major timesaver.
Pro Tip: When performing small repairs, such as filling nail holes, opt for spackle with a dry time indicator. This product goes on pink and turns white when it's ready to sand and paint.
Not all spackle is created equally, so it's worth getting to know the different types of spackle before you choose one for your project. Here are the most common types of spackle:
All-Purpose Spackle All-purpose spackle is used for all standard repairs in drywall, such as cracks, holes, dents and dings. It contains gypsum powder, which allows it to harden to a similar consistency to drywall.
Lightweight Spackle Lightweight spackle combines sodium silicate with adhesive to create a product that spreads easily and dries with minimal shrinkage. It is ideal for smaller repairs like filling nail holes but shouldn't be used to repair more extensive damage.
Epoxy Spackle Epoxy spackle sticks to materials that standard spackle won't, such as wood surfaces.
Vinyl Spackle The elastic polymers in vinyl spackle make it supremely durable in both interior and exterior applications. It can be applied in multiple layers to fill large, deep holes.
Acrylic Spackle Acrylic spackle is flexible like vinyl, giving it many of the same qualities. It can be used indoors and outdoors on surfaces like wood, plaster, brick and stone.
Joint compound is a product made up of primarily gypsum dust and limestone that is available both in powder form and pre-mixed. Intended for finishing new drywall and repairing drywall, joint compound's mud-like texture earned it its informal name "drywall mud."
When to Use Joint Compound
The main purpose of joint compound is finishing new drywall and performing large drywall repairs and patches. Because joint compound has a slower drying time than spackle, it has a longer working time, which allows the user more time to achieve a smooth surface.
Joint compound's primary function is filling and finishing the joints between sheets of drywall. You probably connected the dots, but this is where the word "joint" in joint compound comes from. The drywall mud is spread between the sheets of drywall after installation to create a smooth wall surface. When paired with drywall tape and applied by an experienced hand, joint compound can make drywall seams totally disappear.
Hanging drywall may sound complicated, but that doesn't have to be the case. Follow these step-by-step instructions and your installation will go smoothly.
Likewise, joint compound is a great material for patching damaged drywall. While small holes can simply be filled with joint compound, larger holes may benefit from the addition of aluminum or fiberglass mesh tape or even a patch cut out of another piece of drywall material to fill the majority of the void.
Pro Tip: When filling holes in drywall with joint compound, overfill the hole to account for shrinkage when drying, then sand off any excess when it dries.
Even if you decide you should use joint compound instead of spackle, you're still faced with another decision, as there are a few different types of joint compounds that you will come across when you head to the home improvement store. Here are the main types of joint compound:
Setting Joint Compound Setting compound is packaged dry and mixed on the job, as it sets quickly after mixing. Most brands designate numbers for setting joint compound, such as 20, 45 and 90. These numbers represent the time it takes the joint compound to set. Pros often opt for setting joint compound for finishing drywall because it allows them to apply several coats in one day if necessary.
Taping Joint Compound Taping compound is drywall mud that is intended for use with drywall tape for taping joints or fixing cracks.
Topping Joint Compound Topping compound is drywall mud that is reserved for the final layer, as it's formulated to create a smooth finish.
All-purpose Joint Compound. All-purpose joint compound is a pre-mixed product that is intended to cover all aspects of finishing drywall and performing repairs but won't necessarily achieve the same results as the job-specific types of joint compound.
Spackle vs. Joint Compound: Main Differences
Whether you're hanging new drywall or simply filling a few nail holes, knowing the difference between spackle vs. mud will help you choose the right filler for your project.
Joint compound shrinks and cracks when drying more than spackle. Thanks to the additional binders, spackle is more elastic than joint compound, which allows it to hold its shape as it dries. Joint compound has a tendency to shrink and crack as it dries, especially in thicker applications.
Spackle can be used to fill more than just drywall. Joint compound will not stick to materials like brick, stone, wood, as well as other materials that vinyl and acrylic spackle can fill.
Joint compound has a thinner consistency than spackle.

This makes joint compound easier to spread than spackle, but it can be harder for beginners to achieve smooth finishes, requiring a lot of sanding and some trial and error.

Spackle dries faster than joint compound. Spackle dries much faster than joint compound, though joint compound is available in quick-setting formulas.
Joint compound is sold in larger quantities than spackle. The average job calling for joint compound will use much more filling material than a job that calls for spackle. Therefore, joint compound is sold in larger amounts than spackle.
Joint compound can be used as a substitute for spackle, but spackle isn't a substitute for joint compound. You can fill nail holes, dings, dents and cracks with joint compound, but you can't use spackle to finish new drywall, tape joints, skim coat uneven walls, or do many other tasks that joint compound is intended for.
A well-placed piece of art may be the quickest way to disguise a hole in your wall. But for a professional fix, follow our tips on how to patch a hole in drywall.
Wall anchors can be tricky to get out of a wall. Follow these tips to reduce damage and repair unsightly holes.