Laminate Kitchen Countertops
For a wallet-friendly but practical material in the kitchen, laminate kitchen counters are a stylish alternative to expensive stone slab surfaces.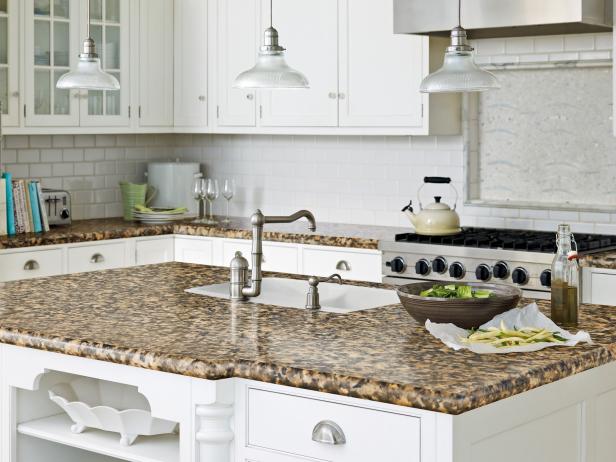 Laminate-Kitchen-Countertops_s4x3
Countertops continue to define a kitchen's style — but they don't have to be a budget-buster. This granite look-alike from Wilsonart is actually laminate but unlike previous laminate countertops features a more realistic, larger stone pattern and rounded edge for a high-end granite look at a fraction of the price
Laminate kitchen countertops offer an attractive option for consumers looking for a budget-friendly surface, a variety of patterns and colors, and a nonporous material that's both low-maintenance easy to maintain.
Laminate kitchen countertops first became popular in the 1950s, but they maintain a time-tested appeal in the 21st century as well.
Available for a fraction of the price of granite, stone-look, wood or metal countertops, laminate counters also have the distinct advantage of offering a cohesive, seamless look thanks to options like integrated sinks, backsplashes and more.
Even better, unlike the pricier surfaces, laminate can be replaced for a comparatively low cost. And because it can be purchased premade from big box stores, the material is also a favorite among do-it-yourselfers.
Often referred to as Formica, a popular countertop brand, laminate kitchen counters come in sheets that are cut to fit your counters. While laminate counters will have seams, a good fabricator should have the ability to make them practically disappear into the surface.
Other Kitchen Countertop Materials