Gas vs. Electric Stoves: Is One Better Than the Other?
Renewed conversation about the health impact of gas stoves has caused many to re-evaulate their favorite cooking choice. We break down the pros and cons of gas stoves versus electric stoves and the environmental consequences and health risks of using a gas stove.
Updated on February 10, 2023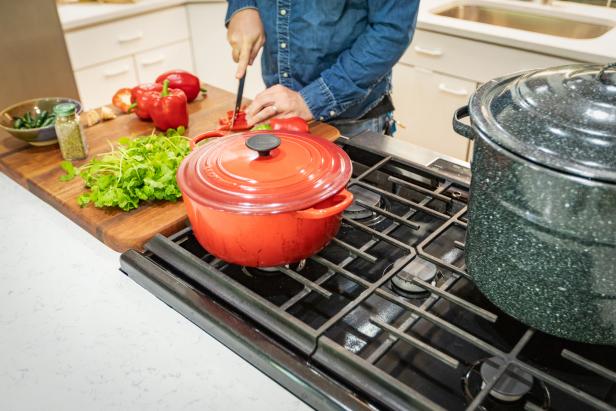 Most American consumers own either a gas or electric smoothtop range with a smaller group owning electric coil-top or induction ranges. Everyone has their preference when it comes to choosing a gas or an electric range. But with changes in kitchen design and in our habits, you may find a strong preference can be swayed.
Plus, Richard Trumka Jr., a US Consumer Product Safety commissioner, recently said in an interview with Bloomberg that the federal agency is considering a ban on new gas stoves, reviving health and environment concerns of cooking with gas. There are no firm plans to ban new stoves at this time.
We've rounded up the many pros and cons of both electric and gas ranges and plenty of intel to help you decide which option works best for you.
Instant heat and the ability to make immediate temperature changes are a few of the leading perks for homeowners who favor gas over electric. It is often easier to visually gauge heat levels with gas as well. The grates for gas burners are virtually indestructible, and a variety of cookware can be used on a gas stovetop. Some homeowners might say they're simply drawn to the gourmet experience of cooking over a flame.
"What you have most often determines what you buy," explains Jonathan Clinton, Kenmore product manager for Sears. Shoppers who have a gas line hook-up in their kitchen likely will purchase a gas-powered cooktop. Those without a gas line are not likely to shell out the extra cash to run one for a new appliance unless they are undergoing a major kitchen remodel.
Better temperature control.
More durable.
Gas tends to be less expensive than electricity.
Chefs tend to prefer gas perhaps because the burners and oven heat up faster.
Gas ranges come with more environmental concerns.
Can release dangerous carbon monoxide into the air, especially if unvented.
Are slightly more expensive to purchase and install; installing a new gas line, if necessary, can be expensive.
Not as easy to clean as electric cooktops.
You will of course need a propane or gas hookup to cook on a gas stove; the power source is the main distinction between a gas range and an electric one.
Smooth glass-top electric cooktops start at a low price point and are a mainstream option for kitchens that aren't outfitted with gas lines. The products are easy-to-clean and quicker to heat food than gas cooktops. With a sophisticated appearance, these cooktops complement many sleeker countertop designs. They tend to maintain low heat much better than gas cooktops.
Typically less expensive to install.

Easier to clean.

Easier to control low heat.

Stable base for different sizes and styles of pots.
Gas definitely has more "foodie" and chef associations.
Electric cooktops need a special outlet to offer enough power if not already in place.
Though easier to clean, abrasive cleaners can damage the surface.
Will not work with power outtage.
Now that you know the basics, let's see how they compare against each other.
Gas vs. Electric Stove: Appearance
While top brands like KitchenAid make some good looking electric ranges, there is no denying that for home cooks who want something both cooking-forward and stylish in their kitchen, gas offers more looks. The top luxury brands, including Aga, Smeg La Cornue, Thermador and Viking, dominate and offer a variety of gas range colors, surfaces and styles that blend with various kitchen looks.
But it is arguable that if someone is looking for a sleek, streamlined kitchen, the clean glass cooktop on an electric range might suit their preferences more than gas.
Gas vs. Electric Stove:
Cost
Gas is cheaper than electricity. But if you are installing a range from scratch, a gas range install is going to set you back more money. Gas stoves have fewer parts than electric ranges and are generally easier to maintain. They tend to last longer and be more durable.
In terms of initial purchase price, electric ranges are cheaper than gas ranges.
Gas vs. Electric Stove:
Environmental Concerns
Though only a small portion of our natural gas supplies go to cooking, home cooks who prefer cooking with gas have kept households from becoming entirely electric. Unfortunately, natural gas contributes to climate change by releasing heat-trapping emissions into the environment. The manufacture and transportation of natural gas also comes with methane leaks at every step in reaching the consumer, leading to even more greenhouse gas emissions.
Though the energy that fuels your electric stove may still come from fossil fuels, innovations in wind and solar energy are helping to lessen the negative environmental impact of that energy source.
Gas vs. Electric Stove:
Health and Safety
Leakage of methane, a potent greenhouse gas, is a concern in the home use of natural gas that has been linked to poor indoor air quality. Groups including the Rocky Mountain Institute, Physicians for Social Responsibility and the Sierra Club have put out a report on the health effects from gas stove pollution, which can include exacerbating health conditions like asthma.
Gas stoves emit carbon monoxide and formaldehyde into the air as well as nitrogen dioxide at levels that exceed recommended indoor air levels. Nitrogen dioxide is a toxic gas according to the Environmental Protection Agency. In young children's bodies, elevated nitrogen dioxide levels can present a greater effect, potentially leading to learning deficits, a greater risk of childhood asthma, increased susceptibility to lung infections and a myriad of other health risks.
If you have a gas stove, the best thing you can do to counteract the release of these indoor pollutants into the air is to have a vent above the stove that draws substances outside.
In addition, gas stoves can leak gas, which can potentially lead to an explosion, making them less safe than electric stoves.
Gas vs. Electric Stove:
Performance
Chefs tend to prefer gas because of the ease of temperature control.
Electric stoves tend to heat up faster and have a narrow edge over gas when it comes to baking. Electric stoves also tend to be better at broiling and maintaining a consistent low simmer.
Gas vs. Electric Stove:
Maintenance
There is no denying that with their flat, smooth surfaces, electric ranges are far easier to clean. However, avoiding abrasive cleaning products and sponges that can leave scratches on the cooktop is key. Spills should be cleaned up immediately to prevent them from baking into the cooktop and leaving a stain.
Gas vs. Electric Stove:
Durability
Gas ranges have fewer parts and tend to be more durable and last longer than electric ranges.
One last consideration if you are still torn between a gas or an electric range: Induction cooktops are yet another option.
Energy-efficiency is a huge reason that induction cooktops are popular. Activated only by currents between the coils and the cookware, the products are considered safe because they quickly cool to the touch and operate with less heat loss. All of which leads to less chance of burns or fires. Another major perk is that they're very easy to keep clean. Manufacturers continue to adapt the induction technology and while they were once deemed very high-end, it is now a more affordable and mainstream option for homeowners.
You may need to swap out some of your cookware as not all pots and pans work with induction.
Induction stovetops tend to be more expensive than gas and electric.
There is a learning curve involved.