Get all the info you'll need on green kitchen cabinets, and plan to integrate the most natural of colors into your kitchen design.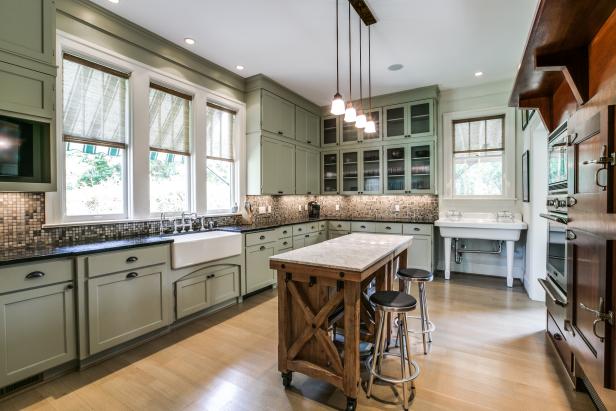 Green Large Kitchen With Mosaic Backsplash
A beige mosaic tile backsplash brings depth to this large kitchen and is an elegant pairing with the room's pale green cabinetry.
Dave Perry-Miller Real Estate, a member of Luxury Portfolio International
If you're planning a kitchen redesign or installing a brand-new kitchen, and you'd like to introduce some color into your design, you may want to consider green kitchen cabinets.
Green has become a more a more common color for kitchen cabinets, especially since most paint manufacturers now offer a vast array of green shades. Whether it's a deep forest green or a soothing, light moss, the shade of green that's right for you is surely available.
Part of the appeal of green kitchen cabinets has to do with what the kitchen is all about in the first place—for many families, it's the place they start their day, and where they eat their first meal. Green is a color choice that suggests health, and it can be both vibrant and soothing, so it makes perfect sense for kitchens.
In terms of shades, light lime is a particularly popular shade for kitchens. It's both bright and soothing—a perfect combination for the place you'll spend many mornings. Other popular choices are sage, mint and celery green, but it's not uncommon to find kitchens with green cabinets in shades that are much livelier, even edging into the fluorescent green and yellow range.
Other Kitchen Cabinet Colors
More Kitchen Cabinet Ideas