Tray Ceilings in Bedrooms
Add architectural interest to your bedroom with a tray ceiling.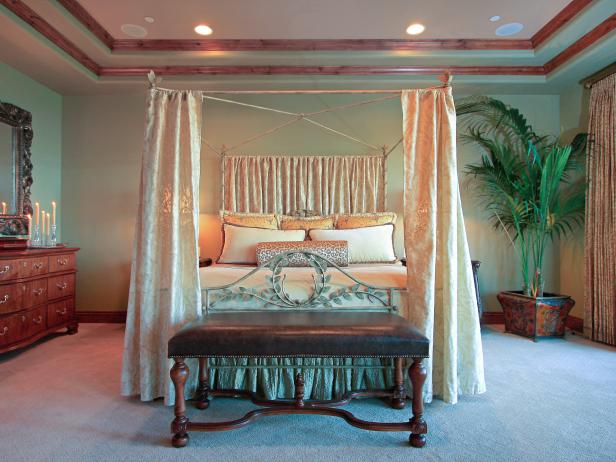 dp-smart-leopart-bedroom-4x3
Sage green walls provide a relaxing back drop to this bedroom. Plush fabrics were used for the custom bedding ensemble. The fabric panels hanging on the bed frame create a romantic cocoon. Designer tip: Paint the wall color up on to a portion of the recessed ceiling to give the illusion of more height.
A tray ceiling will add architectural interest to your bedroom and turn an ordinary room into an elegant retreat. The woodwork involved in building a tray ceiling will also add value to your home.
A tray ceiling, also called an inverted or recessed ceiling, features a center section that is several inches (or several feet) higher than the areas around the perimeter of the room. This design allows for the use of colors painted on the trim that can turn a bland ceiling into a focal point. Many homeowners install hidden tube lighting along the perimeter of the tray, which is especially nice if the lights are on dimmers so they can be lowered for a romantic look.
Tray ceilings work best in large rooms with high ceilings, where they can keep a room from appearing cavernous by creating visual depth in the room. The higher center of the ceiling also provides an opportunity to create a focal point by hanging a beautiful chandelier, pendant light or ceiling fan. The center section is also a great place to paint a ceiling mural. Scenes with clouds or stars are popular, but you can paint any scene that appeals to you.
If you want a touch of glamour, install mirrored tiles in the center to create a glittering effect as the mirrors reflect light from the room. For a more country or beachside look, install beadboard in the top of the tray ceiling and paint it a soft white, grey or blue—or stain the wood in a warm, natural shade.
Painting the center of the ceiling a darker shade will create a look of height, causing that part of the ceiling to recede visually. Paint with a metallic sheen creates depth and warmth, and it can work well if you're going with a Mediterranean style of decorating.
In designing your tray ceiling, you can follow the shape of your room or create a different shape to give the room even more visual interest. If your ceiling is very high—ten to twelve feet—you might be able to install a double tray ceiling, creating a stunning architectural focal point overhead. If your style allows, you can go heavy on the trim and paint or stain it in colors that complement your walls and furnishings. For a simpler, more modern look, forego the trim and create a focal point with lighting, either along the perimeter or with a hanging fixture.
You can hire a professional contractor to build your tray ceiling, or you can do it yourself. Before you decide, consider the scope of your project, the look and materials you want, as well as your budget.
Other Bedroom Ceiling Design Ideas
Get More Ideas for Bedrooms