Create a soft and dreamy look in your bedroom with drapes hung from the ceiling.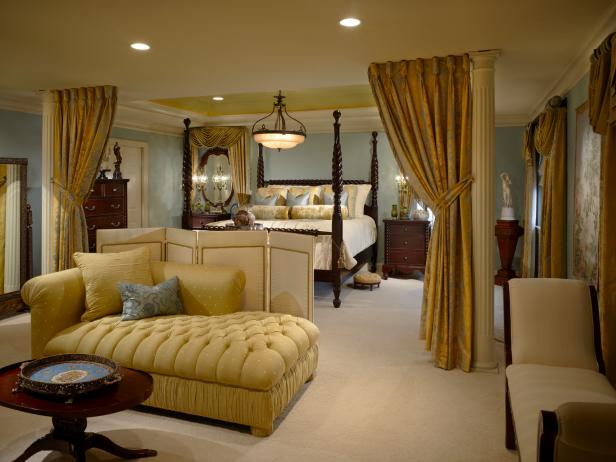 DP_Joe-Berkowitz-gold-blue-master-bedroom_4x3
This elegant master bedroom features columns with tieback draperies to separate the sleeping area from the sitting room. A custom floor screen diffuses the hydraulic TV cabinet facing the four-poster bed. The curtain on the left side of the bed surrounds a mirror instead of a window to open up the space.
If you want a look in your bedroom that is dreamy and romantic, it's hard to beat ceiling drapes. There are many ways to create an intimate space using soft, flowing fabric, whether your aim is to turn your bed into a beautiful focal point, or create a special reading space in a child's room.
Ceiling drapes work with a range of decorating styles. For a modern or contemporary look, choose crisp fabric in a solid shade or large pattern. For an exotic look, choose drapes in a variety of fabrics and colors. Sheer fabrics in particular will help you create an ethereal ambiance in your room.
To add even more interest to your look, don't stop with fabric drapes. Hang a series of paper or other lightweight pendant lights or lanterns among the draping fabrics for an unforgettable look. You can hang string lights above sheer fabric to create the look of a starry sky above your bed. You'll want to make sure you have enough head clearance for getting in and out of your bed.
There are also many ways to hang your ceiling drapes. You can fasten fabric to the ceiling over a portion of your bed on the headboard end, allowing the fabric to drape down the wall behind the headboard. You could also hang curtain rods from the ceiling along the perimeter of your bed and hang your fabric from them to create a full, enclosing canopy.
Another favorite look is to cover the room's entire ceiling in a draping fabric that bunches in the center and is attached to the upper walls around the perimeter of the room. White or creamy fabric looks great installed in this fashion, but a cheery bright or pastel would work as well. Hang a chandelier from the bunched center of the fabric for an elegant touch.
If you want to soften the look of your bedroom but you don't want to enclose the entire bed (or your budget leaves you with only a small amount of money for fabric), consider hanging a cornice-style drape above the head of your bed. To get this look, suspend a small hoop-shaped rod from the ceiling and use it to support the drapes; another option is to attach a semicircular rod to the top of the wall at the ceiling. You can also purchase a cornice or build one yourself. Your fabric will drape along either side and to the back of the bed; use two or three drapes to create a rich look, using colors that complement your bed linens. Tie the drapes back from the bed if you like.
Other Bedroom Ceiling Design Ideas
Get More Ideas for Bedrooms