The right lighting touches can add a touch of cool to your bedroom remodel.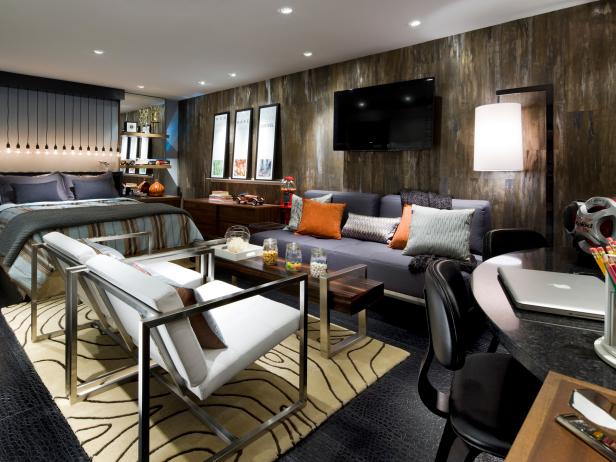 RX-HDIVD1610_teen-bedroom-after_s4x3
A masculine color scheme of aluminum, brown and blue is mixed with contemporary furnishings and high-tech gadgets for a cool teenage boy's bedroom. For the feature wall, Candice chooses a funky rolled steel wallpaper to add interest and texture to the space., Charcoal
Adding a touch of cool to your bedrooms lighting is easy, whether your project is a big-budget remodel or a simple change of accessories. Even the smallest table fixture, given the right design or color, can add a pop to your room.
For a cool way to introduce ambient light to your room, you can install cove lighting, which is made up of tubes or other shapes and hidden high up on walls or ceilings. Cove lighting may be installed above a ledge, tray ceiling or in crown molding. You could even choose a headboard with built-in lights, which could uplight art hanging above your bed.
For pizzazz on a small scale, consider string lights. Hung on the wall behind the bed, or at a window (either alone or paired with curtains, string lights can be romantic, magical or festive depending on the style of lights you choose, as well as the colors of your bulbs.
For a look with impact, think beyond singular fixtures. Consider grouping a collection of small pendants to create the look of a chandelier, but with a modern twist. As an alternative to recessed light, hang small can-shaped pendants around the room, or install track lighting above the bed.
For interesting lamp styles, peruse thrift and antique stores for fixtures that can be refurbished or painted. Take an old lamp and add a new shade, or take a plain shade and use fabric paint or glue and embellishments to create a unique look. Lamps can be made from wine bottles, vases, jars, pitchers, statues - even a stack of books can serve as a lamp base. Craft supply stores often have kits for the wiring and bulb assembly.
Save space by hanging pendant lights on each side of your bed, choosing fixtures that complement your decorating style. A pair of hanging fixtures in an unusual design can create a stunning focal point out of your bed area. Wall lights can also save nightstand space, and many contemporary designs are works of art, with geometric designs, frosted shades in distinct shapes.
Don't forget natural light. Skylights and solar tubes will let the sun in, a nice touch to wake you gradually in the mornings. Skylights can also allow for some cool stargazing at night.
As you choose your cool bedroom lights, keep your overall plan in mind and remember to include ambient light, as well as fixtures that will provide task and accent lighting.
Other Bedroom Lighting Ideas and Styles
Get More Ideas for Bedrooms