Romantic Bedroom Lighting
The right lighting can create a romantic mood in the bedroom, whether your style is traditional or modern.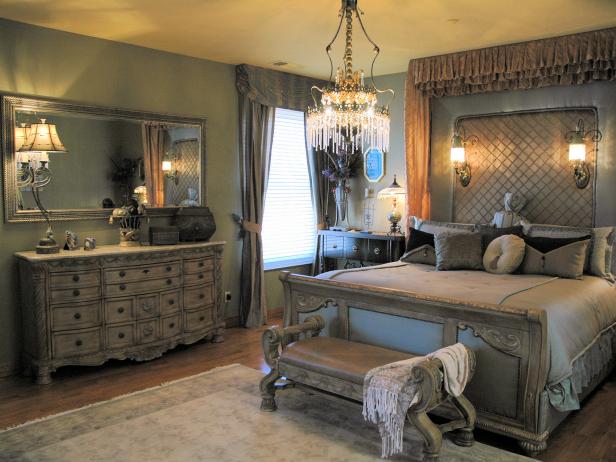 RMS_SedonaSidney-romantic-old-world-master-bedroom-elegant_s4x3
This charming master bedroom delivers romance through the custom-made headboard, bedding and Old World furnishings. The curved lines of the furniture and soft lighting create the perfect setting for a cozy night in. Design by RMS user SedonaSidney
Think of romantic bedroom lighting and you probably picture crystal chandeliers and candles, but don't stop there. Even if you prefer a modern look, there are plenty of light fixtures that are sure to add a touch of romance to your bedroom.
In general, keep the layering of your bedroom's light in mind: You want ambient light to be soft, not harsh, with touches of task and accent lighting as needed. But for romance, there are other ways to add just the right amount of light.
String lights can create a look of romance and magic without costing you a lot of money, particularly when they're paired with soft, sheer fabric. Twist string lights around and across a four-poster bed to create a canopy. Hang lights on the wall behind the bed, either alone or behind a sheer fabric, to create a dramatic "headboard" look. Be creative with color or stick with clear fairy lights.
For romantic natural light, hang light, gauzy drapes in the windows. If your remodel includes structural work, consider a skylight to allow for nighttime stargazing and to bring welcome sunlight to wake you in the morning.
Candles can help create a romantic mood, and the new flameless candles, which are battery operated (some are rechargeable) are safer than traditional flame candles. Build your own chandelier by hanging a wooden or metal frame and attaching the candles. Decorating stores carry wall sconces that can hold candles, creating a soft, flickering glow in the room. Also look for tabletop candlesticks and floor candle holders. Candelabra are a great romantic touch; you can find them in both traditional and modern styles.
If you're fortunate enough to have a fireplace in your bedroom, candles are a perfect accent during warmer months. Group candles in similar holders together on a shelf for impact.
You can hang a light fixture on either side of the bed, adding a touch of romance as well as freeing space on the nightstand. The number of available styles is nearly endless, from simple pendant lights to ornate mini-chandeliers to lanterns.
For a romantic mood with modern style, try fixtures with simple lines that are made from natural materials such as wood or stone. Even a fixture made of metal can get a softer look from frosted bulbs and fabric shades. Globes in soft colors can also create a romantic look.
Whatever light fixtures you choose for adding romance to your bedroom, be sure to put them on dimmer switches. That way, you can better control the mood you're trying to set.
Other Bedroom Lighting Ideas and Styles
Get More Ideas for Bedrooms