If your remodel includes new master bedroom, make sure plans for your retreat include lighting.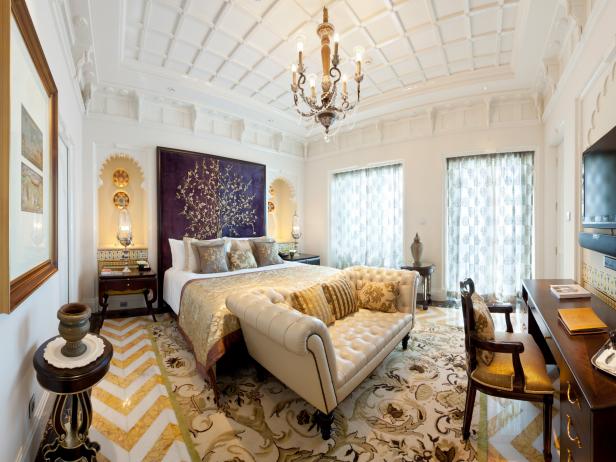 CI-Taj_Rajput-Suite-bedroom-chandelier-pattern-white_s4x3
Big on style and room to relax — 1,800 square feet to be exact — this suite features the best of India's Rajasthani opulence paired with modern technology. From the gold-and-white marble floor laid in a traditional chevron pattern to the ornately decorated walls and ceiling covered in deep plaster relief, the suite's regal features are fit for a rajah or head of state. Noteworthy hotel guests include The Beatles, Jacqueline Kennedy Onassis, Bill and Hillary Clinton, and President Barack Obama. Image courtesy of Taj Mahal Palace
When choosing light fixtures for your master bedroom, it's important to have a plan. Today's typical master bedroom design is more than just a place for a bed; many of these spaces include a bathroom, at least one closet, and dressing or sitting areas. Each of these areas will need to be included in your lighting plan.
If your remodeling project is extensive, you may want to hire a lighting designer. This professional can help you brainstorm lighting ideas, determine the best placement of lights for your needs, make sure you don't forget any details, and help you choose fixtures that complement your decorating style. If you live in a large metropolitan area, you may be able to find a designer certified by the International Association of Lighting Designers on the association's Web site. Also, many lighting and home improvement stores have a lighting design consultant on staff.
As you choose your lights, be sure to keep all three types of lighting in mind: ambient (overall or general lighting), accent lighting (to highlight art and other features), and task lighting (to provide focused light for reading and other activities).
Depending on the design of your remodel, you have many options for all three types of light. For ambient lighting, overhead flush-mounted or hanging lights are a common choice. If you have the space, the right pendant or chandelier installed over the bed can create a stunning focal point. If you're looking for climate control, choose a light fixture with a ceiling fan to help cool you during the summer months.
If your master bedroom has a tray ceiling or crown molding, consider cove lighting, which is lighting made of tubes or other shapes that is hidden high up on the walls or ceiling. This type of ambient light mimics natural sunlight. You can also install recessed lighting for a similar effect.
If your remodel project includes construction, you might also consider natural lighting options such as skylights, solar tubes or large windows. A skylight lets you watch the stars at night and allows you to be awakened gently by the sun each day.
For task and accent lighting, consider what tasks will be taking place in the bedroom suite. Is there a reading area or writing desk that needs a lamp? A dressing area that could use more focused overhead light or a floor lamp? For bedtime reading, you might choose table lamps for the nightstands, or install a wall or hanging light to free up space on the bedside table.
Don't forget finishing touches such as dimmer switches and remote controls, so you can truly be the master of your new bedroom's lighting. Also consider installing three-way light switches, which allow a single light (typically an overhead ambient light) to be controlled by two separate switches.
Other Bedroom Lighting Ideas and Styles
Get More Ideas for Bedrooms