A girl's bedroom lighting doesn't have to be frilly. Let her personal taste shine through with fixtures in an array of styles.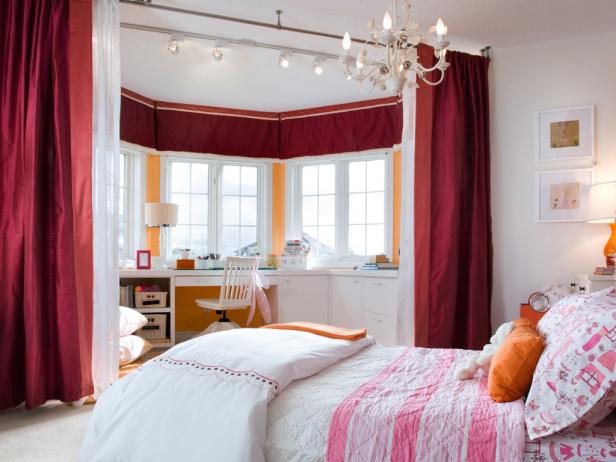 hdivd1405_girls-bedroom_cropped_s4x3
Designer Candice Olson created the ultimate girl's getaway by turning a small bay window into the background for an inspiring workstation and craft area. The white built-in desk unit provides plenty of drawers, cubbies and cabinets for keeping supplies tucked away and out of sight. Dramatic magenta track curtains create an easy separation between workspace and sleep space.
When you think of lighting for a girl's bedroom, it's easy to turn to the standard flowers, lace and princess motifs. But think outside the lines and you'll find there are many different fixture types and styles to fit any girl's taste.
The styles that are available range from mini crystal chandeliers to contemporary geometric fixtures in bold sweeps of color. If she's old enough, you can let your girl have a say in her bedroom lighting, keeping a few things in mind.
As with the lighting in any bedroom, don't forget the importance of layers. Most rooms need ambient (general) lighting, task lighting for reading and other tasks, and accent lighting to highlight artwork, plants and other features. Will she be doing homework in the room? Watching TV or using a computer? What about art and other hobbies? Think about all of the activities that could happen in the room and plan accordingly.
Use recessed lighting around the perimeter of the bedroom, and hang a pendant light or small chandelier over the bed. Wall sconces or a hanging light on each side of the bed can serve as bedside lights for reading, freeing up room on nightstands for books, electronics and other items. Wall lights with movable arms are a particularly good choice for reading areas, since they can be adjusted to the reader's needs.
Desks, computer tables and art areas call for task lighting in the form of desk or floor lamps, or a well-placed hanging lamp or wall lamp. Floor lamps can illuminate dark corners and, paired with a comfy lounge or bean-bag chair, can create a cozy nook for reading or journal writing.
Natural light is important in any child's room. If you're remodeling, consider larger windows or even a skylight, so she can star gaze at night.
A girl's room can be a great place to get creative: search thrift stores and yard sales for vintage lamps, which can often be repurposed with a new shade or a coat of paint. She can exercise her own creativity by painting or adding embellishments to the lampshade. If your girl likes Dora, Hello Kitty or the Disney Princesses, you can often find lamps and lamp shades that feature licensed characters.
For accent lighting, also consider string lights. Again, the possibilities are endless: create a fairytale princess look with clear mini-lights, or choose from a wide variety of styles using silk flowers, tiny ballet slippers, animals and other themes.
Other Bedroom Lighting Ideas and Styles
Get More Ideas for Bedrooms