Man-Made vs. Natural Materials
Check out these man-made materials that mimic the look of natural materials without the cost and maintenance.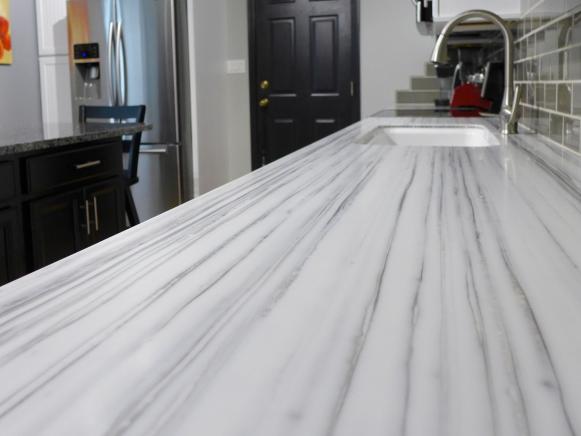 Marble-Look Solid Surface Kitchen Countertop
Marble countertops are the epitome of the luxurious kitchen ideal, and that luxury comes with a price tag that will likely be more than $100 a square foot. If you love the look of marble but don't care for the price of Carrara, consider the solid surface alternative Striato from Formica. It carries all the advantages of solid surface countertops (durability, lower price) and comes with a distinctly marble-like look.
Man-made materials that mimic the look of natural materials can expand your decorating options without the cost and maintenance of natural materials. Here are some things you should know before you buy:
Natural stones such as marble, limestone and granite need to be sealed regularly, and because they're soft, they scratch easily.

Stone tiles average two to three times the price of ceramic tiles and cost twice as much to install.

Ceramic tiles hold up well to traffic and moisture once they're properly grouted and sealed. They will also have a more uniform color than natural stone.

Solid surface materials can give the look of a slab without the grout headaches. The color goes all the way through the material, so scratches can be buffed out, and the sink can be integrated seamlessly. The price of solid surface is comparable to the price of many natural stones.

Cultured marble is a man-made marble that costs a half or a third less than solid surface. You can have an integral bowl and backsplash with no seam as with solid surface, but the color doesn't go all the way through the material.

Vinyl and laminate manufacturers are producing products that closely imitate the look of wood. They cost much less and are much easier to maintain.