How to Choose Dining Room Lighting
Make a statement in your dining room with an eye-catching light fixture. Designers share their top tips for finding the proper type and size for your space.
Whether you're gathering around the table for an everyday meal with family or throwing an epic dinner party, you want your dining room to shine. Selecting the just-right light fixture is the most important step to illuminating your well-designed dining space.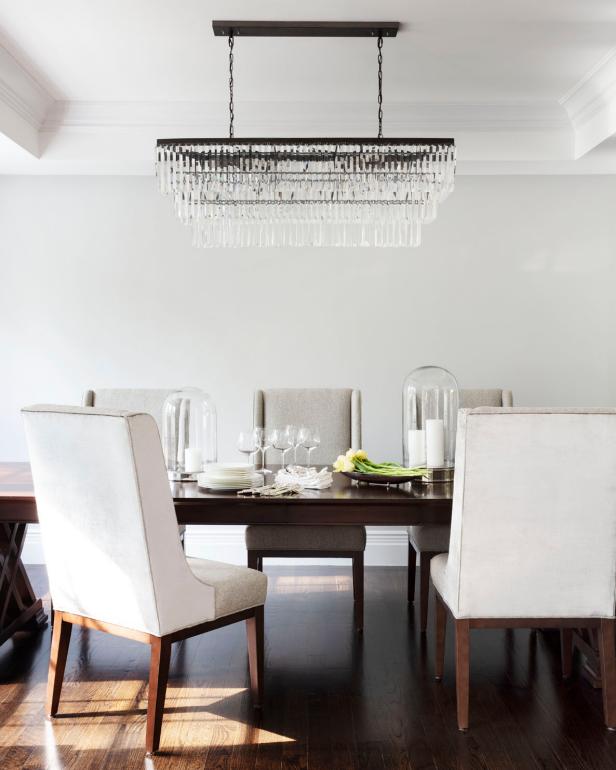 Transitional Dining Room With Crystal Chandelier
Design by Think Chic Interiors
Hulya Kolabas
Design by Think Chic Interiors
No matter which fixture you choose, designer Malka Helft of Think Chic Interiors says, "This is the item you should splurge on. It will not get dented, scratched, dirty or torn by kids or guests, and will set the tone for the room."
Different Types of Lighting
Chandeliers are decorative, often ornate, light fixtures that are suspended from the ceiling. The most-used light fixture in dining rooms, they have a central body with arms that branch off to support lights.
Pendant lights are lone light fixtures that hang from the ceiling on a single cord, chain or rod. They come in second to chandeliers and are often hung in multiples, though an oversized pendant on its own is statement-making.
Sconces are light fixtures mounted on the wall, instead of the ceiling. The light source is typically directed upwards. They're used to flank buffets, mirrors and artwork.
Recessed lighting is installed inside the ceiling to create a minimalist, streamlined look. It plays a supporting role to the main light fixture.
SHOP OUR FAVORITES
Breathe new life into your dining room design with a budget-friendly light fixture or chandelier.
Determine the style of light fixture you need, offers Linc Thelen of Linc Thelen Design, before figuring out the size and proportion. "If the dining room has large windows and beautiful views, I would choose a more minimal fixture in size so that I'm not interfering with the view. If the dining room is large with high ceilings, then I search for a grand fixture to up the space."
Also, keep in mind what materials complement the dining table and furnishings. For this farmhouse-inspired dining room, Thelen chose a hammered metal drum to pair with the rustic dining table.
Jim Tschetter
Design by Linc Thelen Design
Lastly, consider which shape will work best with your table's silhouette. Bailey Austin Bird of Bailey Austin Design suggests opting for a round or organically shaped light over a round table, since a linear light will create an odd scale. If working with a long, 12-person or larger table, choose a fixture that mirrors the shape of the table or elect for two fixtures. Bird also likes to use directional cans to highlight art or furniture pieces; just don't use them around the table since they'll cause unwanted shadows.
DESIGN INSPIRATION
Browse photos of stunning dining room light fixtures and find ideas for your own space.
How to Size Your Fixtures
While there are general rules to picking the right size and how to hang your dining room fixtures, most designers agree: You're allowed to throw out the rulebook — just a little bit.
Emily Hart
Design by Bailey Austin Design
When selecting the size of your dining room fixture, Helft says, "The official rule is one-third of the length of a rectangular or oval table. Don't ever go smaller than that, but by all means, go bigger!" And Bird confirms, "The larger the light fixture, the better! Just be sure not to choose a fixture that is wider than the table itself."
Another smart jumping-off point is to add the length and width of your room together and convert it into inches. For example, a 10x14 room would require at least a 24-inch-wide light fixture.
The usual guideline behind hanging most chandeliers and pendants over the center of a dining table is to keep the bottom of the light fixture between 30 to 36 inches from the surface of the table.

Designer Ashley Moore at Moore House Interiors adds, "It's also important to get your light as centered as possible over your table. Sometimes, that means you have to swag the chain to make that happen."
Grace Laird
Design by Moore House Interiors
Another designer must-have for dining room lights: dimmers. Moore says, "We love to put dining lights on a dimmer. It really helps set the tone, depending on what's happening at the dining table — whether it's an intimate meal, homework or Christmas dinner."
Ultimately, you want to find a light fixture you love — one that finishes your dining room, enhancing everything from your furniture to your wall color.