What Is the Average Cost to Remodel a Half Bathroom?
Typically less expensive than other bathroom remodels, a half bath remodel can also add real resale value to your home. Read on to find out how much you should expect to pay.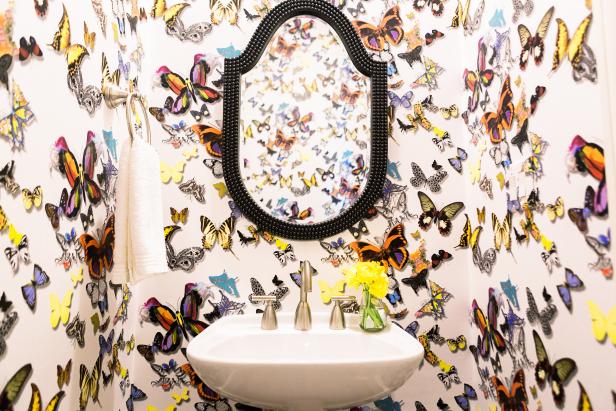 Powder Bathroom With Butterfly Wallpaper
An exciting wallpaper can be an amazing choice for a small powder room remodel.
Heather Hawkins
An exciting wallpaper can be an amazing choice for a small powder room remodel.
Though you may not spend a lot of time in your home's powder room, that space can create a big impression about your personal style for guests and visitors to your home. A beautifully designed and decorated powder room lets your guests know that their comfort and convenience matter to you. But putting the most into a powder room remodel is also dependent upon how much you have to spend. So what is the average cost of a half bathroom remodel and what are the elements that make up a successful remodel?
Powder room remodels, according to the National Kitchen and Bath Association (NKBA) 2019 Trends Report, cost an average of $12,000 including materials and labor. But much about that average cost is dependent upon whether you are choosing luxury or more middle-of-the-road fixtures, where you live and a host of other factors. But as a rule, powder room remodels are generally less expensive than other bathroom remodels because they have less square footage.
Despite their (relatively) diminutive size, powder rooms add a lot to a home. According to Realtor.com, powder room remodels are one of the most profitable home improvements you can make in your home.
Atlanta designer Andi Morse with Morse Design says she sees an average cost to remodel a powder room in her region of $5,000-$15,000. A lower-priced powder room remodel can run from $3,000-$5,000 and at the top end, powder room remodels can run up to $15,000 Morse says.
"The average bathroom remodel would involve changing the vanity to a custom or ready-made with a new sink, changing the counter to a marble or quartz, changing hardware for the sink, changing or adding lighting that can involve sconces and overhead lights, adding a custom mirror," says Morse. "And fabulous wallpaper would be great to add to the overall feel and appearance of the space. Replacing flooring as well as adding tile to walls can also add to the final costs."
A luxury powder room remodel, says Morse, would entail a custom-made vanity with marble counters and upgraded sink hardware, a custom mirror and high-quality sconces, recessed or overhead lighting and higher-end wallpaper and hardwood floors.
One of the advantages of remodeling a powder room is that you can take your time since this is a secondary, nonessential bathroom. This is not just a lifestyle issue, but a budget issue: quicker remodels tend to cost more than ones that take longer. The relative simplicity in terms of time, complexity and money of remodeling a powder room may also mean that doing the work yourself or hiring subcontractors yourself may be a more practical, affordable route.
But Morse advises one of the best things homeowners can do to keep their budget in check and on-track is to plan out the project and set aside money for unforeseen issues. "There will always be an issue that arises that was not planned for no matter what the size and scope of the project. Build in a little extra to cover those costs."