How Long Does It Typically Take to Remodel a Kitchen?
Want to know how long the typical kitchen renovation takes? Experts advise careful planning and sticking to a budget as ways to ensure your kitchen remodel is completed on time.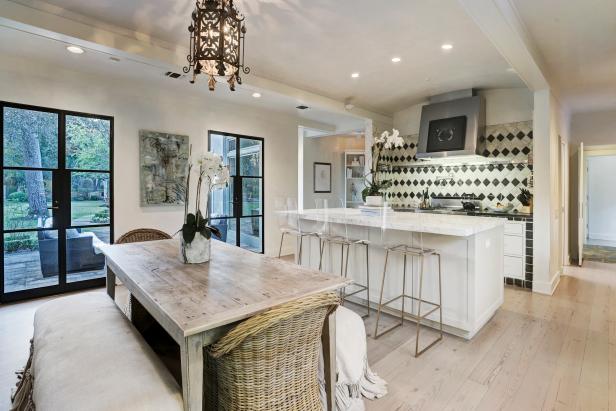 Transitional Eat-In Kitchen With Outdoor Patio Views
Longing for a beautiful kitchen like this? Experts advise sticking to a plan and a budget to pull off your kitchen remodel on time.
John Daugherty, Realtors, a member of Luxury Portfolio International
Longing for a beautiful kitchen like this? Experts advise sticking to a plan and a budget to pull off your kitchen remodel on time.
There are few things more tantalizing to homeowners than a kitchen remodel. With as much time as we spend in our kitchens, an array of new appliances and fresh finishes could, quite literally, change your life. Or at least your outlook on life.
But depending upon the scope of your project and whether you are undertaking a major or minor kitchen remodel, the length of your remodel will depend upon several factors.
Kitchen remodels are unique because they require a lot of moving parts and coordination of electricians, plumbers and other subcontractors, some of whom must wait for the work of others to be completed (for example, cabinets before your sink) before they can proceed. The materials used in kitchen renovations are also often large, heavy and cumbersome. The cost and time frame of your kitchen remodel will also depend upon whether you are simply adding to an existing footprint or significantly changing the footprint.
Kitchen Remodel Inspiration
According to Atlanta-based Terracotta Design Build owner Ili Hidalgo-Nilsson, the time frame for your kitchen renovation will depend upon scope, foremost.
"Full kitchen renovations that include changes in plumbing and electrical service locations, along with all new appliances, products and finishes, can take anywhere between 3 to 5 months," says Hidalgo-Nilsson, "depending on the size and complexity of the kitchen. Smaller cosmetic updates, such as new cabinets, countertops, and backsplash with no floor plan changes can be done as quickly as a few weeks."

To make sure your project comes in on time, Hidalgo-Nilsson has some advice, "The best way to expedite the renovation process is to establish a clear and realistic budget at the outset, place all material and product orders early, and make sure your design-build team has all of the product specifications before demolition begins."

"Some of the reasons for project delays are out of our hands, such as product back-orders or subcontractor availability. Everyone should build-in some time for these situations. Also, projects often go slower when crews have to work around piano lessons, dog-walkers and nap times. Homeowners have to be aware that disruptions to their daily lifestyle are to be expected during renovations. Too many changes to the scope of the project once construction has begun, is very often the cause for delays."
Kitchy Crouse of KC Interior Design in Cardiff by the Sea, California says, "a regular kitchen renovation can take from 6 to 12 weeks depending on what is being done, not including the planning and design phase. That can add another 2-4 weeks." Crouse recommends choosing and purchasing your appliances early, as soon as you have locked in your budget. "Your cabinets and drawings are going to be based on those. If you change the appliances later in the project, it changes the layout of the kitchen," she says and that in turn can cause serious delays. She also recommends getting drawings and, if possible, 3D renderings of your kitchen design for a "clear visual of how your kitchen will look." To be safe, planning for a longer time frame might be your safest bet, factoring in everything from the planning stages to project completion, which can be as much as six months. The actual time when the kitchen will be out of commission (meaning takeout and meals out and no chance to use your kitchen), will most likely be much shorter, about six weeks or so, but plan ahead for those difficult days. "Be prepared to no have a kitchen," says Crouse, "and schedule accordingly."
"I always ask for my contractor to set up an area with a temporary sink, refrigerator and microwave for my clients' project, so at least they have something to work with while the remodel happens."
Local factors also come into play says Portland designer Molly N Switzer. "With labor shortages we see projects pushed farther out, trades being stretched thin and inspection offices are flooded with work." And communication is key, says Switzer when it comes to both your designer and your general contractor. "Make sure that you feel comfortable communicating with them early on, and trust your gut early on."
First and foremost, experts advise coming up with a solid game plan and then sticking to it to insure a kitchen renovation stays on budget and is completed in time. That means, no changes from you midway that can significantly delay work as contractors scramble to accommodate.