10 Personality-Packed Powder Room Design Ideas
Short on space, big on style.
Most powder rooms don't get the attention they deserve. Small yes, but they have huge potential when it comes to design details. Think geometric tiled floors (or walls!), fantastically-patterned wallpaper or the hundreds of lighting and mirror combinations to consider. The style opportunities are endless!
One of the best things about the powder room is that there isn't any lingering moisture from a shower or bath, which means you can shop from any home decor department you'd like. I'm feeling inspired to take on my own little WC remodel, so I've rounded up some personality-packed bathrooms that I'd like to drop into my own home immediately. Read on to see a few of my favorite timeless trends and snag a little design inspiration of your own.
I have a thing with tiny rooms and high-impact prints. This wallpaper is mesmerizing and looks ultra-chic against the powder room's otherwise monochromatic color palette.
Brass accents are so glam, they can make even the smallest of spaces feel polished and special. I love the way designer Nancy Lane paired geometric herringbone tile with polka-dot patterned wallpaper to create a whimsical look and feel.
This bathroom is proof that bold-patterned wallpaper can look sophisticated, especially when the colors are a soft watercolor wash. The marble vanity adds a structured look to the playful walls surrounding it, creating a unique, modern feel.
When working a busy pattern into a small space, sometimes one accent wall will do — especially when paired next to one that matches in color. Balance the bold look with subtle natural accents such as woven baskets, leather mirror details and plants.
Give classic bead board an update by washing it in a bold slate blue and pairing with vintage artwork and dainty, farmhouse wallpaper.
There is no shying away from color in this bright bath. The cohesive use of saturated tile creates a calming yet eclectic sanctuary. I especially love the idea of saving square feet by creating storage nooks in the wall as an alternative to stand-alone shelving.
I've been toying with the idea of making my own plywood vanity similar to the warm wood version here. It proves ultra-chic when paired with the handsome hardware and alluring artwork in this small black and white bathroom.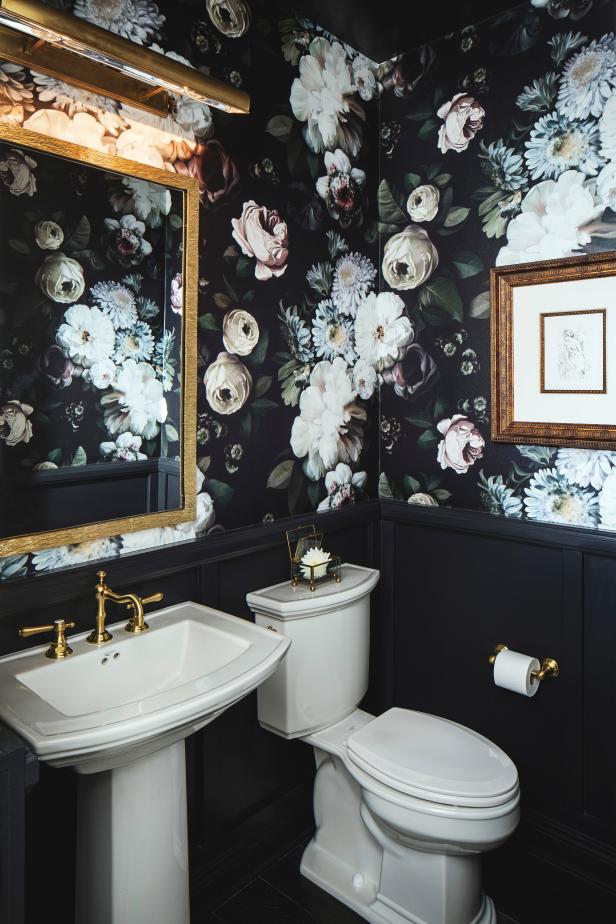 Dramatic Powder Room Features Floral Wallpaper, Dark Paneling
Dramatic floral wallpaper, dark paneling and gold-trimmed accents set a bold tone in this powder room. The large, white and pastel blooms help balance and soften the design.
Big, bold florals bring the 'wow' factor in this blooming bath. Upping the dramatic ante, antiqued brass accents add an extra-large dose of glam.
This playful-yet-sophisticated bath uses three cool hues and a mix of texture and pattern to create a fun 'jungalow' feel. It's also a great reminder to give that door some color love too!
Simple yet striking, this bathroom plays off both the industrial-modern and boho trends through minimalistic hardware and vanity choices and a stunning statement floor. It's all about finding balance!