Do You Need a Permit to Remodel a Kitchen?
Whether you need a permit for a kitchen remodel varies according to the type of remodel you are undertaking and where you live. But experts agree you need to first check with your city government.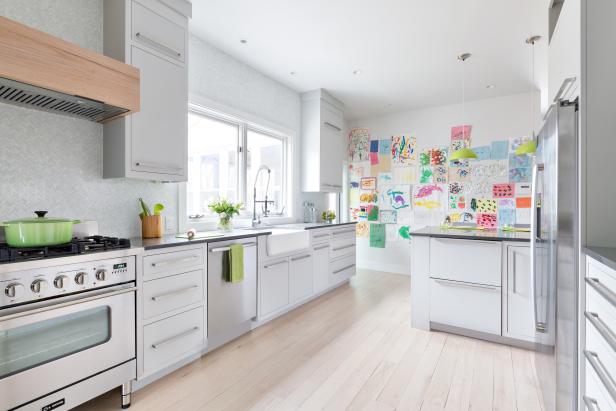 Bright, Updated Kitchen With Light Wash Floors
Whether you need a permit for your kitchen remodel will depend upon the scope of the project and local codes.
Claire Paquin
Whether you need a permit for your kitchen remodel will depend upon the scope of the project and local codes.
It's a timeless question from homeowners anxious to undertake a kitchen remodel: do I need a permit?
In many instances the answer to the question of whether you need a permit to remodel a kitchen is a qualified "yes."
For jobs where electrical and plumbing changes will come into play, a permit will be required. Erik Listou and Louie Delaware, co-founders of the Living in Place Institute co-authored a 2019 white paper on "Four Steps to Building Permits when Remodeling Kitchens & Baths." They advise that, "Most kitchen and bathroom remodels involve changes to the plumbing and electrical behind the walls, which will require a permit."
But if you are after a mostly cosmetic change, like repainting cabinets, installing new countertops or replacing a faucet, installing new flooring, refacing cabinets and installing new light fixtures, the answer to whether you need a permit for your kitchen remodel is most likely "no."
Besides cost, one of the big issues to factor into your kitchen remodel plans— especially when you are considering a DIY remodel—is what permits may be required and how much it will cost. Some cities charge one percent of the total project budget for permits.
Also important to consider, is that permitting requirements vary from city to city and there are currently no federal or state standards. So it pays to do your homework.
If you are doing a DIY kitchen remodel, you should check with your city to see what permits are required. If you are using a licensed contractor for your kitchen remodel, he or she will know what permits the job will require. Depending upon the project, some permits may be issued immediately while others will require an inspection of plans and could take weeks to issue.
Obtaining the proper permits is a necessity, especially when it comes time to sell your home. According to the National Association of Realtors, failing to obtain the proper permits at the time of construction or demolition may complicate or cancel the sale of your home. "Not obtaining the required permits can cause many problems, such as work stoppages, extra fees, replacing work already installed and complicating selling the home later are just some of the headaches eliminated with a building permit," say Listou and Delaware.
It is the homeowner's responsibility to make sure the project holds the proper permits.
Depending upon the scope of your project, there may be inspections along the way. A final inspection, however, is often the most critical say Listou and Delaware. "This "building final" inspection is to ensure that all the other inspectors have physically been to the project, personally reviewed the work and have initialed compliance on the actual building permit, so the homeowner and the team can follow the inspection progress," say Listou and Delaware. This final inspection is vital for a number of reasons. "This will be helpful to inform your insurance company of the improvements, appraising when increasing your home's value, and when selling your home to show that all work on your home met your local codes."
For some general rules of thumb (again, check with your city government permitting office for the specific requirements in your area), consult this list to see which jobs may require a permit.
Permits Most Likely Required
Footprint changes to your home including room additions.
Installing new or existing plumbing including new hose bibs for the outside of your home
Any new electrical service, including installing any new electrical wiring or adding circuits
Structural changes, like demolishing a load-bearing wall
Parking a dumpster on a public street
Doing anything with the sewer line
Adding exterior doors, windows and skylights that require a new opening
HVAC, such as installing a new furnace or air conditioner
Replacing a water heater
Changes to the ventilation system
Moving a sink, especially when this will mean running new plumbing supply and drain lines
Demolishing a non-load bearing wall
Some municipalities require a permit if a project costs above a certain amount, like $5,000