Average Cost of a Main Bathroom Remodel
It's one of the most lucrative and life-changing remodels you can do in your home. But find out what that main bathroom remodel is likely to cost.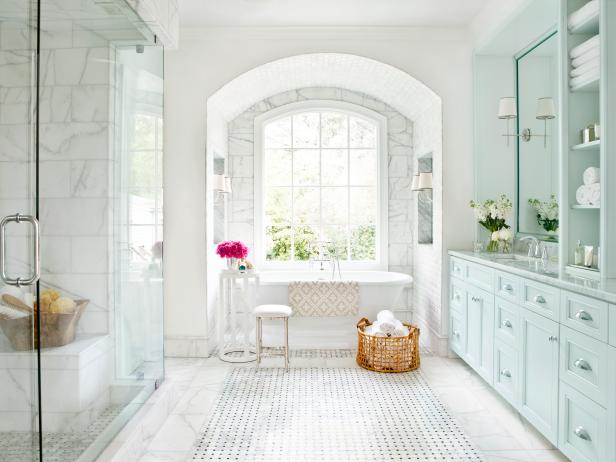 Old World Master Bathroom With Carrara Marble Floor
A main bath remodel can, literally, change your life. But how much will it cost?
Mark Williams
A main bath remodel can, literally, change your life. But how much will it cost?
Who doesn't want a bathroom oasis in their home; a place to soak away the day's troubles in a pedestal tub, heated floors for chilly mornings or organized makeup drawers in your vanity to keep all of your supplies close at hand? We spend a lot of time in our bathrooms and it makes sense that homeowners would want to make their main bath the most functional, restful and luxurious space possible.
And industry trends bear out this desire for bigger, or just better, bathrooms. According to the National Kitchen and Bath Association (NKBA) homeowners undertaking bathroom renovations are spending the most on main bathrooms with an average budget of $32,000 (including materials and labor). That's more than twice what is spent on a powder room remodel. That average cost, however, is dependent upon a host of factors including the scope of the remodel, whether you are using luxury or standard fixtures, where you live and other considerations.
Bathroom improvements are desirable because, in addition to enhancing your quality of life, they can yield up to a 70% return on investment when it comes time to sell your home. But they also tend to be pricey.
Some of the new trends in main bath remodels, according to the NKBA's 2019 Trend Report, include in-floor heating, app-enabled controls for radiant floors and digital shower valves, floating cabinetry, high-gloss and textured melamine looks, wet rooms with tubs and showers in the same room and a drain in floor and black frames as shower focal points. Transitional-style main bathrooms are currently the most popular bath style at 59% of bathroom remodels, says NKBA, with traditional baths a close second.
How complicated (and thus how expensive) your bathroom remodel will be can depend upon a host of factors like whether it will be a DIY project, or you will use a general contractor or hire subcontractors yourself.
Home improvement digital marketplace HomeAdvisor, which connects homeowners with service professionals, estimates a comprehensive bathroom remodel at $15,000 or more. A large main bath remodel in a luxury home can weigh in at over $50,000. The average homeowner can expect to pay $18,000 says HomeAdvisor for a complete bathroom renovation which typically includes a separate tub, shower, double vanity and larger space for cabinets and fixtures.
The cost of your project will be tied to a number of factors including the room size and the quality of materials including the grade of fixtures, cabinets and finishes. Bathroom vanities often eat up the majority of the materials budget. Whether a change to the floor plan is involved will also determine the ultimate cost of your main bathroom remodel.
According to Remodeling Magazine's 2019 Cost Vs. Value report an upscale bathroom remodel can cost, on national average, $64,743. That type of upscale remodel would generally expand the existing bath footprint by more than 50 percent and include details such as in-floor heating, high-end faucets, a shower body-spray fixture, a frameless glass enclosure, a freestanding soaking tub, stone countertops and two sinks, two mirrored medicine cabinets with lighting, a separate commode area and a humidity-controlling exhaust fan, general and spot lighting and wall cabinets.