Laminate Bathroom Countertop Options
Explore info on laminate bathroom countertops, and get ready to install an economical and easy-to-maintain countertop in your bath space.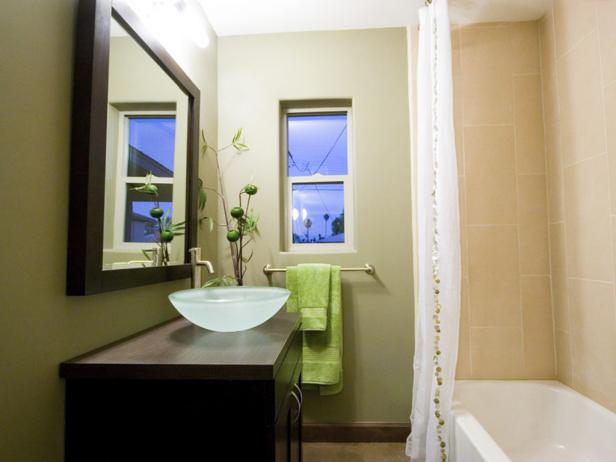 DP_bubier-green-brown-bathroom_4x3
An espresso-colored wood base cabinet is capped with a plastic laminate countertop by Wilsonart. The color used was Xanadu, which looks like Wenge wood, but it's less costly and more durable. Tip: Install a tub surround wall tile all the way up to the ceiling for a cleaner, more open feel.
Laminate countertops come in a wide range of styles and colors. They represent the most economical choice of all for bathroom countertops.
The almost universal availability of laminate bathroom countertops, along with their easy customizability and the variety of styles and colors to choose from, make this countertop material and easy choice for many homeowners. In addition, laminate bathroom countertops are considerably cheaper than higher-end materials like granite, manufactured quartz and soapstone.
On the "con" side, durability can be an issue with laminate countertops. They can scratch and dent, and if they feature top surfaces that have been glued on, peeling can occur. In addition, hot curling irons or other appliances can scorch a laminate surface. That said, laminate bathroom countertops tend to be a practical and durable option, particularly for families with high-traffic bathrooms.
With regard to style, laminate countertops can mimic the look of higher-end materials like granite or even wood, simply by applying a veneer to the surface that approximates the natural material, at a fraction of the cost.
Other Bathroom Countertop Material Options
More Bathroom Countertop Ideas