Costs for Soapstone Bathroom Countertops
Get all the info you'll need on costs for soapstone bathroom countertops, and get ready to install a long-lasting and attractive countertop in your bath space.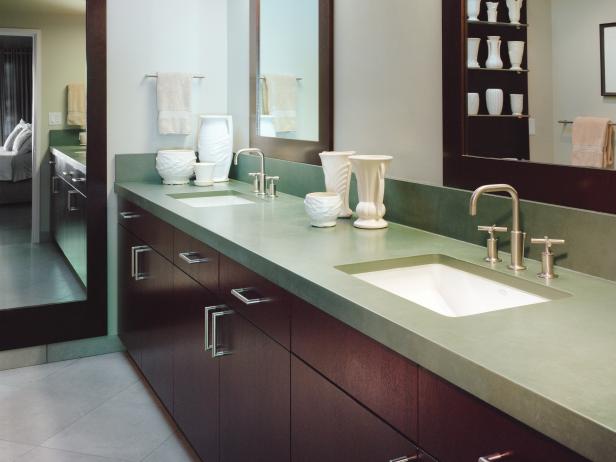 White Bathroom with Green Soapstone Countertop
Verde soapstone countertops, Palomino limestone floors and cream-colored sinks create a masculine spa-like setting that is both sophisticated and tranquil. Restored original light fixtures and updated functional vanities with dark wood stains bring a touch of fresh simplicity.
Soapstone bathroom countertops are a popular option because of their beauty and durability, and if you're considering this countertop option for your bathroom, you'll first want to explore the range of costs for soapstone bathroom countertops.
Soapstone is slightly softer than granite, which gives it a smooth and subtly warmer feel. It's only slightly more susceptible to scratching or chipping than granite, in general, and is often used in more traditional bathroom or kitchen designs because of its understated, somewhat rough-hewn natural appearance.
For the first tier of soapstone quality, you can expect to pay $50 – 60 per linear foot. This variety will be of lower quality and may scratch or chip more easily, but it will still have a beautiful appearance—and there are some who would argue that soapstone improves with time and wear.
At the second tier, you can expect to pay $60 - $70 per linear foot. You'll have some concerns about chipping and denting, but less so than at the lower tier.
At the highest tier, soapstone bathroom countertops are priced at $70 - $80 per linear foot, and their durability should not be an issue.
More on Bathroom Countertop Prices
Other Bathroom Countertop Ideas