Transform Thrifted Plates Into Smart Jewelry Storage
Tired of the daily jewelry untangling battle? Keep earrings, necklaces and bracelets neatly stored and easily accessible for just a few bucks.
matching melamine dish set (bowl, saucer, dinner plate)
2 aluminum cans
spray paint
funnel
craft sand
silicone adhesive
drill + 1/8" drill bit
rotary saw
1: Spray-paint both aluminum cans in a color that coordinates with your dish set. Let dry.
2: Using a funnel, pour sand into each can to weigh them down a bit.
3: Place the saucer on top of the bowl, and hold in place. Using a drill and 1/8" bit, drill small holes, approximately 1/2" apart, halfway around the saucer.
4: Using a rotary cutting tool, make thin notches, approximately 1" apart, around the remaining half of the saucer.
5: Place the dinner plate flat on the table. Add silicone adhesive to the bottom of a can, then place in the center of the plate.
6: Add silicone adhesive to the top of the same can, then attach the saucer in the center.
7: Attach the second can to the saucer, in the center, with adhesive.
8: Finally, add the bowl to the top of the can with adhesive. Allow all levels to dry for 24 hours before adding jewelry.
9: Once your jewelry tower is dry, you're ready to start adding gems. Use the bottom plate to hold bracelets and watches; use the saucer/middle plate to hang earrings (in the holes) and necklaces (in the notches); and use the top bowl to store bulky bracelets and/or necklaces.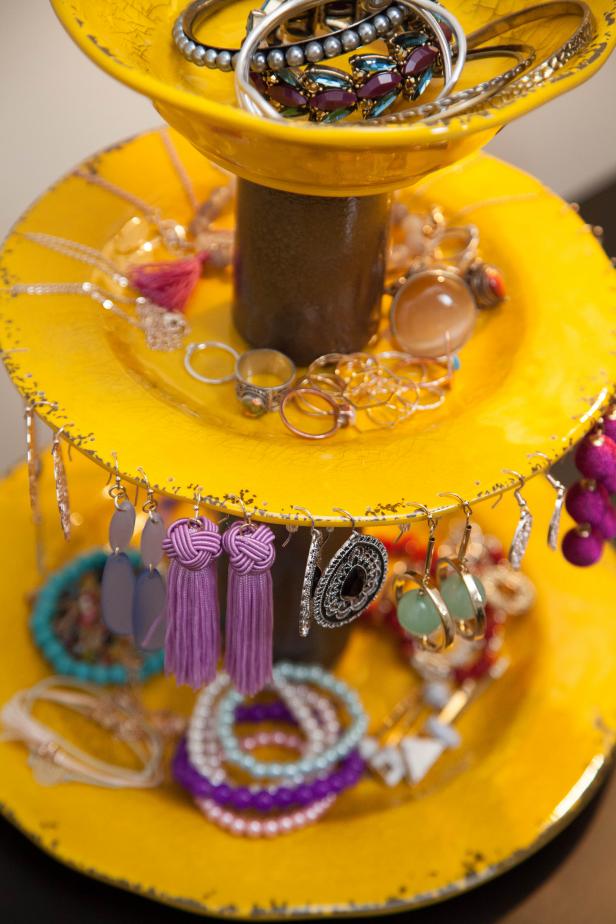 Andy Vinson of Loch & Key Productions
Bottom: Bracelets + watches
Andy Vinson of Loch & Key Productions
Middle: Earrings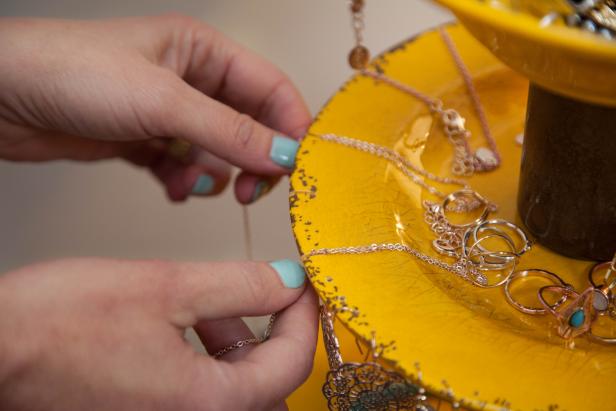 Andy Vinson of Loch & Key Productions
Middle: Necklaces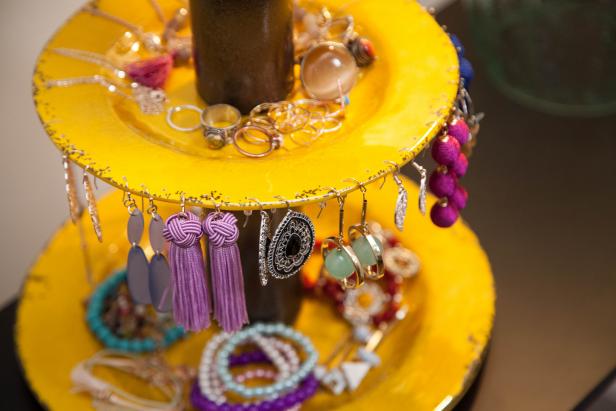 Andy Vinson of Loch & Key Productions
Middle: Rings
Andy Vinson of Loch & Key Productions
Top: Bracelets + more