How to Make a Clay Jewelry Dish
Give someone special a handmade clay jewelry dish with accents of turquoise and gold.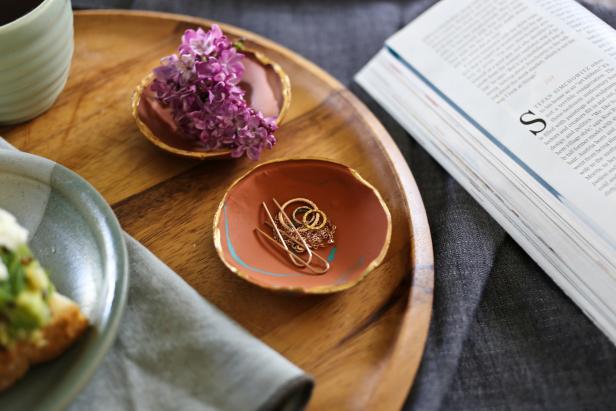 Clay Jewelry Dish
Make Mom a marbled clay jewelry dish this Mother's Day, and surprise her with breakfast in bed.
terracotta polymer clay
1-3 colored polymer clays, in desired colors
acrylic paint in desired color
paintbrush
parchment paper (to avoid staining surfaces)
rolling pin or glass jar
X-acto knife
small salt bowl or dish
Roll terracotta clay between hands, forming three ropes approximately 7 inches long. Roll colored clay into hand, and make one slightly thinner rope of each desired color, approximately 7 inches long. Twist all ropes together, interlacing the colors. Roll into one large rope.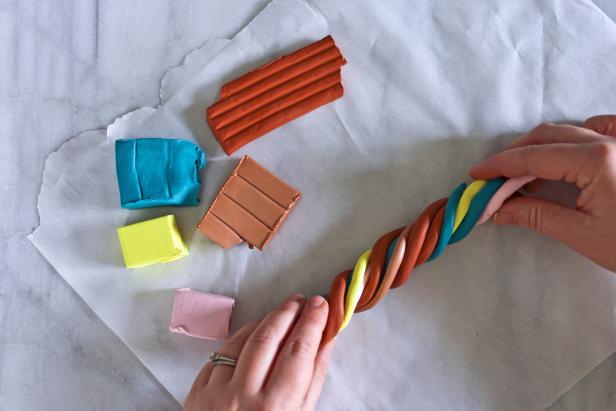 Roll Polymer Clay
Make Mom a clay jewelry dish this Mother's Day. The turquoise and gold marbled accent colors add glamour to the terra cotta-colored dish.
On top of a piece of parchment paper, press firmly on your clay rope, further integrating the colors into each other. Twist and turn the rope and fold on top of itself, mixing and swirling the colors together.
With your hands, roll rope into a ball, and roll out with a rolling pin or glass jar until approximately 1/4-inch flat.
Preheat oven to 275 degrees F. Using a small oven safe bowl (about the size of a salt dish) trace and cut out circles from clay using an X-Acto knife. Place the clay circle inside the oven safe bowl, and bake for 15 minutes.
Once completely cool, remove clay from bowl and paint the rim for detail. Place your favorite jewelry inside.