Make a Kid's Dinosaur Costume From a Zip-Up Hoodie
You only need basic sewing skills to make this easy, inexpensive dinosaur costume. It's so comfy that kids big and small will want to wear it long after Halloween.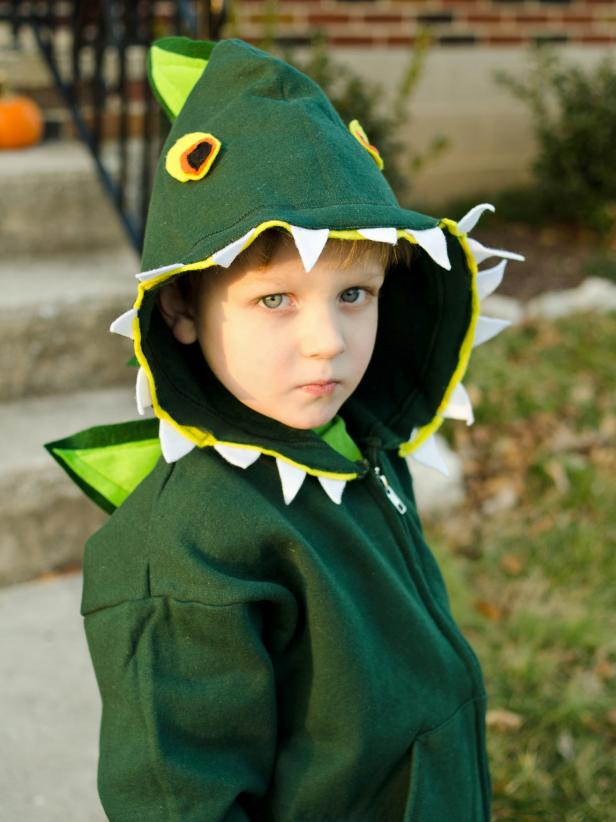 Marian Parsons Halloween Dinosaur Costume
This dinosaur costume is simple to make with basic sewing skills and so comfy that kids will want to wear it after Halloween.
green zip-up hoodie sweatshirt
2 light green felt quarters
2 dark green felt quarters
4 felt quarters: 1 yellow, 1 white, 1 black and 1 orange
small piece of cardboard
chalk pencil
pins
green all-purpose cotton thread
black all-purpose cotton thread
scissors
sewing machine
Use a sharp pair of scissors to cut up back center of sweatshirt until peak of the hood (Image 1). Cut a triangle-shaped pattern (approximately 3" wide x 3-1/2" high) out of a piece cardboard to use as a template. Trace template onto dark green felt quarter with chalk pencil, making enough scales to evenly fill entire slit down sweatshirt back (Image 2). Make a second triangle template approximately 1/2" smaller in width and height. Trace smaller template onto light green felt with chalk pencil, making twice as many smaller triangles as larger ones. Line up bottom edge of light green triangle with bottom edge of dark green triangle. Repeat on other side, so larger, dark green piece is sandwiched between two lighter, smaller triangles. Pin three pieces together (Image 3). Repeat with other triangles until all are pinned. Sew triangles together with coordinating green thread (Image 4). Remove pins. Pin sewn scales into slit in back of sweatshirt, leaving about a 1" gap between each one (Image 5). Sew along pin line then remove pins.
With sharp scissors, cut two ovals, about 1 1/2" in length, from yellow felt quarter. Cut out two orange circles, slightly smaller than the width of the oval for the iris. Lastly, cut two black circles for pupils, slightly smaller than the orange. Layer felt cut-outs to create two eyes (Image 1). Pin one on each side of hood (Image 2). Sew around pupils with black thread to secure all three layers to hood (Image 3). Repeat with second eye and remove pins.
Cut on center of fold around hood's hem (Images 1). If hoodie has a drawstring, remove it. Cut two 1" strips out of white felt quarter. Make angled cuts approximately 1" wide to create triangular "teeth" (Image 2). Out of the yellow felt quarter, cut several 3/4" strips to use as "gums" (Image 3). Position yellow strips inside cut in hood's hem. Arrange teeth on top with about 1/2" gap between each one. Pin in place. Allow yellow strips to slightly overlap behind a tooth when one ends and another begins. Sew along pin line with green thread to secure teeth and gums in place (Image 4). Remove pins and trim threads. Tip: To care for your finished costume: Hand-wash in lukewarm water with gentle liquid fabric soap and lay flat to dry.