Bring on the Bubbles: DIY Giant Bubble Wand + Solution
Double your bubbles. Enough said.
We're sorry, there seems to be an issue playing this video. Please refresh the page or try again in a moment. If you continue to have issues, please contact us here.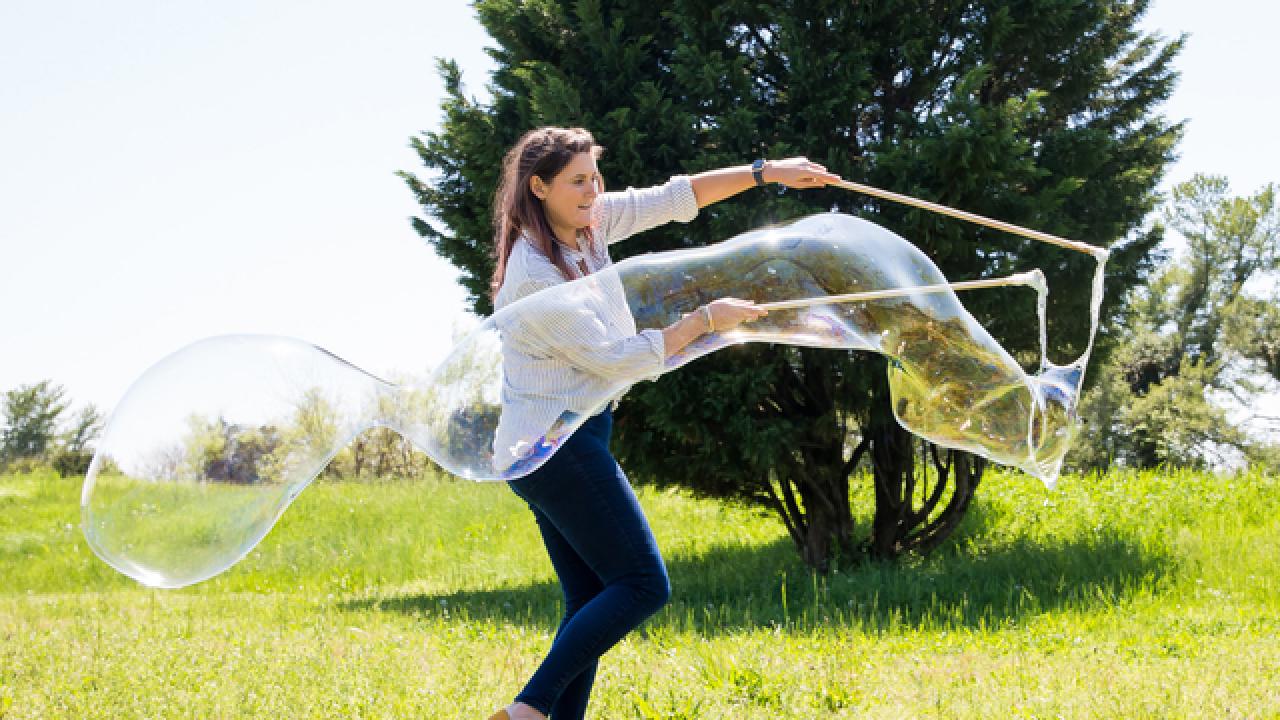 Sure, you could buy a bottle of basic bubble mix with an included plastic wand. Or you could DIY this incredible bubble wand and extreme bubble solution for GIANT bubbles all year long. The choice is yours.
(2) 2' dowels
drill + 3/8" drill bit
(2) 3/8" eye bolts
1/2" cotton rope
washers
2 cups dish soap
4 tbs corn starch
5 tbs glycerin
1/2 gallon distilled water
To start, drill holes on one end of each dowel, and screw in the eye bolts. Cut a 3-foot length of cotton rope, and attach it to the ends of the dowel. Cut a length of 5-foot rope, and tie off one end to the dowel. Thread a few washers on the 5-foot rope before tying off the other end. The washers will act as weights for your bubble wand.
To create your bubble solution, first mix 2 cups of dish soap, 2 tablespoons of baking powder, 2 tablespoons of corn starch and 4 tablespoons of glycerin in a large bowl. Pour in a half gallon of distilled water, and stir. Let the solution sit overnight for best results.
Now, get to bubbling! Simply dip the entire string into your bubble solution, gently pull the rods apart to allow the bubble to form, and close the rods together to release your bubble. Basic bottles of bubbles will be a thing of the past.