5 Quick Crafts and Recipes to Make With Candy Corn
Whether you love it or hate it, candy corn is a Halloween staple. Try these five candy corn crafts this fall to pay homage to this classic treat.
We're sorry, there seems to be an issue playing this video. Please refresh the page or try again in a moment. If you continue to have issues, please contact us here.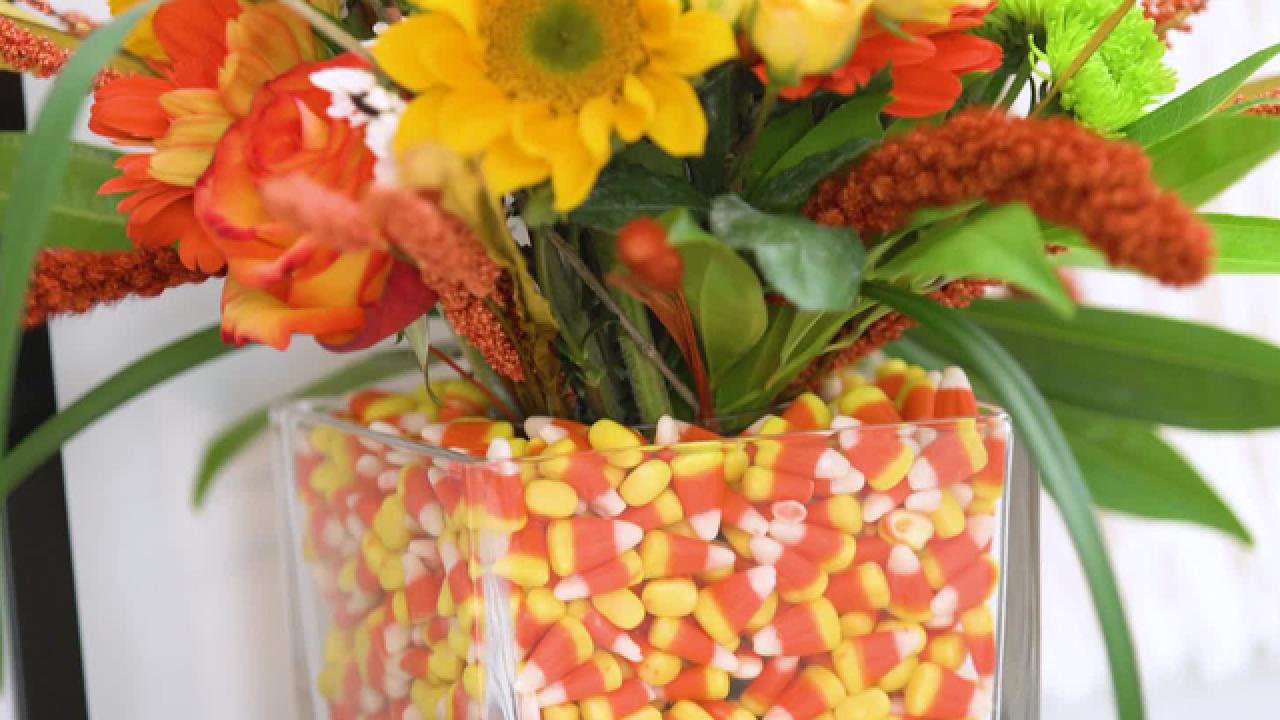 Candy Corn Centerpiece Materials:
wide-mouth Mason jar
glass vase
Fill a vase with enough candy corn to fill the bottom (Image 1). Next, place a glass jar inside the vase on top of the candy corn layer (Image 2). Then, add more candy corn in the space between the vase and glass jar. Fill the glass jar with water (Image 3). Finally, arrange seasonal flowers in the glass jar, and display all season long (Images 4 and 5).
Candy Corn Play Dough Materials:
2 cups candy corn
3 tbs vegetable oil
1 tbs water
powdered sugar
Mix 3 tablespoons vegetable oil, 1 tablespoon water and 2 cups candy corn in a microwaveable bowl (Image 1). Next, microwave for 30 seconds and stir. Continue to microwave for 30-second intervals until completely melted. Next, knead the melted ingredients with 2 cups powdered sugar using a spatula until no longer sticky (Image 2). If the dough is still too sticky, add more powdered sugar.
Candy Corn Hot Chocolate Ingredients:
2 bags white chocolate chips
1 tsp vanilla extract
1/2 tsp pumpkin pie spice
8 cups whole milk
2 cups heavy whipping cream
2 cups candy corn
whipped cream
Halloween-themed sprinkles
To make candy corn hot chocolate, mix all of the ingredients in a slow cooker, and cook on low for two hours. Once all of the ingredients have melted, pour in a mug and garnish with whipped cream, Halloween-themed sprinkles and additional candy corn.
CANDY CORN HALLOWEEN DECOR
Candy Corn Halloween Decor Materials:
candy corn
2-3 branches
hot glue gun and sticks
vase
floral foam
black spray paint
sealer spray
Spray paint two or three branches black, and let dry (Image 1). Next, place the branches in a vase, and fill the vase with cut pieces of floral foam for stability (Images 2 and 3). Fill the top of the vase with candy corn to cover the floral foam (Image 4). Finally, hot glue candy corn pieces onto the branches, and seal with sealer spray (Image 5).
WHITE CHOCOLATE CANDY CORN SNACK
White Chocolate Candy Corn Snack Ingredients:
2 bags white chocolate chips
1 bag dark chocolate chips
red and yellow food coloring
vegetable oil
6 cups salted pretzels
16 oz salted peanuts
candy corn
parchment paper
Halloween-themed sprinkles
Mix 6 cups salted pretzels, one 16-ounce container salted peanuts and Halloween-themed sprinkles in a bowl (Image 1). Pour one bag melted white chocolate chips over the pretzel mixture, and stir (Image 2). Spread the warm mixture on top of a baking sheet lined with parchment paper (Image 3). Dye the remaining melted white chocolate orange and drizzle on top, along with melted dark chocolate (Image 4). Finally, garnish with candy corn while the mixture is still warm (Image 5).