Love Fixer Upper's Perfectly-Styled Bookshelves? Our Tips to Up Your #Shelfie Game
Joanna Gaines is the queen of shelf styling, so we've gathered some of our favorite photos + tips to help you copy the Fixer Upper look. 
If you follow design die-hards on Instagram, you've seen lots of #shelfies: Think of them as selfies of perfectly-curated shelves. Since Joanna Gaines is the queen of shelf styling, we found some of her best Fixer Upper work to inspire your next photo sesh. Do try these clever show-inspired tricks at home!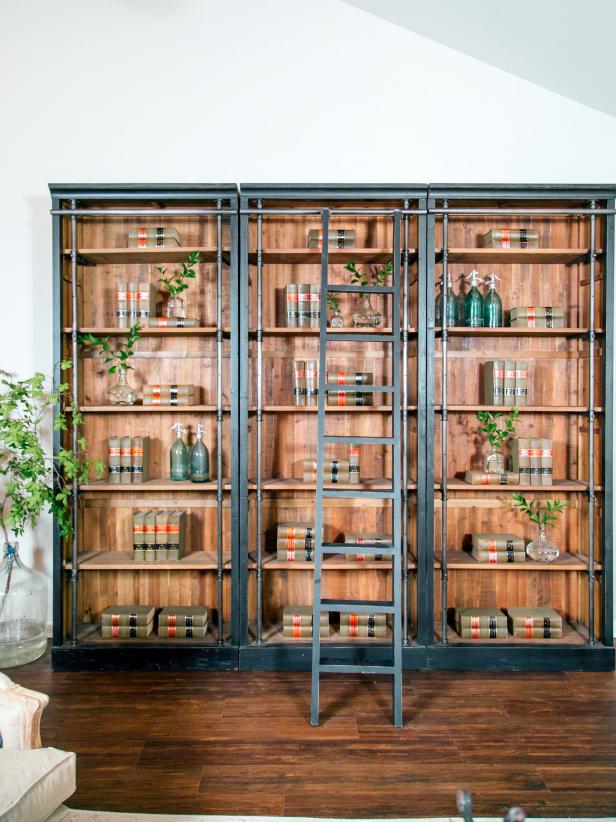 Rustic Bookshelf in Living Room
A ladder and rustic bookshelf are both new additions in the newly renovated McKenzie home, as seen on HGTV's Fixer Upper.
Open shelves = more display space. Open shelves simply give you an opportunity to display a collection of compelling items, like vintage books, flowers and favorite treasures.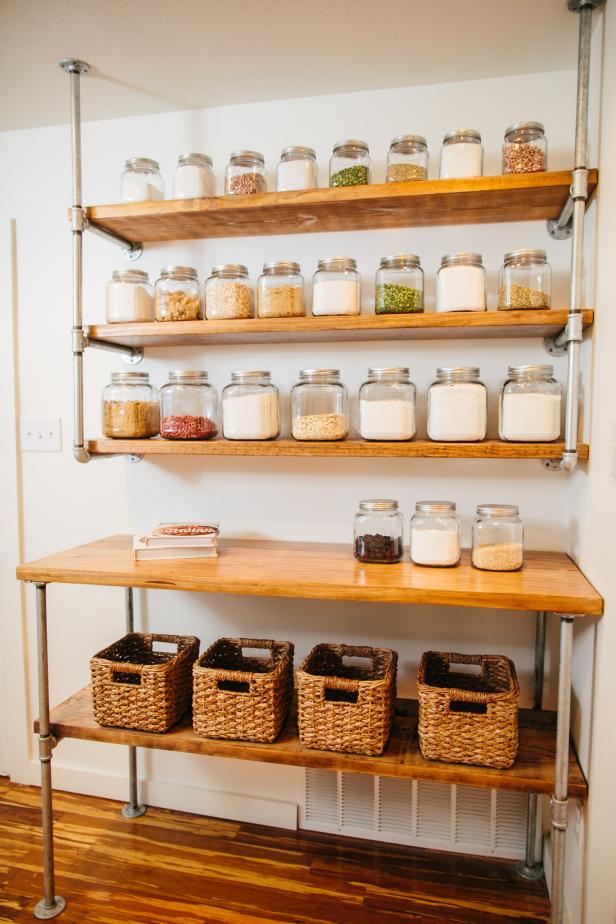 Butler's Pantry
Canisters of spices sit on open shelving made from industrial piping and wood in natural finish.
Ordinary items can actually make a space extraordinary. Basic finds, such as kitchen ingredients, rocks or shells, in glass jars, make an interesting shelf filler. Sometimes it's the simplest arrangements that make the most dramatic impact.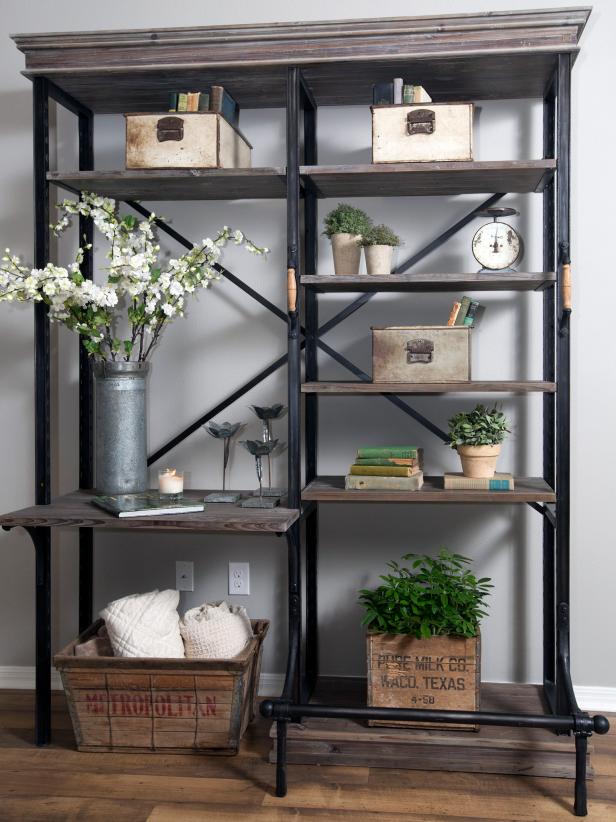 Rustic Shelves in Neutral Room
A wood and metal shelving unit create an industrial look while neutral tones and flowers add a more feminine touch to this rustic space.
Sarah Wilson/ Getty Images
One key to shelf styling? Breathing room. Give your shelves plenty of air by not cramming too many items on each shelf. Think about what you want to display, and remember less is more.
Odd numbers make the best arrangements. Have 3 cups, but not 4? Or 5 vases and not the 7 you need? Don't fret, as these mini collections shine on a shelf. Multiples and duplicates make for a quirky shelf-filler. Keep them in groups for the maximum effect.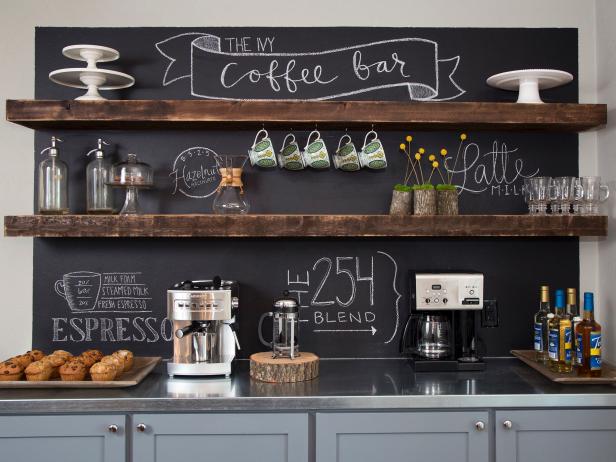 Home Coffee Bar With Chalkboard Wall
HGTV Fixer Upper hosts Chip and Joanna Gaines transformed this casual dining space into a family coffee bar – a place for family and friends to gather for eating and entertaining. Chalkboard paint on the wall creates a cafe-like atmosphere, while the floating shelves add a hint of rustic style.
Sarah Wilson/ Getty Images, 2013, HGTV/ Scripps Networks, LLC. All Rights Reserved.
Add a backdrop. Back a set of shelves with a block of chalkboard or color of paint for an extra pop. Your items will stand out even more against the dark and dramatic background. And, if you take Joanna's lead and choose chalkboard, it's also functional!
Find similar pieces to make vintage look cohesive. Scour flea markets and tag sales for vintage items that look alike. These similar finds, such as old bottles and leather-bound books, make for clean shelf decor that appears well thought out. If you can't find a collection of similar books, try covering them all in brown or white paper.
Don't forget the function! Shelves are an opportunity to add style and personality to a space. Don't forget, that they can also add function. Find a stand-alone shelf that also has hooks attached, making it a great place to hang coats or umbrellas.
DIY, anyone? Attention DIY gurus! An unexpected remnant or piece of nature can make a great place to stack your items. Copy Joanna and find an old tree stump and see it not as rubbish, but as a shelving opportunity!
Don't discount larger flea market finds, either — can you believe this old canoe is now a hanging wall shelf? So clever.
Color-coordinate for a cohesive look. Pick a color and make that your shelf theme. Keep it clean with all white, or go for an added pop with all turquoise or yellow items.
Don't crowd your shelves. One shelf styling tip that fits all occasions: edit, edit, edit. Once you fill a shelf, take an item or two off. The cleaner the design, the greater the impact.
Accent with letters and shapes. A vintage letter or small plant makes great a great shelf addition when stacked on a few books. Now grab that shelfie, er selfie, stick — your bookshelves are ready for their closeup!