Transitional Design Style 101
Timeless, harmonious and warm, transitional style combines traditional and modern sensibilities to create spaces that will always feel contemporary.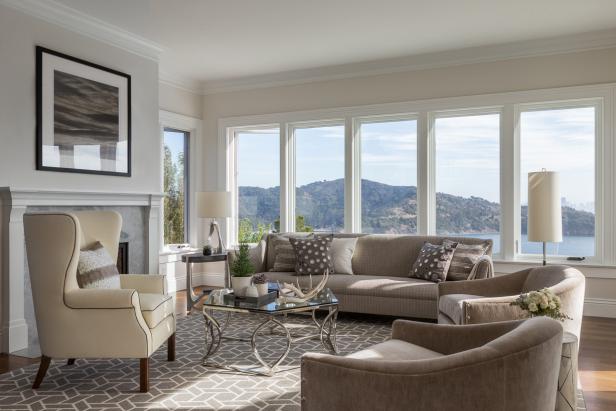 Neutral Transitional Living Room With Mountain View
The shining star of this welcoming living room is the view outside the many windows. The interior palette is muted, keeping the focus on the lovely setting.
What Is Transitional Style?
It's no accident that traditional interiors consistently trend at the very top of Americans' design style preferences. Marrying traditional and contemporary furniture, finishes, materials and fabrics, transitional style adds up to classic, timeless (and crowd-pleasing) design. In a transitional space, furniture silhouettes offer straightforward sophistication: pieces with right angles and crisp lines share space with more rounded profiles. The elemental nature of the transitional palette offers considerable latitude when it comes to fabrics, and graphic patterns on overstuffed sofas feel right at home with textured chenilles drawn across sleek wood frames. Ready to revel in the seemingly effortless chic of transitional style? Here's how to bring it home.
Transitional Style Prefers a Neutral Palette
Transitional spaces evoke a clean, serene atmosphere by relying on soothing, neutral hues: think taupes, tans and vanillas paired with dark brown for depth. It's the ideal aesthetic for rooms designed for relaxation; consider how gently the sandy tones in this bedroom's textured carpet and patterned feature wall seem to envelop the bed. Crisp white cotton and textural linen bedding in a darker organic tone add dimension to the room's palette, while denim blue accent pillows and aqueous sea green hardware on the windows and French doors contribute a whisper of organic contrast.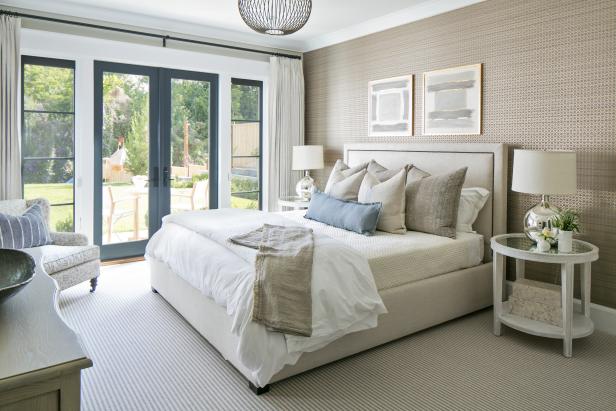 Transitional Bedroom Boasts Upholstered Platform Bed
A graphic accent wall pairs with carpet flooring to create texture in this transitional bedroom. An upholstered platform bed adds a clean, stylish touch, and glass French doors provide access to a private patio.
Transitional Style Favors Minimal Accessories
This transitional home office demonstrates the less-is-more approach to ornamentation that characterizes transitional spaces: carefully-selected accessories like a small potted succulent, a photograph in a silver frame, a tone-on-tone chevron area rug and matted black-and-white photos on white floating shelves add subtle visual interest to the room without distracting the eye. Chromed arms on the white desk chair and legs on the lacquered white campaign desk itself add weightless luxury to the space.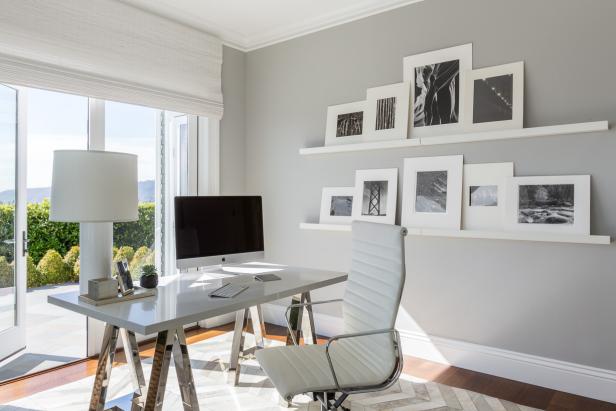 Gray Home Office With Open Door
Create an easy gallery wall with floating shelves and a medley of artwork leaning against the wall. In this home office, white frames look especially crisp against the gray wall.
Embracing a timeless aesthetic, transitional style celebrates natural light and a relaxed feel with smooth, blending details that create warm yet modern [interiors]. If you think your style is somewhere between traditional and modern, consider transitional style for a warm but up-to-date look.
Chair of the ASID National Board, designer Kerrie Kelly
Transitional Brings the Resort Look Home
A transitional bedroom like this features many of the sumptuous details one would expect from a five-star resort: neutral grasscloth and geometric molding create a feature wall in lieu of artwork, a combination of standard and European shams accented with neutral throws give the bed a feel of abundance, nail head trim adds subtle interest to upholstery on the bed and armchairs and curvaceous table lamps soften the feel of the bedside dressers. When looking to take your own home in a transitional direction, don't be shy about looking to commercial properties for inspiration: those destinations hire design's rising stars to create covetable-yet-universally-appealing spaces, and their tricks can translate beautifully to residential spaces.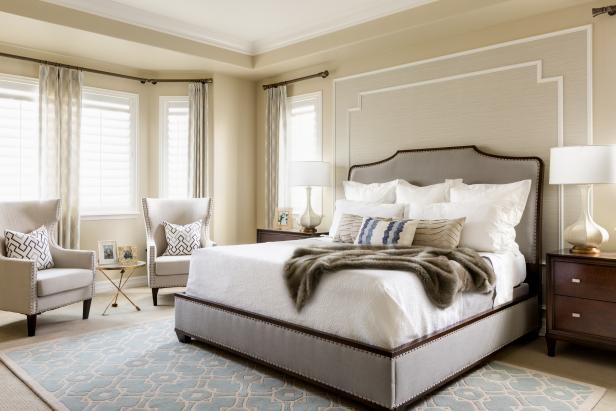 Gorgeous Transitional Bedroom With Gray Upholstered Bed Frame
This luxurious master bedroom features a framed accent wall behind a gray upholstered headboard. White bed linens are given some accented texture with a faux fur throw. A pair of sophisticated neutral chairs are trimmed with nailhead and decorated with graphic throw pillows. A baby blue rug adds a soft touch of color to the design.
John Woodcock Photography
Transitional Fabrics Are Tonal + Textural
This monochromatic transitional living room makes the most of its ultra-restrained, gray-on-gray palette by going wild with texture and pattern: a nubbly heather throw is folded across the chenille charcoal sectional and a trio of dense abstract patterns (in silver frames — recall that streamlined metallic frames are key in spaces like this one!) complement each other and the rest of the room. A rounded side table and accent mirror counterbalance the more angular sectional and ottoman-table; more on that in a moment.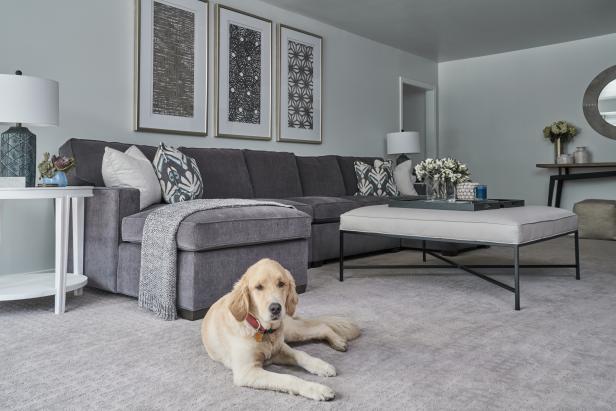 Gray Transitional Living Room With Dog
This living room gets its polished feel from a monotone palette and clean-lined furnishings. A few hints of blue bring in a little depth. Materials are durable enough to stand up to kids and pets.
Amy Peltier Interior Design & Home
Transitional Spaces Are All About Balance
For this design style, balance is key. In this elegant sitting room, the balance between masculine elements (like the modern chairs and nesting coffee tables) and more feminine ones (like the delicate mirrors positioned in the recesses flanking the traditional mantel) takes center stage. Some pieces are a bit of both: on the sofa, for example, oxidized studs offset the gleaming seafoam and Ikat fabrics on its throw pillows.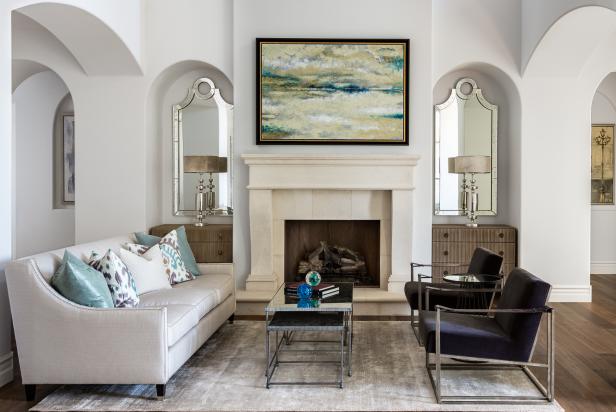 Neutral Transitional Living Room Blends Classic and Modern Elements for Timeless Design
This transitional living room is situated in a small space, so designers used the reflection of the mirrors that flank the fireplace to expand the room and create a sense of openness in the space. To give the room a dramatic presence while still keeping it timeless, classic elements were blended with modern sling chairs.
Transitional Style Favors Modern Lighting
A dining room like this one is fairly traditional — graceful cabinetry, button-tufted dining chairs, softly patterned area rug, sedate molding — right up until your eye lands on the delightful, unabashedly modern multi-pendant chandelier. Then the table's angular base offsets the cushy seating and splashes of color on the oil paintings add a bit of contrast. The point here? The piece that punctures the old-school feel of the room and sends you on a search for its quirky details is that central lighting fixture. A well-chosen piece like this one can take any room from 'been there' to 'so where are we headed?'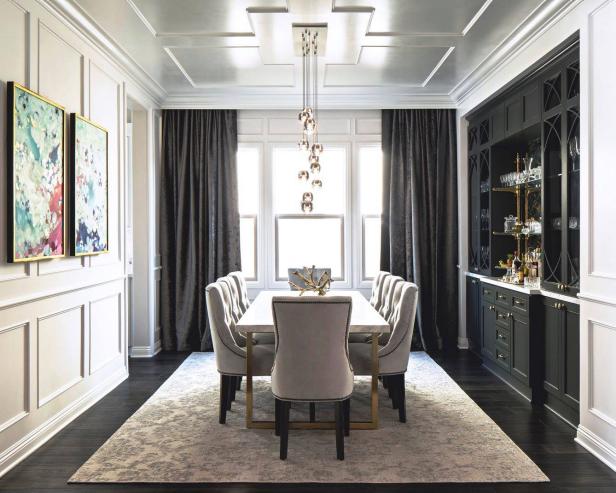 Black and White Transitional Dining Room With Gray Curtains
This elegant formal dining room is a study in contrasts: white paneling on one side of the room, a black built-in cabinet on the other. Gray velvet curtains split the difference along the back windows and help to unify the look.
Comfort Is Key in Transitional Spaces
When it comes to selecting upholstered pieces for a transitional space, aim for seating that's ample but not intimidating. The sectional in this transitional living room is just the ticket: with velvety neutral fabric, generous cushions and textural pillows, it invites guests to make themselves comfortable. Paired with two slightly more formal chairs, it maintains a good host's easygoing, but polished, air.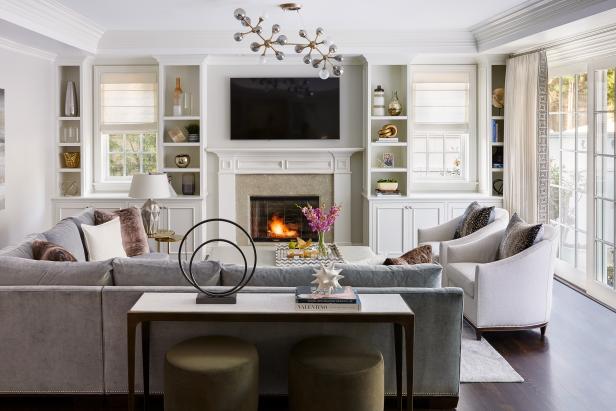 Transitional Living Room With Gray Sectional Sofa
Symmetrical built-ins with windows flank this transitional living room with a cozy fireplace. The white mantel blends seamlessly with the cabinets, crown molding and tray ceilings in the space and works perfectly with darker gray furniture. Above the sectional hangs a metallic modern chandelier.
Brush Up Your Transitional Design Chops
More Design Styles to Consider
Transitional not quite your style? From Boho to Industrial; check out our other favorite design styles — and use our pro pointers to nail the look in your home.
20+ Looks to Love