Scandinavian Design Style 101
Nordic design pairs beautiful bones with touchable textures to celebrate natural harmony. Cozy up with key elements of the oh-so-trendy Scandi aesthetic here.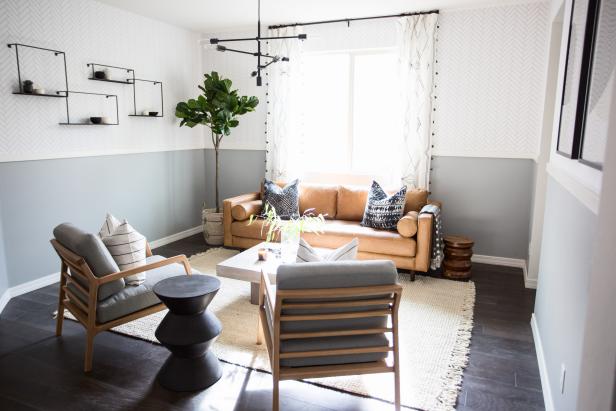 Gray Scandinavian Living Room With Tree
Graphic wallpaper is a fun touch in this living room. Designers kept the pattern from overwhelming the space by limiting it to the upper half of the walls and choosing a pale color.
What Is Scandinavian Style?
Originating in the Nordic nations in the 1930s and now comprising everything from Eero Saarinen's TWA Terminal at JFK International Airport to Ikea's 445 superstores and #hygge, what we think of as Scandinavian style (or Danish Modern, or Nordic Minimalism) began working its charm on the American public through traveling presentations like "Design in Scandinavia: An Exhibition of Objects for the Home" (which dazzled the U.S. and Canada with appealing, affordable home goods between 1954 and 1957). Its proponents argued that the spaces we live in (and the items we live with) should be simple, durable and beautiful — and that they should honor and harmonize with our environments, both by basking in natural light and showcasing organic tones and materials. Given the timelessness of their message — and the now-iconic places and pieces they created to demonstrate it — who could argue?
Meet the midcentury modern classics that are the little black dress of decor. These curvy, minimalist masterpieces come from a design tradition that originated in Nordic countries in the 1940s and rules the design world till this day.
Scandinavian Spaces Prioritize Sunlight
Given that Denmark, Finland, Iceland, Norway and Sweden plunge into darkness for what feels like months on end each year, it stands to reason that natural light is a precious resource in Scandinavian interior design. As in this crisp dining room, bright white paint and unadorned windows gobble up every bit of organic illumination available. The handsome chandelier is also characteristic of Nordic-inspired homes, and the warm glow of candlelight is a classic accent after dark.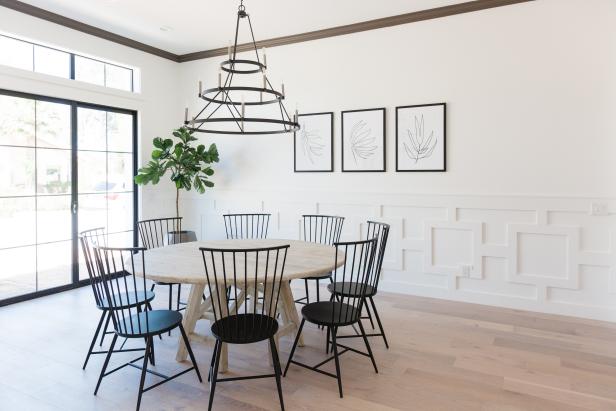 Neutral Scandinavian Dining Room With Wainscoting
A tiered chandelier and detailed wainscoting make shape a key player in the sophisticated look of this neutral dining room.
Scandinavian Stylists Love Plants
Once you've done away with extraneous window coverings and arranged your rooms to soak up the daylight, add a splash of chlorophyll. Nordic designers know that the simplest way to interact with the natural world is to invite it inside, as with the organic beauties thriving in the dining room of this sun-dappled home.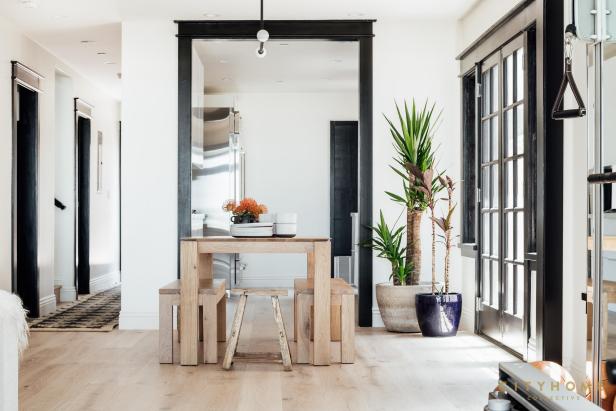 Scandinavian Dining Area With Houseplants
The wide kitchen doorway outlined in black serves as a visual frame for this low-key dining area. A trio of houseplants eases the transition to the outdoors.
Scandinavian Spaces Use Darkness, Too
In this Nordic-inspired kitchen, an elemental black stain on the island and lower cabinets anchors the room and makes the bright white stone, countertops and walls on the upper half of the room feel all the more ethereal. Because the space is otherwise monochromatic, the meeting of the two tones has a smooth, sculptural effect.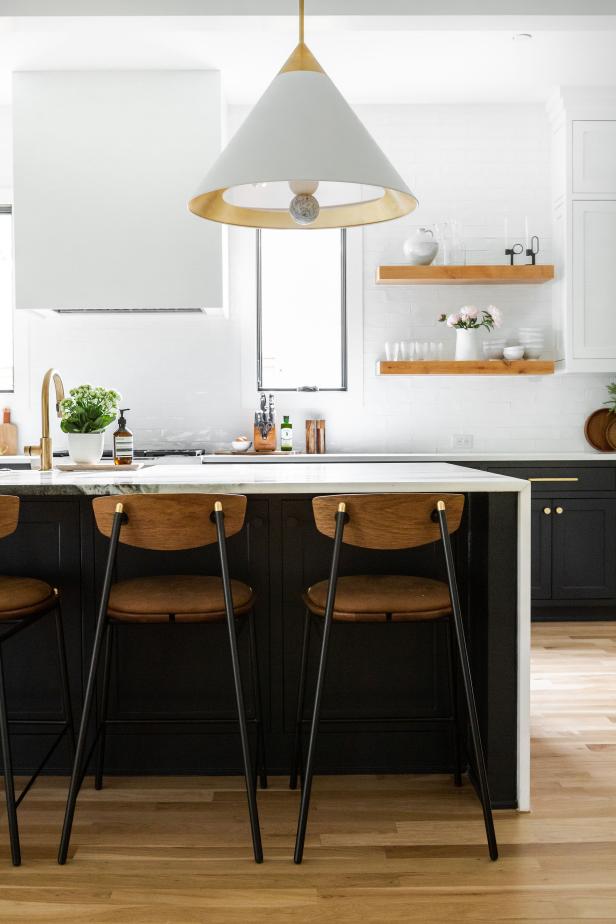 Scandinavian Kitchen With Cone Pendant Light
A gorgeous, cone-shaped pendant brings together this kitchen's white walls, cabinets and gold-and-wood accents.
Joe Torma, M.A.S Photography
Natural Materials Anchor Scandinavian Style
Furniture and flooring in pale woods like white oak add warmth and airiness to spaces such as this Nordic dining nook; rougher accents like the firewood stacked into its accent wall, in turn, add visual texture. This trio of woven rattan pendants provide the best of both worlds: their silhouettes are smooth and geometric, but their minimally-processed fibers have a homespun look. (Bonus: That open weave won't block light.)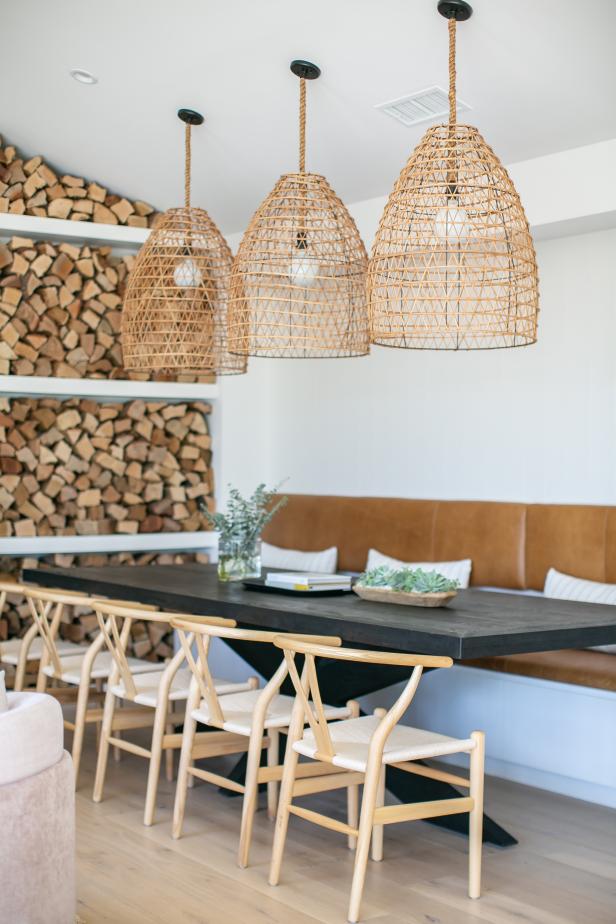 Scandinavian Dining Area With Firewood
Stacked firewood makes a texture-rich backdrop for this refined dining area. Continuing the interesting layers, the designers used a trio of oversized, woven pendants, a black wood table and a leather banquette.
Scandinavian Rooms are Minimal + Personal
"Precious materials" in Nordic spaces are both high-quality (shapely teak furniture and fine textiles designed to become heirlooms) and emotionally significant (well-chosen accessories that express what's important to you). In children's rooms, that translates to sweet touches like the pillows on these twin beds. The simple, stunning evergreen clippings on the windowsill are another Scandinavian-style MVP: in lieu of arranging flowers, punctuate your rooms by foraging for sculptural branches and stems on a walk through your yard or neighborhood, then displaying them without fuss.
Scandinavian Bedrooms Are Cozy
Whether you favor a cloud-white duvet or, as in this swoon-worthy suite, a deliciously dusky pile of linen and faux fur, the key to Nordic style in sleeping spaces is comfort. Low-profile furniture, unadorned walls and hibernation-quality linens are the name of the game.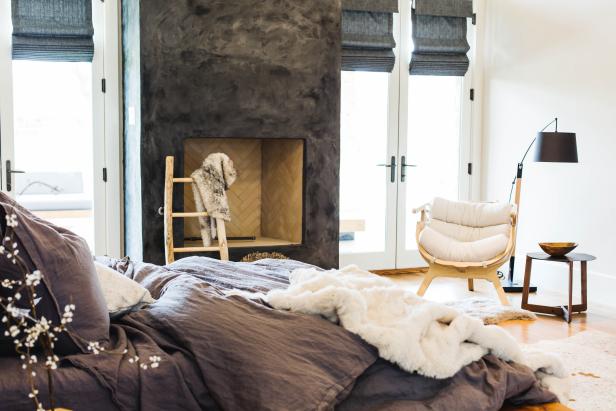 Scandinavian Bedroom in White and Gray
A custom-built platform bed is dressed in comfortable gray bedding, which pulls in the modern finish of the fireplace. A chic, contemporary armchair pairs with a black floor lamp for a cozy reading spot.
Sesha Smith, Convey Studios
Scandinavian style embraces simple white walls, large mirrors and cozy textiles that give off a relaxing and inviting vibe. For a Scandinavian-style interior, "hygge" is the word — layered fabrics, glass furniture, clean lines and textures create the perfect cozy Scandinavian look.
Chair of the ASID National Board, designer Kerrie Kelly
Scandinavian Style Can Incorporate Antiques
Anchored by a well-weathered woodburning stove and clad in bright white shiplap, this farmhouse demonstrates how beautifully Nordic spaces integrate older pieces and styles. The distressed area rug, shaggy accent pillow and upholstered pieces here are far more traditional than iconic, midcentury Nordic offerings, but their neutral tones harmonize beautifully with modern Scandinavian pieces like the pair of black, mesh-shaded floor lamps.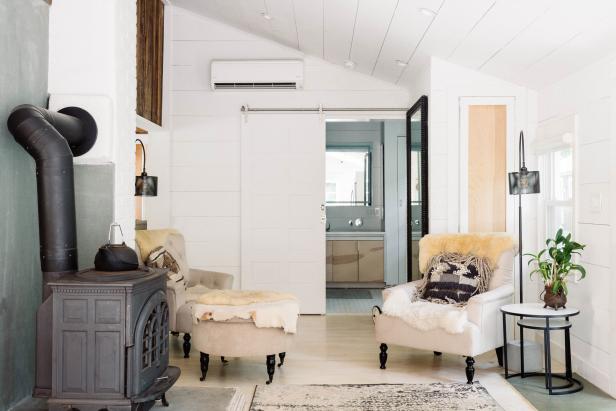 Cozy Sitting Area With Farmhouse Style
On the other side of the room, tufted armchairs and a matching ottoman invite guests to put their feet up and relax. Faux-fur throws and custom pillows ensure that this sitting area is totally comfortable.
Learn about the most popular styles in interior design — and use these pro pointers to bring them to life in your home.