Lived-in meets luxury, brilliant colors meet simple neutrals and rustic meets opulence when it comes to Mediterranean interiors. Here's how to bring the Old World style into your space.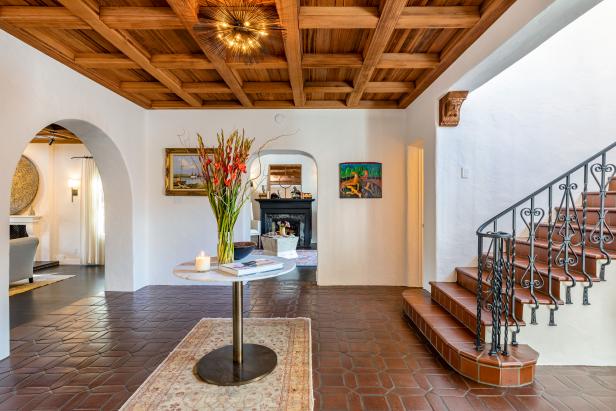 Mediterranean-Modern Foyer Showcases Coffered Ceiling
A simple yet sophisticated foyer welcomes guests to this 1930s Mediterranean villa in Los Angeles. By limiting the decor to a marble-topped table and worn neutral runner, the designers ensured that all eyes would be on the room's interesting architectural details, like the coffered ceilings, carved faces and Spanish-style staircase.
Hilton & Hyland, a member of Luxury Portfolio International
What Is
Mediterranean Style?
Originating in countries surrounding the Mediterranean Sea — including Spain, Greece, Italy and Morocco — Mediterranean style is warm, full of character and utterly timeless. Each region specializes in its own distinct elements. Touches of turquoise and cobalt blue abound in Greece, while Morocco boasts rich textures and intricate wood carvings. As for Spain, stunning tilework and terra-cotta floors take center stage. These elements culminate in specific hallmarks that define Mediterranean interiors, such as textured walls, stone and wooden materials, vibrant textiles and rustic furnishings.
Whether you're looking to infuse the sun-soaked allure of Mediterranean design into your own interiors or simply scroll through beautiful photos of this definitive style, we're transporting you to the land of the sun and sea.
Mediterranean Style

Starts With a Neutral Backdrop
Across the region, Mediterranean homes opt for a neutral setting. Textured white walls combine with natural woods for a warm, inviting atmosphere. Amp up the color of the space with rich textiles and tilework or keep it simple with rustic yet elegant furnishings.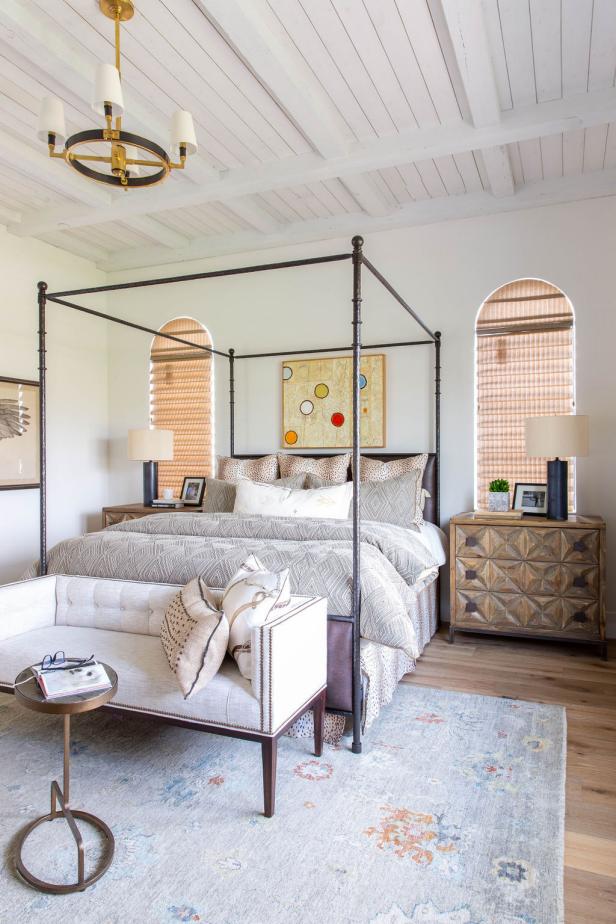 Mediterranean Bedroom With Arched Windows
This lovely bedroom mixes classic Mediterranean elements (like the arched windows and heavy wood dressers) with lighter touches (the slim canopy bed). The result is a space that has a refined personality all its own.
Mediterranean Style Boasts

Stone or Terra-cotta Floors
Mediterranean homes are grounded in durable stonework or rich terra cotta. Not only is it easy to keep clean, but it has a long-lasting quality this historic style enjoys. The depth of color and texture establishes an abundant depth to any room.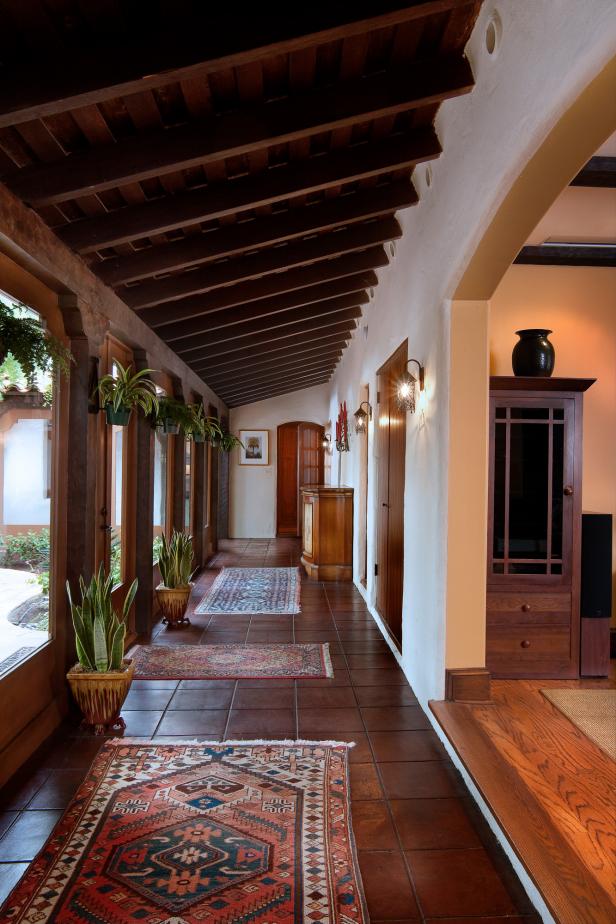 Warm, Mediterranean Hallway
Dark brown details found in the hallway's tile floor and wood beam ceiling bring in lovely contrast and warmth to the neutral walls. Colorful area rugs and hanging plants complete the stunning design.
And,
Mediterranean Style

Embraces a From-the-Earth Color Scheme
Mediterranean hues span the color wheel, but they pull their inspiration from nature. Grounded in warm, earthy tones such as terra cotta, ochre, burnt umber and chestnut, the style also pulls in shades echoing the sea and sky: cerulean, azure, deep purple and seafoam green.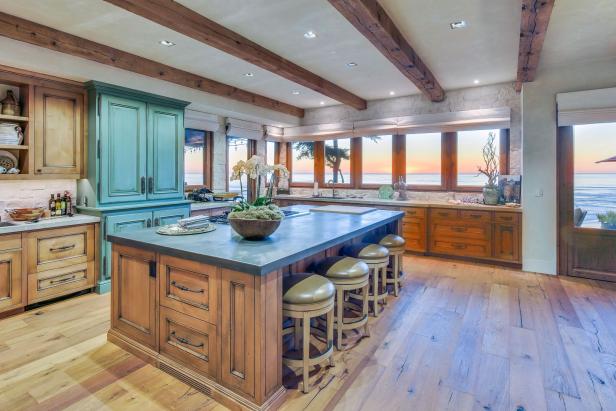 Mediterranean Open Kitchen With Blue Cabinet
Pops of blue offset the handsome wood cabinets and floors in this open plan kitchen, a fun tie-in with the ocean just outside the door.
Bailey Properties, a member of Luxury Portfolio International
Mediterranean Style Can

Include Exposed Beams
You might be hard-pressed to find a Mediterranean home without exposed wood beams; it's an integral architectural element to the design. Instantly adding warmth overhead, exposed beams create a more intimate, cozy aesthetic.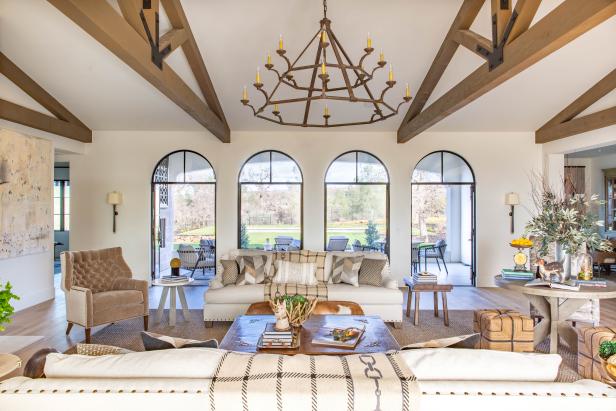 Mediterranean Neutral Living Room With Arched Windows
Majestic beams and an imposing chandelier set a grand stage for entertaining in this living room. The space looks out onto the backyard through a row of pretty arched windows.
And,
Mediterranean Style Includes Patterned

Tile
Patterned tile embodies the beauty of Mediterranean interiors. Often used on floors, walls and stair risers, tile infuses a space with color and texture. Don't be afraid to mix and match different patterns. A Mediterranean home loves the bold blend of variety.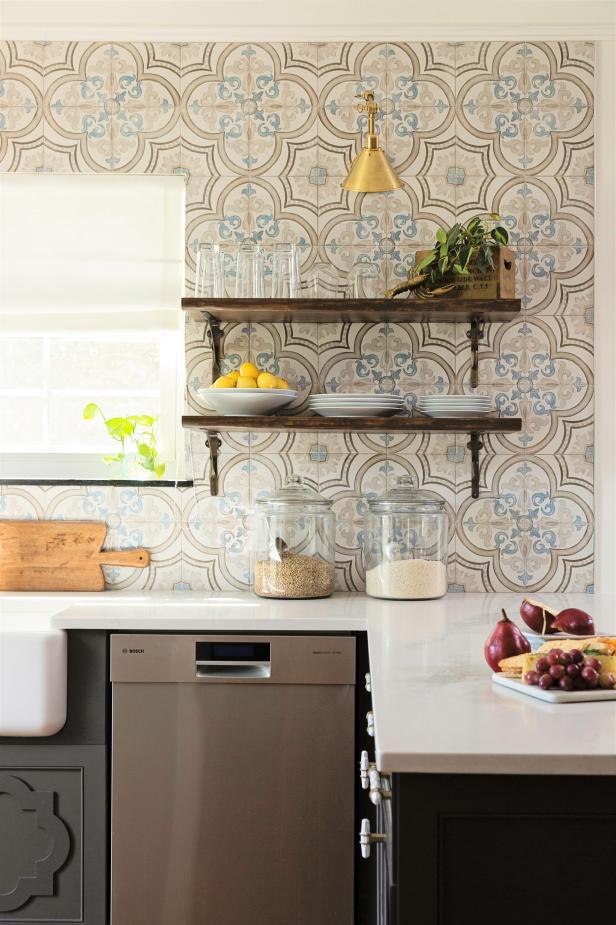 Mediterranean Kitchen With Open Shelves
In this Spanish-style kitchen, simple wooden shelves contrast the tile's detailed pattern, but also layer in welcome texture.
Amy Lamb: Native House Photography
Mediterranean Has an Old World Feel
Tactile appeal plays a significant role in creating a warm, lived-in space — a pertinent part of Mediterranean design, which is rooted in history. Establish the look, like Becker Studios did in this home, with weathered woods, stonework and painted-over finishes. Additionally, layers of paint and glaze are often hand-rubbed onto plaster or sand-textured walls to add visual depth.
Mediterranean Dining Room With Slanted Ceiling
The dining room is heated and cooled via laser-cut plaster grills that blend in with the white walls. On nice days, the whole area can be opened up to the back yard, thanks to folding steel-and-glass doors.
And,
Mediterranean Style Features Wooden

Furniture
Mediterranean-style furniture ranges from simply functional to formal, and from rustic and weathered to elaborately carved and detailed. Relying heavily on wooden materials, furnishings are typically short with ornately turned legs and feet. Hardware is heavy and often burnished or wrought iron.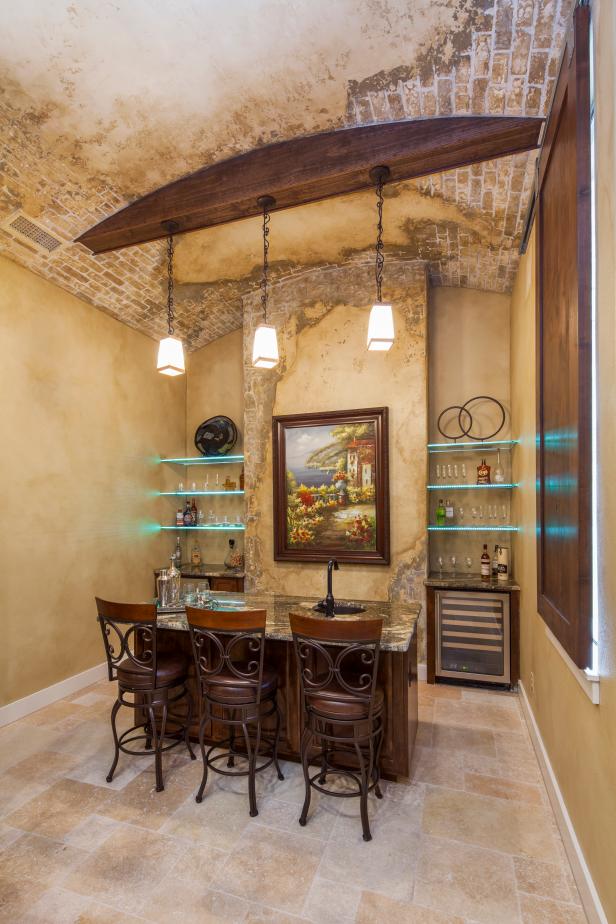 Secret Old World-Style Bar With Contemporary Touches
This sunken bar is a completely hidden room that can't be seen from anywhere within the home. The secret space is concealed by bookcases in the hallway. Contemporary touches spice up the room's stunning Old World design.
Jenkins Custom Homes Design+Build
Mediterranean Style Can Be

Ornate
Embrace Mediterranean's maximalist side with embroidered fabrics, beautifully carved wood furniture or elaborate metalwork. Layer pillows and rugs, look for opulent antique or handmade accessories with filigree, and bring in Old World-inspired light fixtures.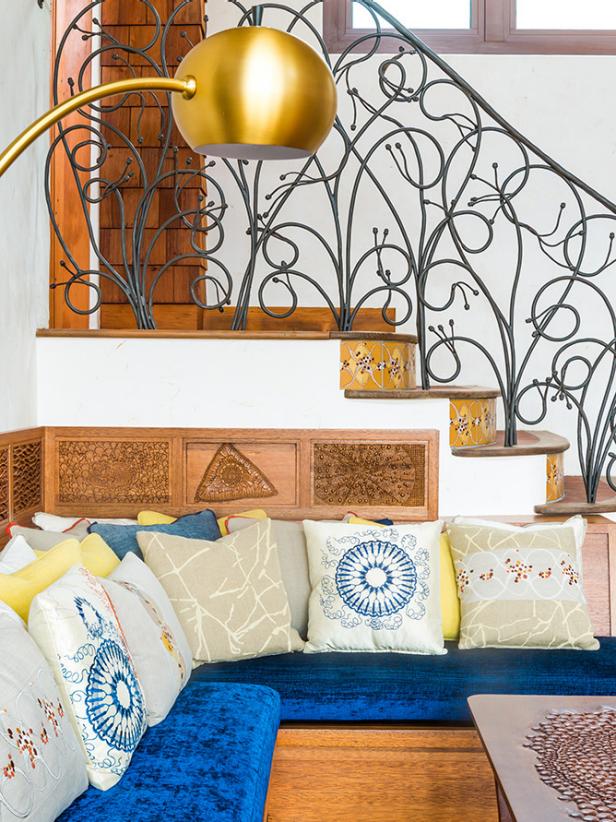 Mediterranean Living Room Featuring Upcycled Design
For this contemporary Mediterranean living room, salvaged mahogany church pews turn out to be the perfect fit. Carved panels from the pews surround the built-in sofa, bringing tactile detailing to the plush seating.
Mediterranean Style

Incorporates the Outdoors
Mediterranean homes are often surrounded by gorgeous vistas, so their architecture seamlessly blends indoor and outdoor spaces. Carry architectural details outside with archways and stone floors. To create a continuous design, establish cozy seating spots where friends and family can gather like designer Bea Pila did here.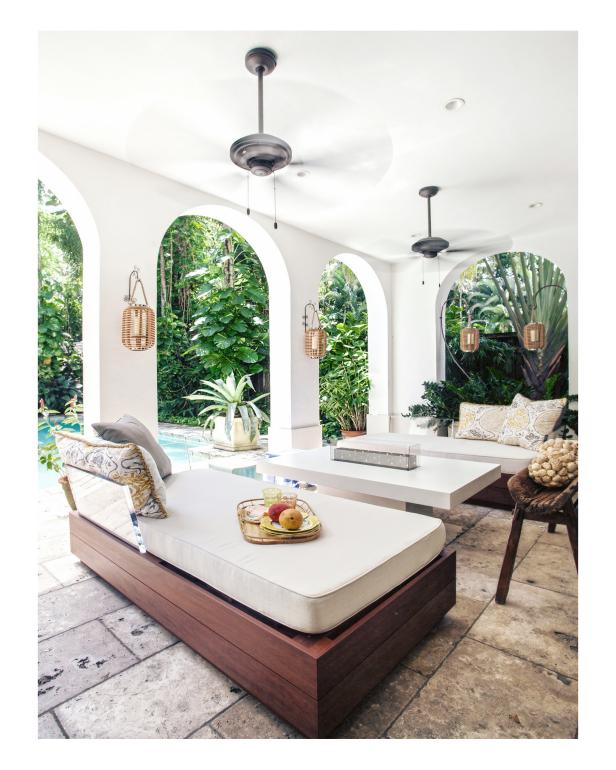 White Mediterranean Covered Porch With Daybed
A wide covered porch with lighting and comfortable furnitures gives this home an outdoor retreat that's usable all day and into the night. The daybed features a movable acrylic panel that can be used to prop up pillows in lots of different configurations.
More Design Styles to Consider
Mediterranean not quite your style? From Boho to Coastal; check out our other favorite design styles — and use our pro pointers to nail the look in your home.
20+ Looks to Love