Traditional Design Style 101
Timeless rather than trendy, traditional style is a tried-and-true look that's ever evolving, mixing vintage and antique finds with a few of-the-moment accessories for a lasting look that truly never goes out of style.
What Is Traditional Style?
Timelessly on-trend, traditional style lends a sense of stability and collected-over-time charm to any indoor or outdoor space. While traditional style can sometimes seem formal — to really nail the look, choose elements that are comfortable, colorful and curated.
Traditional Style Creates a Warm Welcome
Traditional fans know that your home's style starts at the front door — and, with a handpainted mural and layers of patterns and textures, all in beautiful shades of blue, this entryway is a stylish stunner that sets a tasteful tone. Add in an adorable pup and, well, who wouldn't want to come home to this?!
Traditional Style Can Be Relaxed …
Timeworn, weathered and perfectly aged pieces — with just the right amount of patina — are a welcome addition to any traditional space.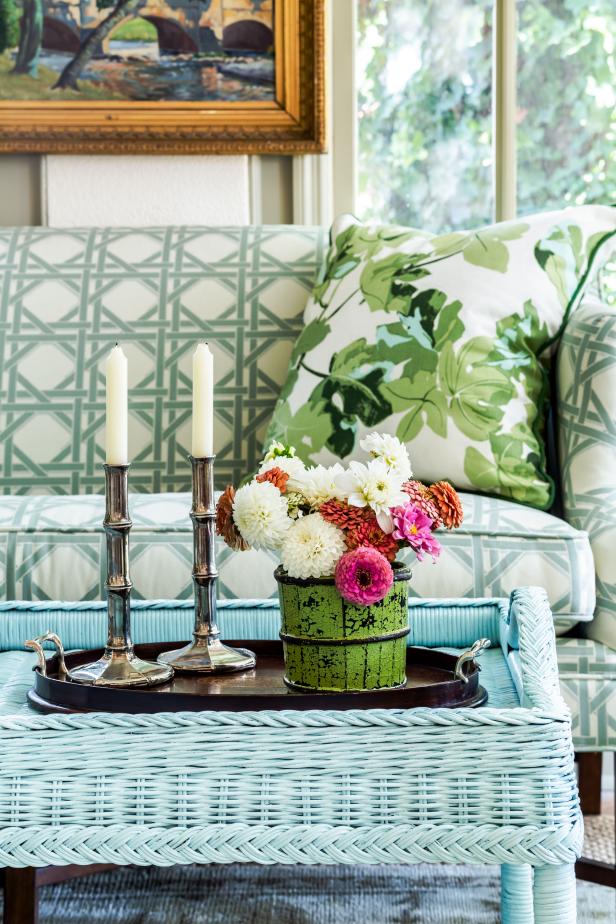 Blue Wicker Coffee Table With Candlesticks and Flower Arrangement
Don't be shy about mixing ostensibly formal pieces with more weathered ones: in this breakfast-room tableau, a pair of high-gloss bamboo candlesticks are right at home beside a gloriously weathered vase.
… Or, Traditional Style Can
Go Glam
As this stunning kitchen proves, sometimes more is more: more metallics, more marble and a massive range hood combine to create an open-concept kitchen that cooks up picture-perfect traditional style.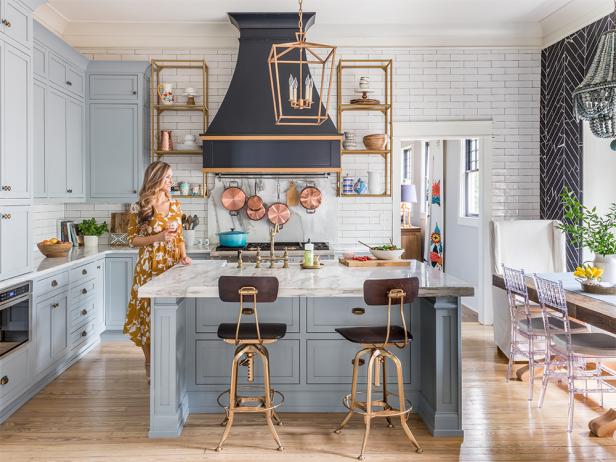 Kitchen
"I wanted a kitchen that felt sophisticated, to fit with the original look of the house," says Brittany. A majestic powder-coated-wood range hood in black and gold by APF, Inc. became the centerpiece, contrasted with custom-color gray blue cabinets and luxe marble countertops. Gold-toned shelves echo the hood. "Even cooking spaghetti feels fancy in this kitchen," says Brittany.
Traditional Style Puts Collections on Display
Whether you inherited beautiful pieces or are just a savvy shopper, from European antiques to midmod masterpieces, traditionalists know that collections should be displayed — not hidden away out of sight.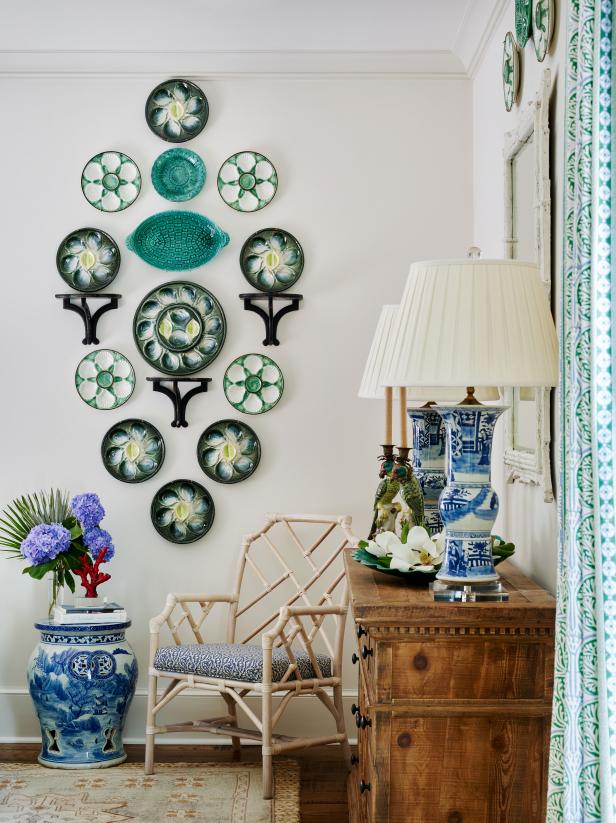 Traditional Coastal Room with Blue-Green Porcelain Display and Chinoiserie
A vivid collection of antique majolica oyster plates both references a local delicacy and creates a large-scale pattern of its own on an otherwise-neutral wall. It's also a terribly clever way to display heirlooms or antique-store finds that might be of dubious use as serving pieces.
Traditional Style Layers Patterns
From florals to checks to stripes to toile and even bold graphic prints, traditional style welcomes 'em all and layers pattern on pattern for a curated look whose sum is greater than each of its parts. So, how do you pair patterns like a pro? Just vary the patterns' scale — small, medium and large — for a look that's layered without feeling matchy-matchy.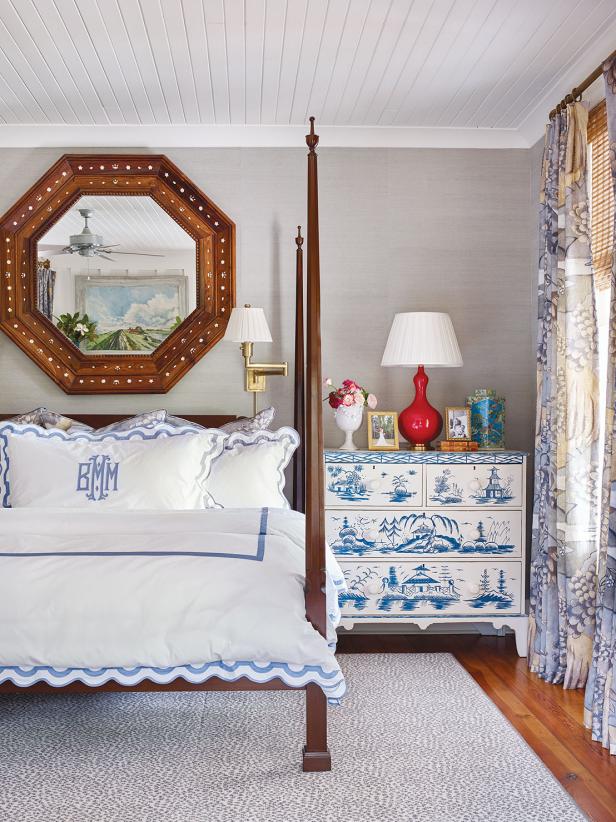 Traditional Master Bedroom with Blue-and-White Porcelain Motif
Everything in this 19th-century Alabama home's master bedroom — from the monogrammed custom linens to the hand-painted bedside dresser and the complementary curtains — contributes to a feeling of impeccable tailoring and bespoke luxury. A stately four-poster bed adds a vertical dimension to the space.
Traditional style often includes silk, linen and velvet upholstery and window coverings in damask, florals, stripes and plaids with ornately detailed dark wood, inspired by 18th and 19th century designs. Layered in color and texture, traditional style interiors bring a sense of history and glamour to a space.
Chair of the ASID National Board, designer Kerrie Kelly
Traditional Style Embraces Symmetry
Calm, cool and collected, this living room shows how symmetry creates a look that's balanced and restful — while creating a cozy setting that's perfect for coffee or convo.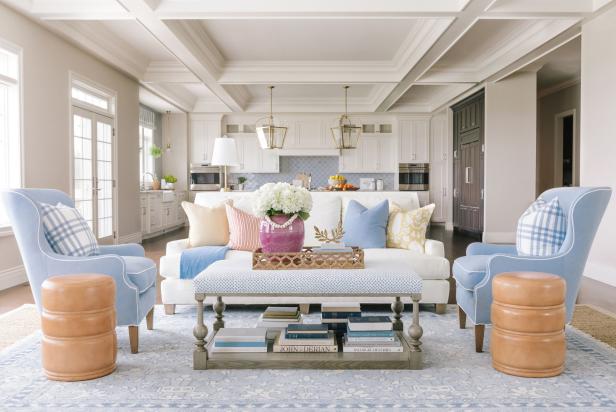 Cottage Great Room With Brown End Tables
The kitchen is at one end of this long great room, a living area at the other. It was important to break up the large space into distinct sections so that the room would feel inviting, not overwhelming.
Traditional Style Kicks Up the Color
Unlike other design styles that rely on a muted palette (looking at you, Scandi style), traditional style embraces all the colors of the rainbow — the more saturated, the better.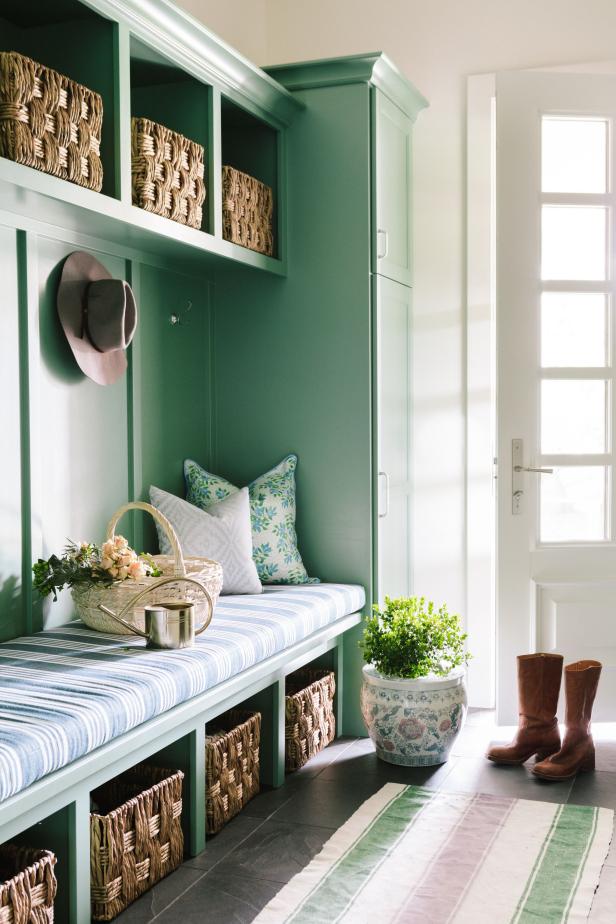 Green Cottage Mudroom With Striped Cushion
Mossy green walls and cabinetry turn this mudroom into an inviting space at the end or beginning of the day's adventures. Baskets neatly store smaller items above and below the bench. Wall hooks handle the hats and coats.
Traditional Style Includes Global Accents
Whether incorporating Chinese ceramics, heavily carved French furniture or handwoven African baskets, traditional style has always rocked a globetrotting style. So, show off your travels.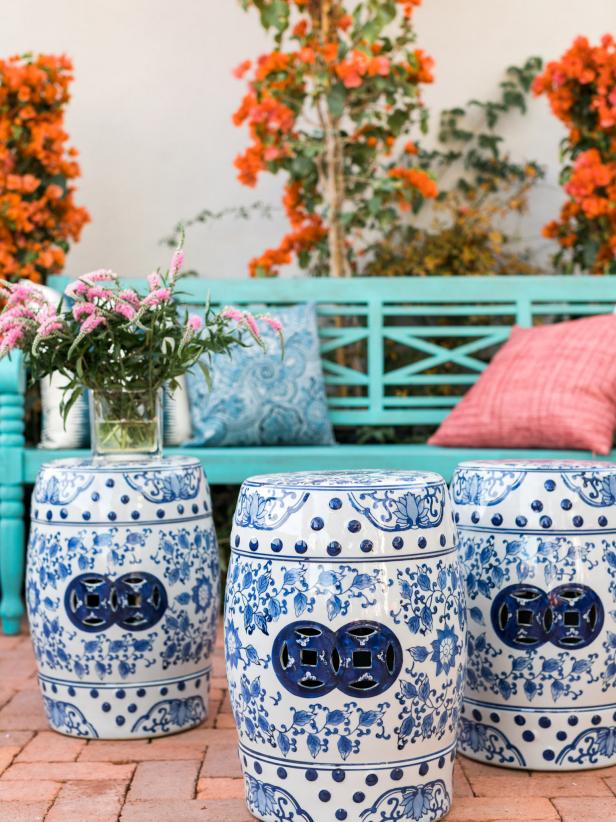 Garden Stools
Asian-inspired ceramic garden stools are one of the most timeless choices for adding impromptu seating for any part of the house. The most popular style is chinoiserie which depicts botanical shapes and Asian landscapes in shades of blue and white.
Flynnside Out Productions
More Design Styles to Consider
Traditional not quite your style? From Cottage to Farmhouse; check out our other favorite design styles — and use our pro pointers to nail the look in your home.