Nostalgic and subtly simple, cottage style uses natural motifs and airy colors to infuse warmth and comfort into any space.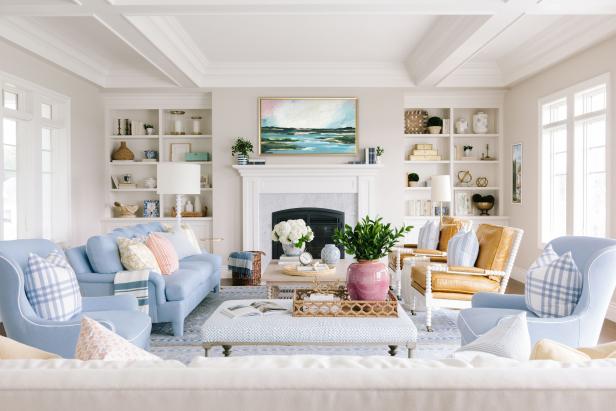 Cottage Living Room With Blue Armchairs
This home's main living room is enormous, almost 40 feet long. So designers needed to make it feel cozier and more comfortable. They did this by creating several smaller seating areas that could operate on their own or as one large group, when the occasion required. Furniture was selected with comfort in mind.
While just as inviting, cottage style is a bit more buttoned-up and traditional than sister-style Cottagecore. Think, "plenty of pattern, painted furniture and weathered finishes, paired with baskets, natural-fiber rugs and a garden palette," says designer Kerrie Kelly, who is chairwoman of the board of the American Society of Interior Designers. Cottage design is a culmination of French vintage, shabby chic and rustic, though how much of each style influences your preferred cottage ambiance is up to you. Whether you lean traditional or rustic, it's about creating a natural, vintage-y space — but in the lightest, airiest way possible. We'll show you how with our tips below.
What makes a space cottage-cozy? Pattern pairings. Namely florals against stripes or plaid. For extra comfort accessorize further with fluffy pillows, cheerful art, woven accents and flowers from the yard — like Bria Hammel did in this cheerful breakfast nook.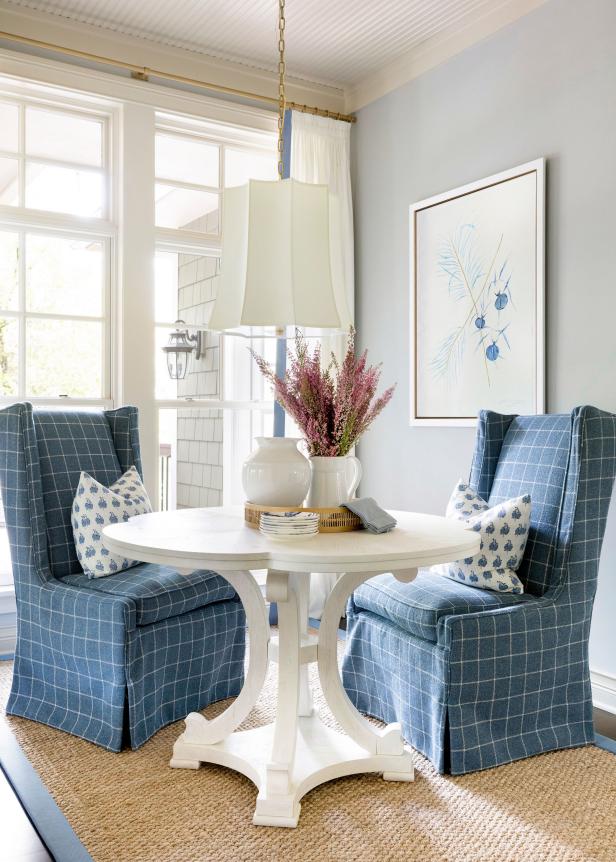 Tranquil Blue Breakfast Nook
The breakfast area is furnished with a pair of simple-skirted wing chairs in denim and a sweet clover-shaped table atop a sisal rug. Gold curtain rods and pendant light hardware contribute warmth to the friendly, sundrenched space.
Cottage Style Can Be Vintage
"Cottage style resembles a life's collection," says Kerrie. Incorporating trinkets, vintage pieces and meaningful accessories (like books, art and plates) is key — and don't be afraid to mix old and new. Here, shelves full of colorful books act as the perfect backdrop for Leanne Ford's vintage vignette: a 70-year-old typewriter atop a new concrete table.
Or, Cottage Style Can Be Homemade
If you want to take vintage to a whole new level, do like DIY-expert Marian Parsons and turn old furniture cottage-style-cool. She used fabric, thread and cotton cording to create a slipcover for a drab ottoman. Other DIY ideas to inspire your cottage space: distressing wooden furniture, stitching homemade quilts, revamping old lamps.
Cottage Style Embraces Natural Elements
Weathered accessories and woven materials are subtle, yet pertinent parts of cottage design. If you err on the side of rustic-cottage, try decorating with reclaimed wooden furniture or wicker baskets — like blogger Maison de Mings did in her garden shed. If your preferred cottage style is cleaner, opt for natural-fiber rugs or woven accessories (rattan coffee table trays or lamps, for example).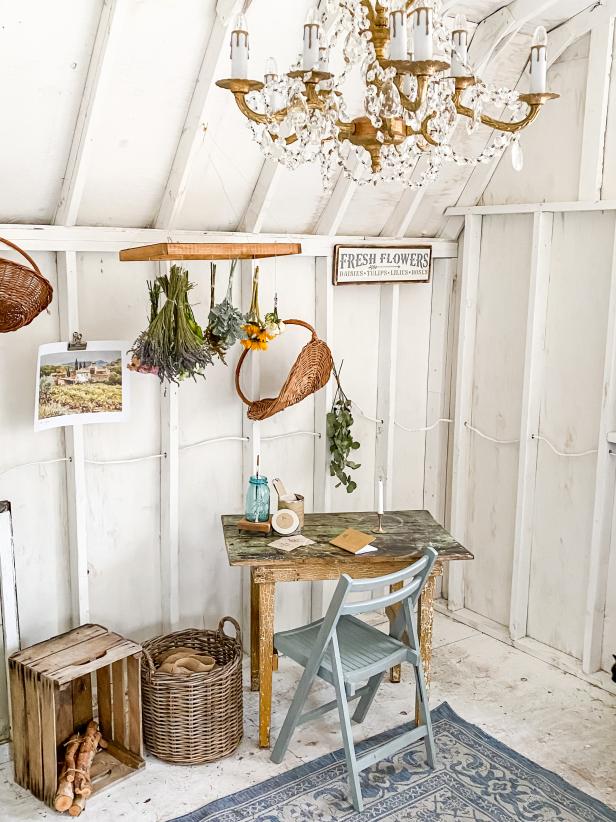 An Inspired Garden Shed
This space went from totally drab to so charming. Seriously, check out the before pictures on Amy's blog. The all-white space — painted by Amy and Mat — was carefully curated after lots of Pinterest research. Baskets, touches of brass, a cute little baby blue stool and a wowza white telephone booth occupy the space now. But, believe it or not, Amy isn't done styling it quite yet. "I'm currently looking for garden accessories and French-inspired seating on Facebook Marketplace," she says.
Cottage Style Includes Shades of Pastels
Pastels and florals. What could be prettier? Designer Sarah Richardson certainly thought so when she took this airy bedroom full-on cottage with floral printed pillows and shades of light blue. Extra points for the old-fashioned alarm clock and tea tray setup — two cottage-style staples. Other colors you can use: light apricot, dusty pink, sage, muted yellows.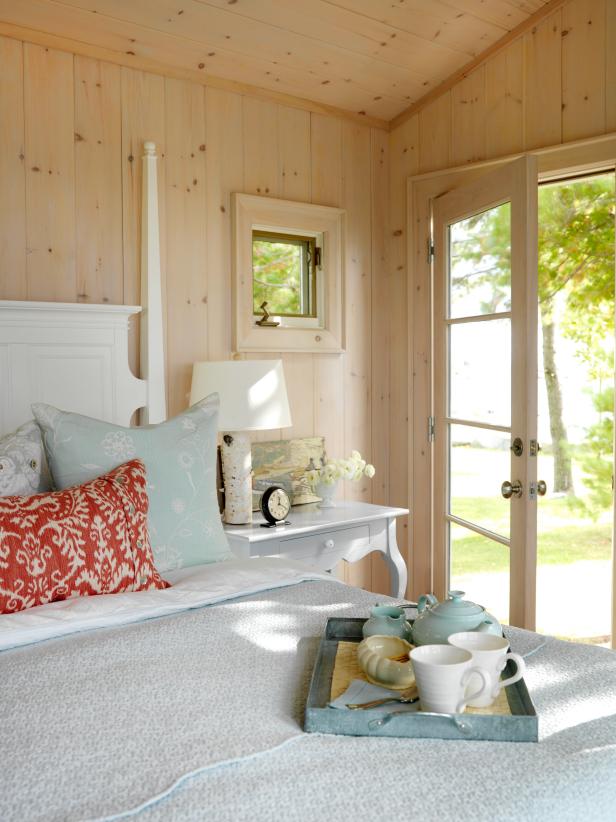 Cabin Bedroom With Tranquil Bedding
Sarah Richardson, host of HGTV's Sarah's Summer House, chose soft and tranquil linens for the guest cabin bedroom. She made the bedside lamp from a birch tree, bringing a natural element to the space, while French doors allow natural light to fill the small space.
And, Cottage Style Can Be Simple
Despite its numerous influences, cottage style revolves around one main element: simplicity. Just the right number of trinkets and textures convey nostalgia, architectural elements are able to breathe, vintage and DIY statement furnishings shine — all amidst a mix of bright, homemade and natural. Its familiar simplicity will wrap you up in a welcoming, happy hug.
DIY any space to cottage-cool levels.
French vintage tips from blogger Amy Mings.
Fresh, simple and cottage-cozy decorating ideas.
Give simple linen cafe curtains a vintage appeal.
More Design Styles to Consider
Cottage not quite your style? From Coastal to Bohemian; check out our other favorite design styles — and use our pro pointers to nail the look in your home.
20+ Looks to Love