Minimalist Design Style 101
Celebrating clean lines, natural light, open spaces and uncluttered surfaces, minimalism is a refreshing aesthetic that avoids excessive ornamentation and revels in straightforward geometry.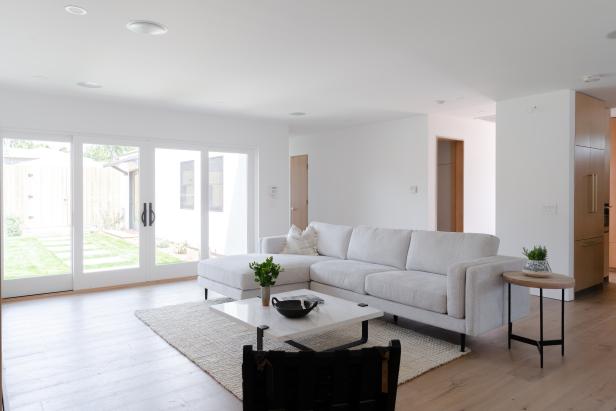 Bright, Sunny Family Room Looks Out Into Shared Courtyard
The family room looks out into a sunny courtyard shared with the home's guest apartment, and natural light floods in through the glass doors. Dino wanted to bring as much of that light into the space as possible. The space is decked out with a smart system with Polk speakers and a subwoofer—ready to entertain.
What Is Minimalist Style?
Minimalism in decor is all about deploying not-so-basic basics — that is, practical, high-quality pieces with unfussy silhouettes — to celebrate the simplicity of uncluttered, open living spaces. Minimalism became associated with modernism when master architect and designer Mies van der Rohe popularized the declaration that less is more (which originally appeared in a Robert Browning poem about a Renaissance painter — how's that for design trivia?). In the 21st century, minimalism and modernism still coexist in stylish harmony — but minimalist style has expanded beyond its initial iteration to incorporate contemporary innovations (old Mies would have delighted in all the appliances you can hide in cabinets these days) and influences (who doesn't love a rustic minimalist interior?). Now, as then, thoughtful minimalism feels like a breath of fresh air. Here's how it comes together.
Minimalism Favors Neutral Colors
As in this serene Soho penthouse, minimalistic interiors are commonly enveloped in variations of black, white and beige. Contrasting tones — like the deep stain on the circular coffee table juxtaposed with the pale hue of the area rug beneath it — emphasize clean geometric figures. (Note how the similarly crisp contrast between the black chandelier and the white wall and ceiling surrounding it serves to emphasize its straight lines.)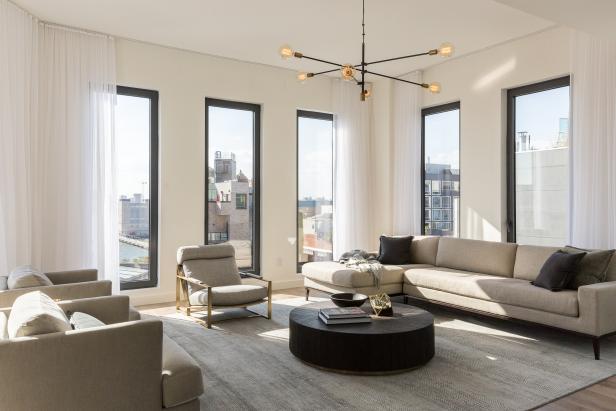 Neutral, Minimalist Living Room
Throughout the house, a neutral color palette and clean lines in the furniture and fixtures help to create a simple, elegant design for the home, while elongated windows allow in plenty of natural light. In the living room, designers added sheer curtains in front of these windows so as to create a light, airy feel in the space when they are drawn.
Minimalist Storage Skips Hardware
Cooking in a minimalistic space is all about hardware-free, push-latch closures, as on these sleek blonde cabinets; it's also all about panel-ready appliances, like a refrigerator and dishwasher that are concealed from view when not in use. A concrete backsplash and countertops complement the white paint deployed on the walls, range hood and ceiling, and the pale floors echo the cabinets' warm tone. Like the components of an expertly simmered sauce, the individual elements in a minimalist kitchen blend together beautifully.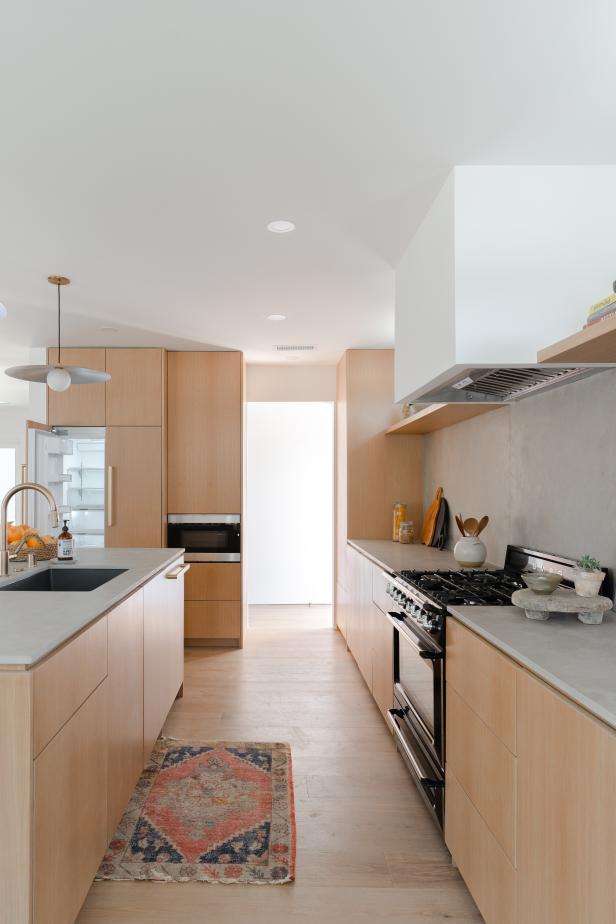 A Minimalist Kitchen with Panel-Ready Appliances and Push-Latch Closures
The kitchen cabinets hide panel-ready appliances, giving the space a more European feel. The fridge, to the left, is a panel-ready model from Fischer Paykal. "You don't want to see many appliances," Dino says. "The last two projects, I've concealed them as much as I could." The Corellas chose a retro-style range from Italian appliance company Smeg, to keep with that European design.
Minimalism Can Highlight Natural Materials
This rustic minimalist kitchen demonstrates how effectively clean, uncluttered design draws attention to gorgeous organic elements like the hand-hewn exposed beams spanning the ceiling, the knotty pine planks that form its two massive islands and the veined marble that lines the alcove behind its range. The simple, gleaming white surfaces of the ceilings, walls, island countertops and cabinets allow the details of those natural materials to take center stage.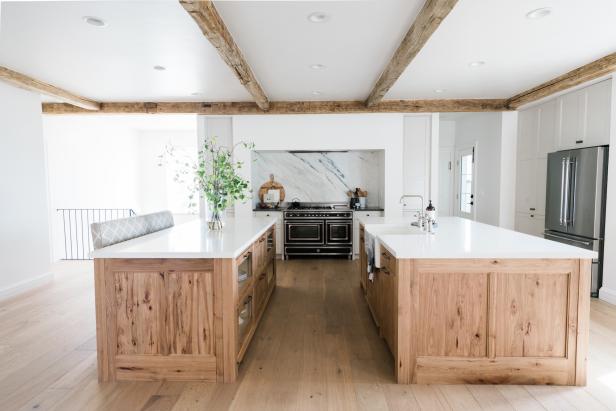 Double Wood Islands Accent a Bright Open Concept Kitchen That Features Exposed Beams
A bright, open concept kitchen features double islands that are topped with white stone countertops. Rustic exposed wood beams run the length of the kitchen adding warmth to the white space. A marble slab backsplash sits behind the gas range stove, creating an eye-catching accent wall.
Minimalist style is all about less is more, highlighting uncomplicated forms, clean lines and simple finishes. Inspired by Japanese design, minimalist style echoes a contemporary feel with plenty of open space.
Chair of the ASID National Board, designer Kerrie Kelly
Minimalist Pieces Serve Multiple Functions
One of the simplest ways to keep a space focused on clean lines and minimize disruptions is, of course, to choose integrated furnishings that serve several functions at the same time. In this minimalist loft's sleeping area, the angular oak platform bed and floating nightstands flow seamlessly into a headboard which doubles as a mount for a pair of bedside sconces. On the space's rear wall, built-in shelves composed of the same oak terminate in smooth dressers without hardware. The room's building materials themselves — that is, exposed brick, oxidized steel girders and raw concrete slabs — are its only ornamentation.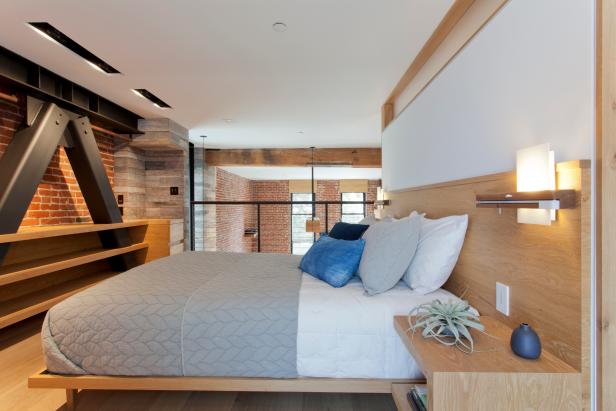 Modern Loft Master Bedroom with Integrated Oak Headboard
This modern loft master bedroom features neutral tones, an integrated oak headboard, nightstand, and open closet system, light hardwood floors, recessed lighting, and floating oak shelves on an exposed brick wall.
Minimalist Spaces Let the Eye Rest
Design experts are fond of discussing how dynamic colors and patterns can encourage viewers to shift their gaze from feature to feature: the eye should travel, right? Minimalist spaces have the opposite goal: this bedroom was designed to feel restful rather than stimulating. White-on-white linens complement clean white walls and flooring, and a simple floating nightstand offers an elemental perch for a glass vase and a few neutral books. Sleep experts would nod with approval at this distraction-free arrangement: its harmony and simplicity encourage nothing more than quality shut-eye.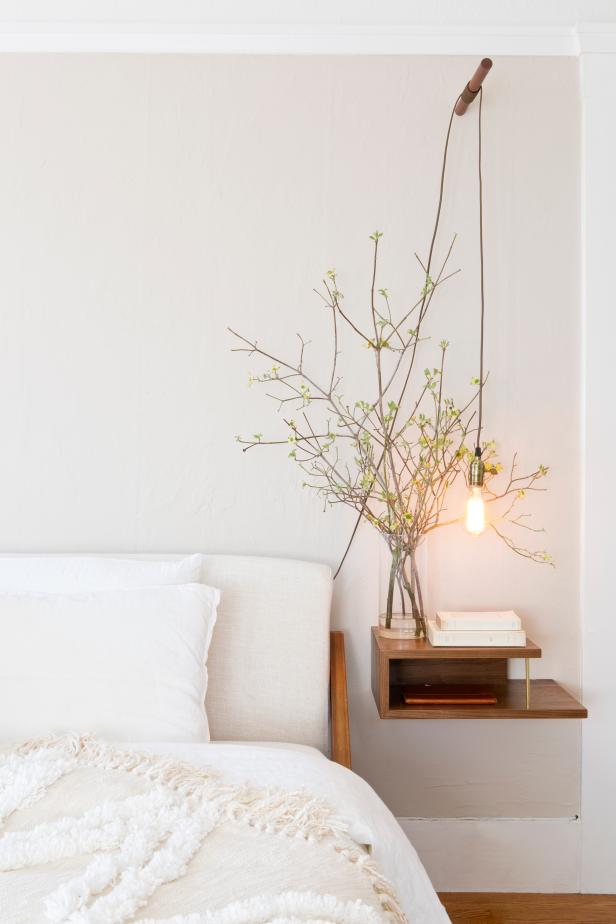 Modern Floating Nightstand With Industrial Modern Light Fixture and White Bed Linens
The minimalist modern design of this bedside features an industrial style chord light hanging over a small floating nightstand shelf. The wood shelf and vase-held branches add a touch of color to the crisp white room and bed linens.
Create a modern, simple and gorgeous space to rest your head at night with these inspirational designs.
Leather Is a Popular Minimalist Material
The tailored, timeless black Barcelona chairs in this room are characteristically minimalist: Mies van der Rohe designed each one to be constructed of a single cowhide. The warmer leather sofa facing them, in turn, is equally elemental, thanks to its clean silhouette and right angles. Minimalist rooms should convey austerity that doesn't tip over into outright chilliness, and leather (and materials made to emulate it) can be instrumental in achieving that effect.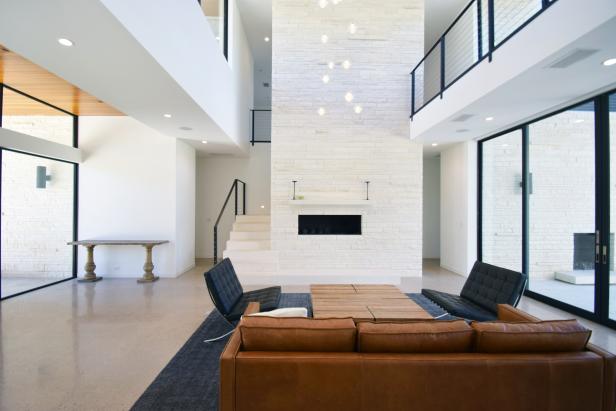 Modern Living Room With Stone Wall
This living area feels cloud light with two-story high ceilings and walls of glass on either side. Slim balconies traverse the upper level and look down to the room below.
Minimalist Spaces Have Large Windows
The key to making minimalist homes' characteristically open spaces feel airy and open rather than cold and cavernous is massive infusions of natural light. The star of this inviting living room is, of course, the sun that dapples its hardwood floors and casts angular shadows through its massive windowpanes. Minimalism is a perennially popular aesthetic for spaces with stellar views: when the scenes beyond your sitting area are gorgeous in their own right, why on earth would you get in their way?
Learn about the most popular styles in interior design — and use these pro pointers to bring them to life in your home.