With straightforward silhouettes, textural fabrics and endless opportunities to evolve, contemporary rooms distill the design world's most comfortable and popular trends into a livable look that constantly changes while remaining eternally chic.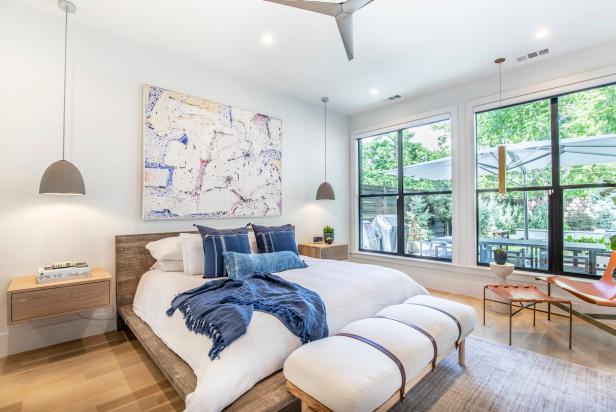 Contemporary Neutral Bedroom With Blue Throw
Floating nightstands are illuminated by oversized pendants, adding to the airy mood of this contemporary bedroom. Denim blue accents are a welcome pop of darker color.
What Is Contemporary Style?
Contemporary interiors are style chameleons: with streamlined silhouettes, neutral foundation pieces and careful attention to editing, they're able to adapt on the fly to incorporate emerging trends in the design world through accessories. Modern style (a movement that dates back to the 1930s) zeroes in on a monochromatic palette and the near-total absence of decoration; contemporary style (which emerged nearly half a century later), on the other hand, uses simplicity as an opportunity for play. Contemporary spaces can embrace what feels right right now — and that versatility and spontaneity is where the fun comes in. Here's how to pull it all together.
Contemporary Style Is Uncluttered
Spaces like this sumptuous guest suite exemplify the sort of minimalism that would delight Marie Kondo devotees: Though it feels unquestionably rich, thanks to jewel-toned bolster pillows, an oversized upholstered headboard that runs the full length of a wall and a pair of textural sheepskin throws, accessories are limited to a few elemental pieces. Natural light (and a mounted television) are the walls' only adornments, and the bank of dressers and the floating vanity in the bathroom feature no hardware. Rooms like this one — designed to cultivate calm and serenity — are ideal spots to deploy contemporary style.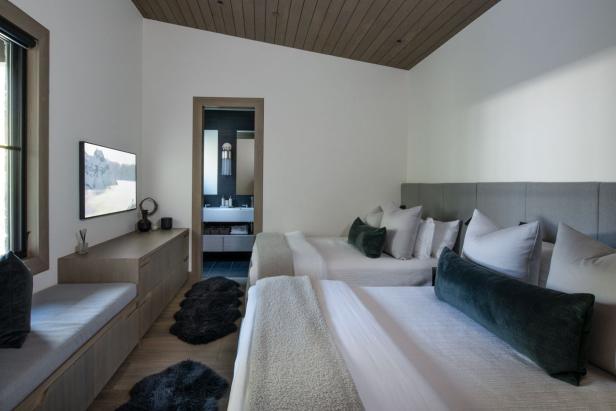 Contemporary Double Guest Room
This Colorado mountain home offers rustic luxury in almost every space, including the double guest room, one of six bedrooms in the home. White walls are paired with neutral wood planks on the ceiling, around the window and on the floor. A modern built-in dresser lines the wall and provides essential storage for visitors. A full ensuite bathroom with a double vanity awaits through the door.
Slifer Smith & Frampton Real Estate, a member of Luxury Portfolio International
Contemporary Spaces Use Track Lighting
In this sleek urban condominium, ultra-functional lighting is anything but an afterthought: selected to evoke the feel of a studio (and to complement the arching floor lamp in the corner of the room), this unobtrusive, focused illumination makes the most of the space's high ceiling to offer uninterrupted views of the city. Contemporary lighting design highlights statement pieces like the room's aqueous, oversized abstract painting and the pair of organic sculptures on the gleaming occasional table beside the sofa.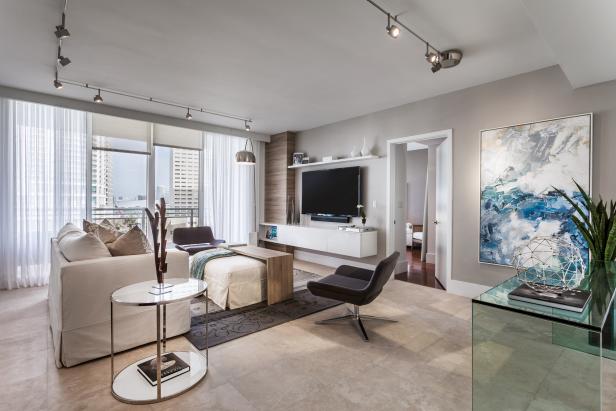 Neutral Contemporary Living Room With Track Lighting
A medium-sized rug and track lighting help define this living room in an open concept floor plan. Sheer curtains on the floor-to-ceiling windows are a smart choice for allowing in light without totally obscuring the views.
Contemporary style embraces minimalistic elements highlighting grays, beiges and shades of white. Sleek, thoughtful, hidden details emphasize an edited aesthetic. Contemporary style offers an 'everything in its place' interior featuring designs that are high on function and simplicity and low on collections and fuss.
Chair of the ASID National Board, designer Kerrie Kelly
Contemporary Rooms Have Organic Accents
As in modern interiors, there's high contrast between broad expanses of marble tile and warm grey cabinetry in this contemporary kitchen. Organic touches like the casual arrangement of flowering branches in a vase on the island, a quirky pedestal bowl of "fruit" and a wood chopping block all soften those lines.
Contemporary Style Favors Open Floor Plans
Kitchen and dining rooms, entertaining areas and lounging spaces flow together seamlessly in contemporary homes. In most cases, those open floors will be uncarpeted and show off the bare, clean wood, tile or vinyl; area rugs can add color and help to define "rooms" with subtle visual cues. In this breezy contemporary living space, a pale rug beneath the dining table differentiates it from the fireside conversation spot (and the geometric rug) in the center of the room.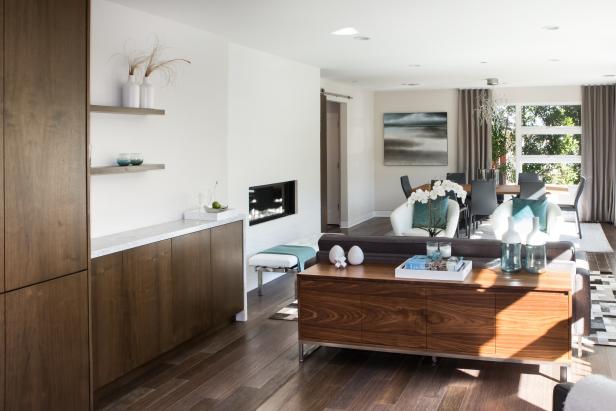 Neutral Contemporary Living Room With Wood Cabinet
The sleek design of this contemporary living room pairs wood cabinets with crisp white trim. The neutral palette gets pops of energy from blue accents.
ERIKA BIERMAN PHOTOGRAPHY
Contemporary Spaces Lack Drapes
Just as floor coverings are typically limited to area rugs, contemporary window treatments are minimal — that is, if they're present at all. In this dramatic contemporary living room, unadorned windows allow dramatic shadows to cut across the pair of silver-framed black-and-white photographs on the wall. Similarly, the ample, pale hairpin-leg coffee table and stylishly mismatched sectional gain "patterns" from the window hardware. The large, spiky succulent by the window is a characteristic contemporary accent, as are the candlesticks on the table; though ornate pieces aren't typically congruent with contemporary style's simplicity, their bold color creates a playful focal point in the otherwise neutral room.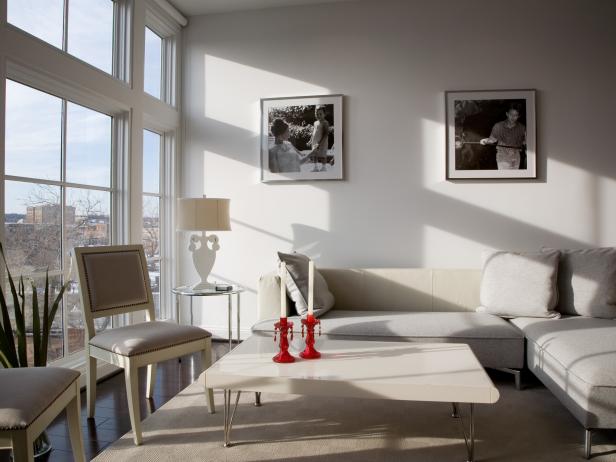 White Contemporary Living Room with Large Windows
Layers of texture, from the nubby rug to the nailhead trim on the side chairs, give this living room its presence. The red candlesticks add a pop of color to this space.
Geoffrey Hodgdon, Geoffrey Hodgdon
Contemporary Textiles Are Textural
This blend of contemporary and Mediterranean influences demonstrates how nimbly contemporary interiors can pickpocket the best elements of other styles. Contemporary spaces feature dramatic, oversized plants like the handsome olive tree displayed here, touchable textiles like the deep-sea velvets on this generous sectional, plush area rugs like the Berber piece centering the room here and large-scale geometric features like the mirror, firewood caddy and window.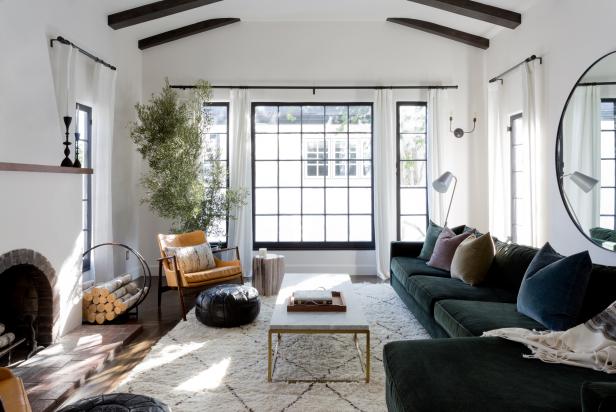 Contemporary Mediterranean Living Room With Green Sofa
In imagining the look of this living room, the biggest design challenge was its narrow shape and the low windows. Furniture couldn't go up against the walls, as it would block windows and doorways. The solution: Use the rug to center furniture in the middle of the space.
Dive Into More Contemporary Style
Learn about the most popular styles in interior design — and use these pro pointers to bring them to life in your home.