Curb Appeal Tips for Mediterranean-Style Homes
Whether you call it Spanish or Mediterranean, you'll make the most of it by taking these colorful and clever curb appeal tips from the experts.
While you once found Mediterranean architecture only in the sun-drenched states claimed by conquistadores long ago, the style has become so popular that you can now find it coast to coast. Whether it's called Mediterranean, Spanish, Spanish Colonial — even Italianate, there are certain features that seem to define it: Plaster walls, arches, tiles, columns, balconies, fountains, wrought iron, warm colors and Southern European landscaping, to name just a few.
Selecting, balancing and maintaining those features can prove quite the challenge, however. "Most buyers want even the most classic Mediterranean to have a contemporary edge to give it a fresh vibe and lighter, brighter look," according to top Los Angeles Realtors Branden and Rayni Williams of Williams & Williams Estates.
To maintain the look and feeling of a warm and gracious vacation home and live the dulce vita no matter where you're located, we've consulted some of the country's top experts, who have provided the following tips.
General consensus tells us that the days of plain white plaster walls are long gone. Oh, they're still acceptable, but they now require pops of color on the grounds to liven them up. John Barrentine of RED Real Estate Group at Keller Williams/Larchmont says, "When we think of the Mediterranean, we think of warm, slightly arid and breezy. When we think of curb appeal for the Mediterranean home, we should think the same. The overall palette should be light and reflective of the intense sun with splashes of color both in details on the physical structure as well as with landscaping.
Since most Mediterranean-style homes have arches, columns or both, why not highlight them? The experts at The Plan Collection put it this way: "Too often we see homeowners have chosen a color matching the home's stucco for these architectural elements. That is playing it safe, but at the price of being boring and dull. These design elements were a meaningful part of the house plan's original construction budget and can be all but invisible without a proper color scheme."
"Warm weather and earthy palettes echo hues of the white sands, sea, sky, cypress, olive trees and rocky cliffs," says Andie Day of lifestyle concierge service Shift Legacy. "And terra cotta is the ideal complement to a warm weather palette."
While bright-colored accents in tile, pots, fountains and flowers are appropriate, that doesn't mean walls the color of the turquoise blue Mediterranean ocean or bright yellow sunflowers are going to work well in most neighborhoods. The experts at BEHR paints suggest, "Colors that work well for Mediterranean-style stucco homes vary from white to warm gray to rich tones of light gold and brick. These colors coordinate especially well with dark brown wood on trim and wrought iron metalwork."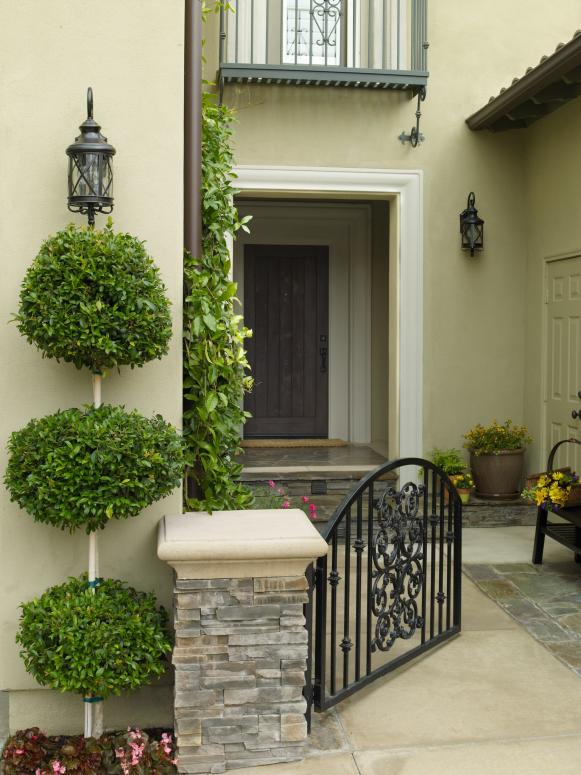 Mediterranean-Style Home With Wrought-Iron Gate
Improving Mediterranean curb appeal involves attending to wrought iron balconies, gates and fixtures with a fresh eye, and perhaps repainting with a product like Behr's Alkyd Semi Gloss Enamel, that works equally well on plaster, aluminum and wrought iron.
That brings us to the very distinctive trim on Mediterranean homes. So many feature balconies of wood or wrought iron and shutters, but iron can rust and wood can rot, peel and splinter. Improving Mediterranean curb appeal involves looking at those details with a fresh eye, and perhaps repainting with a product like Behr's Alkyd Semi Gloss Enamel, that works equally well on plaster, aluminum and wrought iron.
Matt Anderson, owner of Anderson Framing & Remodeling in East Sandwich, Mass., used AZEK Trim and Moldings, made of cellular PVC, as a low-maintenance replacement for wood or wrought iron, on what he describes as his "Greek Revival meets Italianate farmhouse." "As an exterior specialist, I know what products perform and endure the tough New England winters we have," he says, and AZEK turned out to be perfect.
Pergolas, Gazebos, Fountains
If you have the space in your front yard, adding an extra architectural feature like a pergola, gazebo or fountain will not only make it look better, but will make it more livable.
A gazebo can offer you a bit of shade while capturing 
the Tuscan feel," say the experts at Phantom Screens. "Consider adding sheer curtains to the exterior of the 
gazebo or even a retractable screen that gives you a bit more seclusion
 while keeping bugs at bay."
"For shade or just a place to sit, pergolas are another option," says Andrew Epstein of Greenscape Landscape and Design. "For even more shade you can cover it with Wisteria, which not only looks beautiful, but the scent is unparalleled."
Fountains can also provide an attractive, calming aspect. "If you don't have a view of water, you might want to include some sort of fountain or pond in your yard 
to embrace this element that is so important in Mediterranean style," suggest the Phantom Screen experts. A
 water feature can add the relaxing, peaceful sound of cascading water."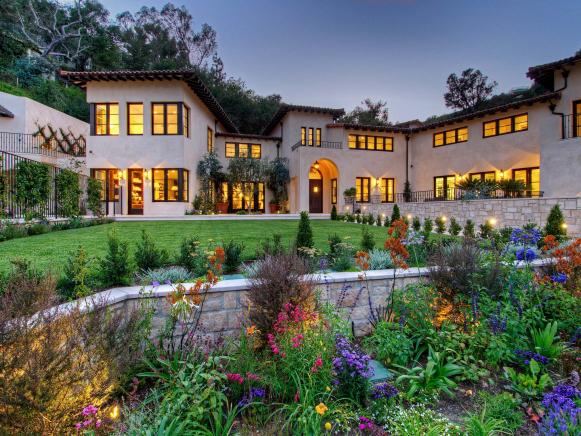 Mediterranean-Style Home With Colorful Landscaping
"Many Mediterranean-style homes in the United States are often found in warmer climates. That means that trees and shrubs around your Mediterranean-style home are likely to grow much more quickly and fully than around homes in other parts of the country," according to the experts at The Plan Collection. "As a result, frequent landscaping and gardening maintenance is essential for enhancing curb appeal."
Williams & Williams Estates
All the experts we consulted agree that the lush foliage you'd find on the Italian coast or the South of France is best suited to Mediterranean-style homes. "Drought-tolerant plants are a great look and also provide a riot of color, not only in bloom but in foliage," says Barrentine. "The juxtaposition of the leafy tree (think olive) against the severe sword-leafed succulent provides both interest and a thoughtful ecological approach to the Mediterranean garden."
Epstein agrees, and gets even more specific. "I would suggest beautiful golden paths lined with French Fennel, French Lavender, Santa Barbara daisies and a sprinkling of planted pots. And if they work in your design, olive trees are a must."
Planters can really make a difference. Day notes that in homes with little real estate in front, planters by the door and in front of the windows can give a feeling of "lush gardens."
"Along the coastline in Italy, vibrantly colored tropical 
plants are abundant and they remain untamed. While of course you'll want 
to keep the greenery in your front yard in order, adding large planters 
and vines will give off a similar look without the maintenance," add the experts at Phantom Screens.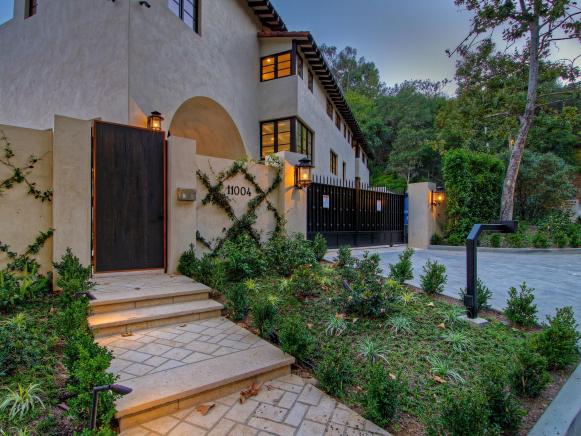 Mediterranean-Style Home With Gated Entry
Branden and Raynie Williams of Williams Estates say, "The look is completed with a beautiful main gate, which could either be a heavy, reclaimed wood or iron." This is an especially good idea if you have young children or pets that play in the front yard, or just want extra privacy and security.
Williams & Williams Estates
Any home that looks inviting from the street needs a path or walkway leading to the front door. Mediterranean homes lend themselves to several options.
Epstein suggests paths of decomposed granite, or "DG," which have the added bonus of being both inexpensive and drought resistant. "No grass to mow or flowers to water" along these garden paths, he says.
"Terra-cotta pavers or Spanish tiles are also perfect," say the experts from Phantom Screens, who suggest using those same materials elsewhere on the front of you home, like on stairs, porches or patios — even walls.
Also, the Mediterranean is one of the few styles that frequently includes a courtyard. The experts at The Plan Collection note, "Too often we find that homeowners treat this as forgotten outdoor space. Go beyond just adding a few potted plants or flowers and make it into an extension of your home as an outdoor living room. With some simple outdoor furniture, it can become a wonderful space for entertaining guests or just relaxing and reading a book."
Phantom retractable screens for arched porches and courtyards can give you privacy without detracting from the curb appeal of your home. Recessed into arches and columns, the screens are not visible unless in
 use.
If you take this expert advice to your own Mediterranean villa, grand or humble as it may be, you'll feel as if you're going on a sunny seaside vacation every time you come home. And potential buyers will catch the vibe.