Art Deco Design Style 101
Featuring bold colors, strong geometry, luxurious textures and even more luxurious materials, Art Deco is a century-old aesthetic that couldn't feel fresher today. Channel that Roaring Twenties glamour with contemporary takes on the trendy again style.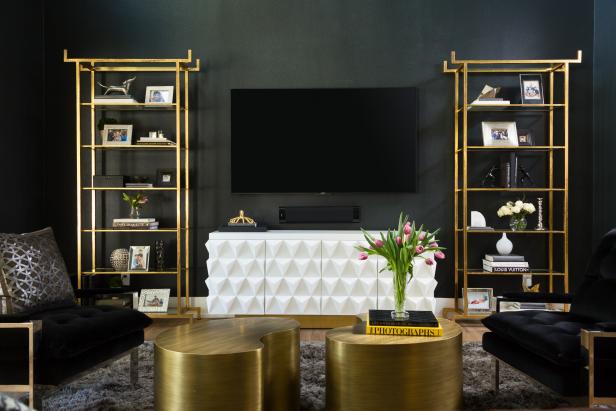 Black Art Deco Living Room With Gold Tables
The benefit of dark walls: They make any space feel more intimate and are an excellent foil for shapes and textures. This living room's black backdrop spotlights its geometric console and touches of gold.
Art Deco made its dazzling debut in 1925 at the Exposition Internationale des Arts Décoratifs et Industriels Modernes in Paris. A glamorization of the architecture and interiors made possible by modern technology, the style reveled in all things new, exotic, glamorous and dramatic — and was wildly popular until the late 1930s and early 1940s, when its over-the-top ostentation fell out of step with the Depression and World War II. Its bold, exuberant colors, decadent high-end finishes, and exotic motifs have surged back in the popular imagination over the years, and Art Deco's celebration of strong geometry, look-at-me-patterns and rich materials is hugely influential with contemporary designers. Ready to revisit that confident chic for the 21st century? This is how tastemakers are interpreting Art Deco style in contemporary spaces.
Art Deco Wallpaper Is Tonal + Textural
This moody bedroom's gorgeous plum grass cloth wallpaper establishes a strong textural tone that continues in the golden crushed velvet on its channel tufted bed, a plush faux fur blanket, a graphic avian print accent pillow and an intricate, jewel-bright floral area rug. Tone-on-tone plum paint carries the walls' drama up and across the ceiling, and geometric gold detailing on the pendant, table lamp, nightstand and desk adds opulence to the room.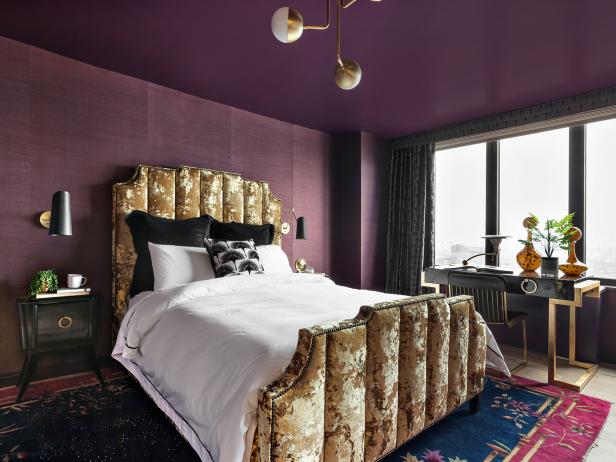 Purple Contemporary Bedroom With Gold Bed
In a smaller bedroom, a dramatic color can have the cool effect of making the space feel cozier. Eggplant purple coats the walls and ceiling in this apartment bedroom with surprisingly intimate results.
Art Deco's Patterns Are Geometric
Much like New York City's Chrysler Building — a classic example of Art Deco architecture with seven radiating terraced arches at its crown — Art Deco interiors frequently showcase sunburst patterning and vaulting that features concentric arches. This condominium bedroom's feature wall plays with a characteristic Art Deco pattern in both feminine pink and a supersaturated peacock green. A pair of white table lamps on flanking nightstands doubles down on that idea of graded curves, while the nightstands themselves offer sharp angles in chrome legs and hardware to counterbalance those curvy elements.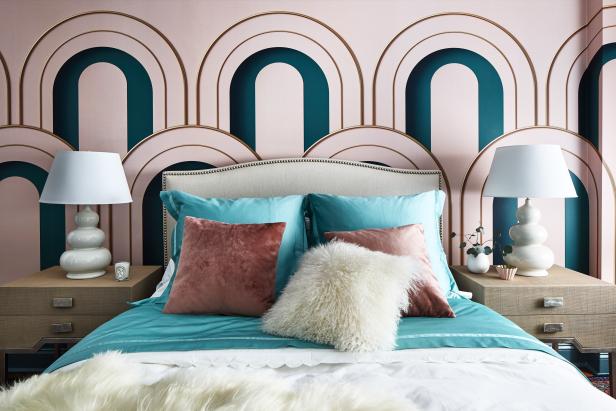 Bedroom's Art Deco Wallpaper a Hollywood Sensation
The bedroom is attired in a distinctive Art Deco wallpaper with teal and gold arches on a soft pink background. Neutral nightstands accompany a sumptuously clothed bed, with its delicately arched headboard featuring nailhead trim.
Art Deco Deploys Mirrors, Crystal and Acrylic
Appropriately enough for such an extroverted aesthetic, Art Deco rooms are all about mirrors — to reflect light, to add embellishment and to simply pile on the luxury. Intricate geometric frames like this one are characteristic of the style, as are dramatic sconces like the pair here. Deep, oceanic tones like the mineral-patterned wallpaper in this foyer space offset pale, metallic and reflective pieces like these.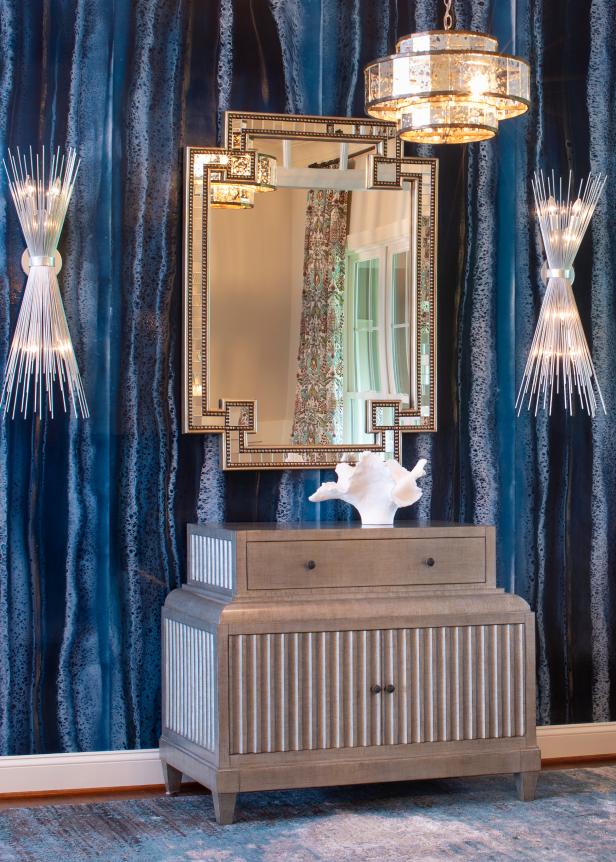 Blue Art Deco Foyer With Wallpaper
This dramatic foyer sets a razzle dazzle tone with lacquered wallpaper and glittery lighting and furniture. Wallpaper with a glossy finish like this one is a good way to bounce light around a small or dark room.
Art Deco Accessories Are Exotic
Intricate floral, animal and Eastern motifs are all popular in Art Deco spaces. In this chic Art Deco-inspired entryway, a pair of Egyptian busts share space with gleaming gold starburst paperweights and an assortment of art, sculpture and travel-related curios. Bold sconces flank a dramatic vintage clock composed of mirrored panels.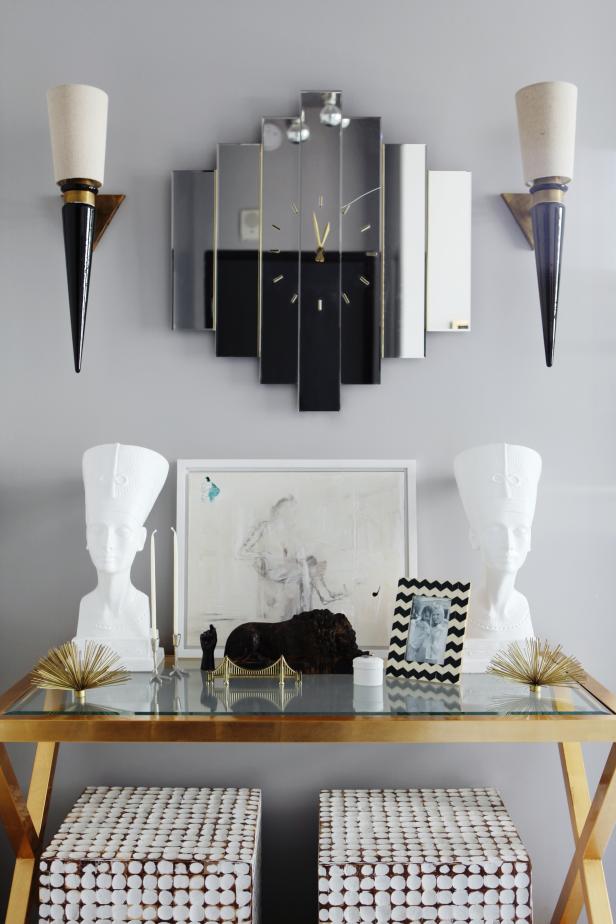 Foyer with Art Deco Flair
Talk about wow factor! This entryway is packed with Art Deco-inspired statement pieces. Keeping a simple black and white palette with gold accents keeps the space from feeling too cluttered.
Miami Embodies Tropical Art Deco Style
To bask in all things Art Deco with a beachy twist, look to the colorful, art-filled, sunlit interiors of Miami Beach. Spaces like this one offer a contemporary take on the aesthetic: vivid coastal blues carry through touchable velvet chairs with geometric details, curvaceous glass accessories and a bold abstract painting. Custom lighting in the tray ceiling offers a playful contrast to the traditional chandelier and sconces.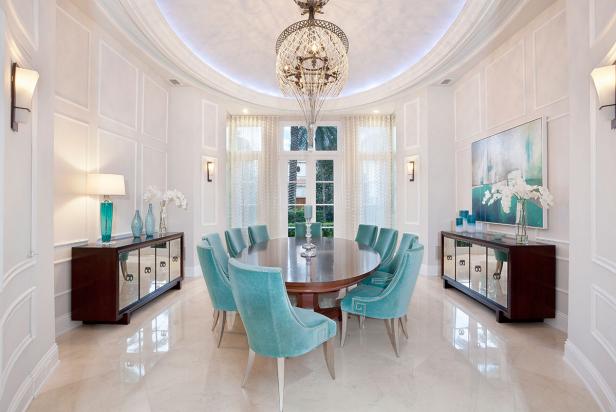 White Art Deco Dining Room With Tray Ceiling
Picture the glamorous dinner parties you could have in this gorgeous dining room that mixes white and Tiffany blue with crystal and mirror accents. Its unique oval shape finishes in a set of double doors at the far end.
Miera Melba Interior Design, Inc.
Art Deco style revels in its Industrial Revolution roots through oversized furnishings made of metal featuring pointed edges, arched tops, mirrored finishes and jagged corners. Miami Beach has perfected the Art Deco style through bold geometry, symmetry, rich colors and glamorous details.
Chair of the ASID National Board, designer Kerrie Kelly
Art Deco Furniture Favors Rare Woods
If you're lucky enough to stumble across a piece like this Art Deco table featuring drawers carved from burled wood, don't even think about reaching for a paintbrush — that fabulous graining is rare, costly and a calling card of original pieces. Because materials like this were in such great demand in Art Deco's first heyday, rare wood often makes appearances as inlaid detail work rather than in massive slabs. At the other end of the budget spectrum, you can also score Art Deco style with humbler woods by giving them a dramatic coat of high-gloss black lacquer.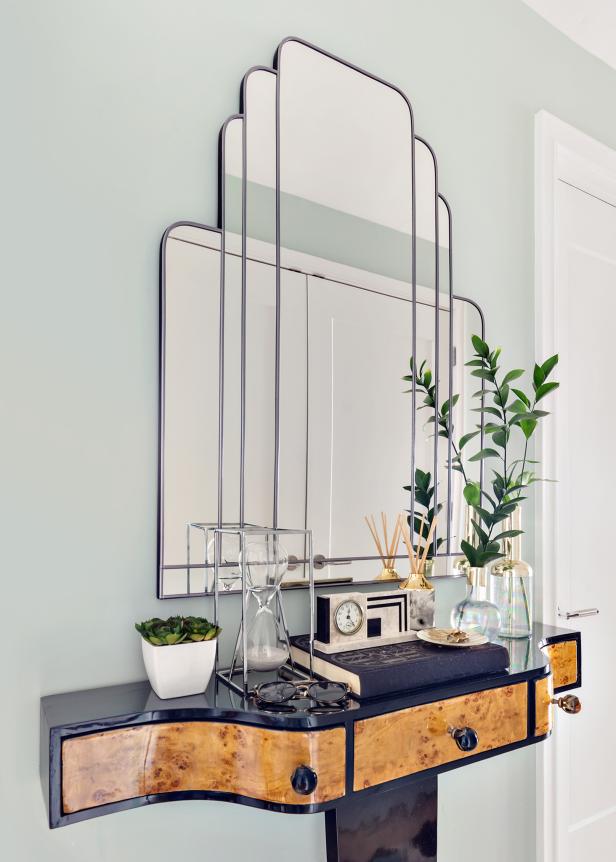 Art Deco Mirror and Wood Table
An Art Deco mirror looks right at home in this hallway paired with an exotic wood table and eclectic mix of accessories.
Art Deco Experiments With Shapes + Materials
One of the most authentic ways to design a space in the original spirit of Art Deco practitioners is, counterintuitively enough, to reach for art and sculpture that feels brand-new. Art Deco embodies optimism and celebrates technological breakthroughs — so artistic spaces like this foyer, with both modernist pieces and a hypermodernist video installation centered among them, echo that momentum all over again.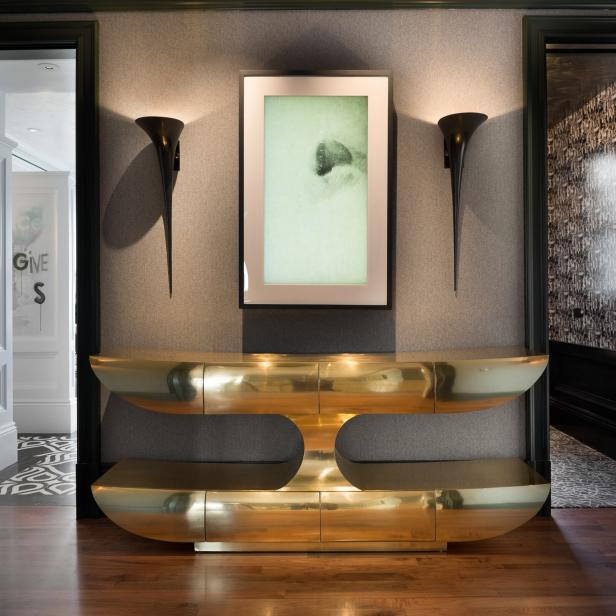 Master Suite Entry Features Video Art Installation and Gold Console
The entry to the San Francisco Decorator Showcase 2015 master suite features a video artwork installation by Adam Chapman. "The Starling Drawings" features a series of drawings with gray dots which represent starlings and when looped together create dynamic, fluid movement on the screen. The dark-trimmed space is balanced by an oversized gold console table selected by designer Will Wick.
Learn about the most popular styles in interior design — and use these pro pointers to bring them to life in your home.