How to Make a Modern Triangle Wreath
Step outside of tradition with this copper triangle wreath.
copper pipe
floral wire
twine
scissors
plant clippers
feathers and greenery
floral tape
washi tape
Measure wire and twine to a bit longer than the length of pipes and tie twine to floral wire.
Thread through all three copper pipes. Pipes should be cut evenly.
Use feathers, greenery and twigs to create a bouquet. Wrap with floral wire and cover wire with floral tape. Trim the excess at the bottom of your bouquet.
Step 5: Bring It Together
Attach bouquet to pipes with decorative washi tape. Hang and enjoy!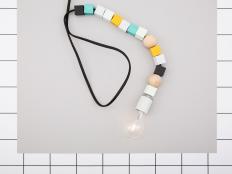 In less than thirty minutes, you can customize this modern wooden bead pendant lamp to suit your personality and your color scheme.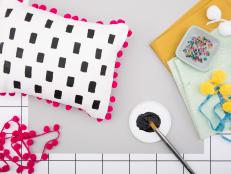 You can whip together these mod embellished pom-pom pillows in about thirty minutes with no sewing skills required.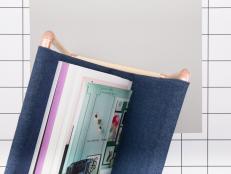 All those magazines you love are about to get a new home inside this chic fabric magazine rack. You know what that means? Goodbye clutter, hello cool.