How to Make a Contemporary Pendant Lamp
In less than thirty minutes, you can customize this modern wooden bead pendant lamp to suit your personality and your color scheme. 
DIY Bead Lamp
00:53
Make this easy, geometrical hanging lamp with wood blocks and a lamp kit.
about (12) 1 1/2" or 2" wooden spheres and cubes
acrylic paint in various colors
power drill
paint brushes
scrap wood
clamp
electrical tape
parchment or wax paper
light kit
clear 40-watt light bulbs
small Phillips-head screwdriver
3/8" drill bit
1/8" drill bit
cotton swabs
paint palette or paper plate
Decide how many cubes and spheres you want to use by laying out a pattern next to the cord. Place a thick piece of wood under your blocks. Using a clamp to hold the block in place, drill a pilot hole with a 1/8" drill bit. Now with the 3/8" bit, drill a hole all the way through the block. Repeat with all blocks.
TIP: Drill with the grain of the wood. This will make your life easier because it cuts down on splintering.
Lay out a sheet of parchment or wax paper and mix the colors you want to paint with on a paper plate or palette. Paint all blocks and lay to dry on parchment or wax paper for at least 30 minutes.
TIP: When excess paint builds up inside the holes, use a cotton swab to clean it out.
To assemble your lamp, follow the instructions that come with your kit and string your beads.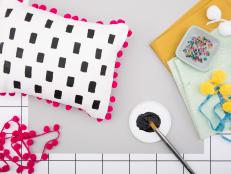 You can whip together these mod embellished pom-pom pillows in about thirty minutes with no sewing skills required.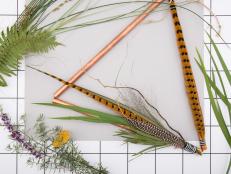 Step outside of tradition with this copper triangle wreath.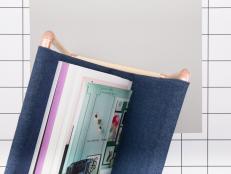 All those magazines you love are about to get a new home inside this chic fabric magazine rack. You know what that means? Goodbye clutter, hello cool.